Brussels sprouts are a type of cabbage, often found in green bulb form. They're a cruciferous vegetable, a sibling to the likes of kale, cauliflower, collard greens and broccoli. Although you may have balked at them as a child, baked and broiled versions of this vegetable are making a heavy resurgence amongst all age groups today. No matter how you prepare them, Brussels sprouts can be a healthy addition to your table.
Sprouting with nutrients. While their calorie count is low, Brussels sprouts are highly packed with important nutrients. The presence of vitamin K helps stabilize bone health and prevent blood clots, while their vitamin C components promote iron absorption and tissue repair. In addition, Brussels sprouts contain high amounts of fiber, which help keep your gut happy and healthy.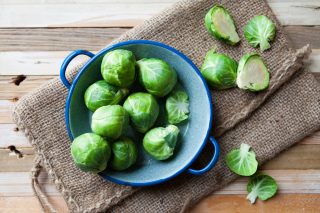 Folate-friendly. Brussels sprouts, whether you know or not, contain a hearty amount of folate, a nutrient often found in foods that can assist in cell growth and metabolism. In addition to the aforementioned nutrients that accompany it, Brussels sprouts are a natural host to folates, given their cruciferous roots. In fact, a half cup of these veggies equates to 47 micrograms of folate.
Fightin' phytonutrients. The accompaniment of nutrients in Brussels sprouts is one thing, but what about phytonutrients? The term refers to nutrients that are most often found in plant-based vegetables, and can be very beneficial to the immune system, hormones and even in preventing cell damage. They've even been found to help fight off risks of Alzheimer's and Parkinson's diseases. Luckily, for sprout lovers, phytonutrients are often found in green, leafy vegetables.
Blood sugar maintenance. While most cruciferous foods aren't necessarily associated with blood sugar, it's been found that Brussels sprouts can actually help steady these levels. This can likely be traced back to the presence of antioxidants and fiber, which regulate both blood sugar and insulin levels. Past studies have even shown that cruciferous veggies, such as Brussels sprouts, can actually decrease the risk of Type 2 diabetes.
Still bewildered at the thought of our beloved green bulbs? Maybe you just haven't brought them to a broil yet. Most culinary experts agree that Brussels sprouts are at their tastiest when cooked thoroughly in an oven or over a frying pan. For instance, you might try this classic recipe for roasted Brussels sprouts with garlic. You can even incorporate some sneaky mix-ins such as bacon, fresh herbs or even cranberries to make a surprisingly swell side dish.