What's white on bottom, purple on top and full of nutrients, vitamins and antioxidants? Here's a hint: it's a turnip, and—by the time you read the following facts about this root vegetable—you're bound to want to try one in a healthy recipe. Why? Because, like several amazing vegetables grown in the mitten, turnips offer a heaping helping of healthy benefits. Check them out:
Eater's Digest
Turnip roots are high in fiber. In fact, they're great for digestion—promoting regularity and helping your body release more toxins. One normal sized turnip contains about 2.2 grams of dietary fiber, which makes it a great, natural and tasty way to add more to your diet.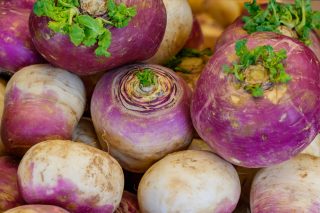 Under Pressure
Turnip roots help lower blood pressure, thanks to their rich potassium content. Potassium releases sodium from your body, helping your arteries dilate—which can ultimately fight hypertension. It's best to talk to your doctor if you have regular high blood pressure, but turnips are a great and natural way to help reduce higher levels.
Low Calories
Like other cruciferous veggies, the turnip is highly nutritious; it packs plenty of folate and vitamin C. What's more, cruciferous vegetables including turnips aid in weight loss with a low calorie count. The average turnip has only 34 calories—and here's the best part, these veggies help you feel full longer, making them the perfect addition to your favorite recipes.
Anti-inflammatory
When it comes to colorectal health, turnips turn up the volume. Turnips help stave off inflammation and troublesome conditions such as diverticulitis, which can lead to worse issues such as colon cancer. Turnips also reduce pressure in the colon, promoting all around colon health—from top to bottom.
Like many Michigan vegetables, turnips can be enjoyed raw or cooked—and in a myriad of styles, recipes and dishes. So, whether you prepare them in this classic roasted recipe or pair them with mushrooms for this fun take on turnips, know that you're trying something good for you. Just keep in mind, many say turnips taste too bitter, but maybe that distinctive flavor is just the taste of better, homegrown health. So think of it as an acquired taste that your body will love.