While morels typically aren't lauded for their nutritional value, they do offer some healthy benefits. They also put the "fun" in fungi, as they're a blast to hunt for each spring. The tricky part is knowing when to look, as morel season varies each year due to winter elements, temperatures and more. But, between now and mid- to late-May, you might consider getting your mitts on the mitten state's most prized mushroom.
Here's why:
Rich in vitamins
Morels are actually rich in vitamins and minerals such as vitamin B, vitamin E, potassium, niacin, selenium, iron and copper. That means adding them to something as simple as this sauté means promoting healthier heart function, an improved immune system and better blood sugar levels. While they're not particularly known for being healthy, the pungent pieces of earth certainly don't hurt a healthy regimen. So for those who say "mushrooms are sick," you might consider that the immune system boost they offer makes them anything but—literally.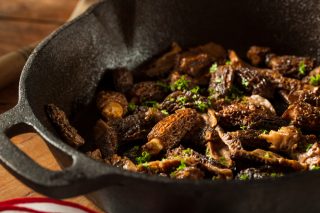 Low Cal, So Cool
With a whopping four calories per cap (that's one mushroom), cooked morels shouldn't widen your waistline. However, many recipes call for lots of butter—and that's what'll get you if you're watching your weight. We suggest trying a good olive oil as a tasty, less caloric alternative. Morels are, however, fat free and sodium free—and can be great for those losing weight, especially since they pair so nicely with healthy foods like veggies and fish. This baked cod with morels dish is a real catch for anyone looking to shed weight without sacrificing flavor.
Finding them is a good workout
Working out to mitigate the physical setbacks of a delicious meal is common. Whether it's a trip to the treadmill after too much of mom's meatloaf, or some light cardio after an ice cream cone—we're used to exercising to stay fit after a little extra food. That's why morels might be more remarkable than most tasty treats—you can get the workout in before you eat them. Mushroom hunting, or foraging, is an activity many Michiganders enjoy this time of year. It gets you outside, moving around, stretching muscles and stimulating your mind. So don't feel guilty if you get a second helping of this fettuccine with asparagus and morels, because if you've found your own morels, you've earned it!
So no matter how you slice them,* morels make for an exciting, exercise-friendly food. Plus, they're in season and made in Michigan. Happy hunting!
*Remember, morels are always sliced vertically before being thoroughly washed to remove any dirt or insects and thoroughly cooked to remove the trace amounts of toxins that can be harmful if undercooked or consumed raw. For more information on safe foraging, read more here.