"I'll have the house salad," said all of us to the lunchtime server, at some point in our lives—often, in an effort to try a healthier alternative to the olive burger or club sandwich. And, while a bowl of iceberg lettuce may be a conscious move away from beef, buns and beautiful bacon—there is a plethora of healthier greens and leafy veggies to try in place of that crunchy iceberg lettuce. After all, if you've pledged to eat produce, you may as well spring for sprouts that offer more nutrients and less sugar than iceberg lettuce. That's why we designed this month's edition of Veggie Tales to teach you how to make that salad count, with healthier leafy greens grown in Michigan to try in your salad bowl.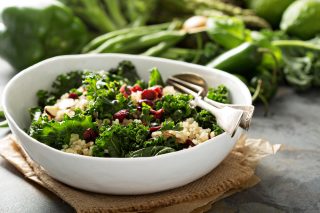 Arugula
Did you know arugula is related to radish, kale and cauliflower? It makes sense given the combination of vitamins, minerals and antioxidants in every leaf. This hydrating leafy green is a great alternative not only in salads, but also on sandwiches. Many sources cite arugula as a leafy green capable of strengthening bones, teeth and even eyesight.
Swiss chard
Swiss chard grows beyond Switzerland. In fact, it's grown all over the world—including right here in the mitten state. Low in calories and carbs, this leafy delight can add a decent dose of both fiber and vitamin C to your diet. It's packed with beta-carotene and flavonoids, too. That means it helps your body ward off things like heart disease and lung cancer. Bonus!
Bok choy
Add some nutrients to your diet with bok choy, and impress your dinner guests while you're at it. It's in season right now in Michigan. Between its cabbage-like properties and hearty health benefits, bok choy could be your new favorite veggie. At the very least, it fits into a variety of recipes, takes care of your leafy veggie needs and—it's even fun to say.
Kale
Some say kale is king. Given its healthy track record, the statement is plausible. One cup of raw kale serves up about three grams of protein, vitamins A, C and K, another B vitamin said to promote brain development called folate and about two and a half grams of fiber. Wow. And, this kale salad with grilled eggplant will change the dynamic of your greens while tantalizing those taste buds.
Mustard greens
Hold the basic house salad and try mustard greens instead. Replacing iceberg with these leafy greens will up your vitamin A intake and offer more fiber, protein and other nutrients in the process. Like many of the other aforementioned leafy alternatives, mustard greens are good raw or cooked, and prepared in a variety of ways.
So next time you reach for that bag of iceberg in your local grocers' produce section, take a step back and look for a variety of greens to try instead—they all offer more nutrients and they each have a unique taste. That said, your leafy pursuit might never get old. Just remember, these leafy alternatives tend to have less of a shelf life, and they may cost you a little more than the basic stuff, but you'll be glad you ventured out into the world of leafy veggies. And you can always see what's in season at your local Michigan Farmer's Market as locally grown greens can be very affordable. Who knows, maybe you'll even start growing your own.