Welcome to the March edition of Veggie Tales—the ThinkHealth series that aims to educate Michiganders of the nutritional benefits of peak season vegetables produced in our Great Lakes State. We've covered rapini and beets, now it's on to the mighty parsnip.
Parsnips are perfect for March's "nippy" spring temperatures. They're a hearty, flavorful root vegetable and an ideal additive to your favorite soup recipes, which fare well in the final frosts of winter. But parsnips aren't the perfect veggie for the month of March based on flavor alone—they're also in season during early spring in Michigan. So let's explore a thing or two about carrot's little cousin.
Basic health benefits: vitamins and minerals galore
An oldie but a goody, people have reaped the health benefits—and enjoyed the nutty flavor—of parsnips for thousands of years. An ancient food of Europe, the root made it to the Midwest United States where many Michigan farmers will begin farming parsnips in April and May (and again in October and November!) so you can fill up on nutrients; including vitamin C, vitamin K, vitamin E, magnesium, folate, thiamin, zinc and vitamin B6. You can also count on parsnips for fiber and a bit of calcium and iron, too.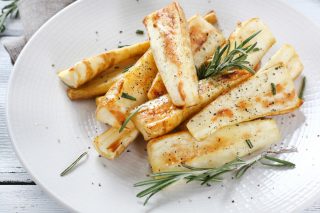 Calorie count: very few
One cup of cooked parsnips packs a multitude of vitamins and minerals—and just 110 calories. That's right—this root offers a large nutrient to calorie ratio. The same serving of parsnips contains only half a gram of fat and 24 grams of carbs. Pair those stats with parsnips' high-fiber content, and you have an ideal, diet-friendly food.
Preparation: easy to prepare
Parsnips make it easy to add nutrients to nearly any dish. Try them in this curried parsnip soup or simply roast them to perfection. Here's a fun fact: did you know the longer parsnips stay in the ground during the cool fall frosts, the sweeter they'll taste after they're harvested? It's true. That's because the veggie's starches change to sugars as the temperature drops. Given that knowledge, you could even use parsnips in a variety of pastries like this parsnip spice cake.
Ways parsnips promote health: they're good for the whole body
Parsnips are heart smart in that they're rich in fibers that reduce bad cholesterol levels. The potassium in parsnips helps lower blood pressure, which helps keep your heart healthy and happy. And remember, if you're on a diet or looking to lose weight, parsnips might be able to help beyond the low-fat, high-fiber combination; they also make you feel full without having to eat too many. And, like carrots, parsnips promote vision and eye health with each helping of vitamin C. If you don't have your eyes on parsnips yet, you might consider some during your next trip to the grocery store.
So next time your recipe calls for carrots, try substituting them with mighty parsnips. You may just find yourself adding them to more and more dishes—and enjoying all of their nutritional benefits.