If you've found yourself at a Michigan farmers market this summer, there's a strong likelihood that you've come across the cucumber. A close cousin to the deli-favorite pickle, cucumbers (a fruit, believe it or not) are often served cold, and can be found sliced, pickled and even seedless.
Given their green complexion, it can easily be presumed that they have some sort of healthy kick. While this presumption is, indeed, true, it's important to note that the cucumber's benefits come in many unexpected fashions.
Hydration station. Cucumbers infused with water may not be a new concept, but did you know that cucumbers have their own water fix? Similar to the watermelon, cucumbers are actually comprised of 95% water, which makes them an attractive hydration alternative on a hot summer day. Vitamin-infused water may need to watch its throne, as cucumbers can help stave off nutrient deficiencies thanks to the presence of vitamins K, B and C, along with copper, potassium and manganese.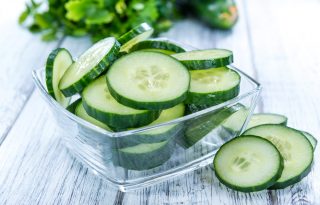 Cool things down. Similar to fruits, cucumbers can help fight inflammatory responses in your body. This happens in part through the activity of pro-inflammatory nutrients such as flavonoids, lignans and triterpenes. You may not know what these are now, but you'll surely be thanking them the next time your inflammation sore is relieved from snacking on a cucumber.
Skin safety. The cliché image of a relaxing spa session often includes someone bathing in the sun with a slice of cucumber over each eye. As odd as it may seem in theory, cucumbers can actually do wonders for your skin.  Because they're rich in silica, a helpful component to connective tissues, cucumbers can therefore make your skin both healthier and brighter. They can even help with specific skin ailments such as psoriasis and eye-swelling. Are you feeling the aftereffects of neglecting to be sun smart? Cucumbers can even help minimize sunburns.
Skipping stones. Studies have shown that the lifetime risk of kidney stones is up to 19% and 9% for men and women respectively. However, research has shown that cucumber consumption can reduce this risk. The large amounts of water in cucumbers helps the body maintain a healthy intestine, which can, in turn, stave off any possible kidney stones.
Given how "cool" cucumbers can be, it's only fitting that you enjoy them in equal fashion.
As we indicated earlier, cucumber water is certainly a hot trend. But what about cucumber smoothies? That's right, mix in some cucumber slices with your favorite fruits and you'll have an energizing and healthy start to your day.
If you're looking to get even more creative with your cucumber consumption, consider cucumber rollups! Slice up the cucumbers and any other type of fruit or veggie with a vegetable peeler, add some spreadable cheese or yogurt and wrap them all together for a great on-the-go treat.
However you slice them (or drink them), cucumbers are a fun and healthy way to add a healthful spruce to your summer.