Whether you're traveling for vacation or visiting relatives, your diabetes is along for the ride. But managing your care while away from home doesn't have to add stress. Here are three travel tips to help you manage your diabetes and keep you worry-free.
Doctor knows best

Traveling often brings changes to your daily schedule. That's why those living with diabetes should always speak with their doctor before taking a long trip. Your doctor or other preferred health provider can help you with medical concerns specific to you and your vacation. They can even help create plans to manage your diabetes while away from home. Discuss how your travel routine may be different from your daily one. This includes possible changes in physical activity and even diet. There are plenty of things that can affect your diabetes management and your doctor is your best resource to help you stay on top of your care.
You should also research the type of care that will be available to you while you're away. Call your cruise line or airline to learn about the available medical facilities. Look up pharmacies or care centers near your destination as well. This extra preparation will keep your stress low knowing you'll be covered in the case of an emergency.
Don't be afraid to over prepare

Being overly prepared can only help when it comes to your health. Do small things like setting alarms on your phone to remind you to take your medications. Alarms help you manage your condition while you're away from your normal routine. Vacations can often bring about uncommon foods. Ask for a list of your meal's ingredients if you're unsure of a certain dish. You know yourself best and might catch something that could cause potential problems.
It's also a good idea to bring extra medical supplies. In fact, the Centers for Disease Control & Prevention (CDC) recommends you pack twice the amount of diabetes supplies you think you'll need in case of travel delays. The CDC suggests you keep medical supplies in a separate bag that stays with you. This will reduce the risk of losing vital medications from a lost bag or theft.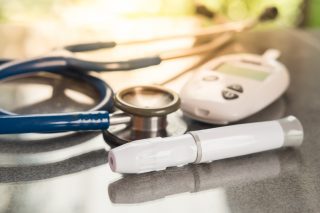 Air Travel Tips

Those with diabetes should keep several things in mind when flying. Insulin should never be in a checked bag and should always be carried with you on the plane. Checked bags go through extreme temperature changes which can be harmful to insulin and other medical supplies. You can also alert a flight attendant to your condition and potential health hazards if you are traveling by yourself. It's useful to have someone who's prepared to help if you need urgent assistance. Visit the American Diabetes Association for more helpful information about flying with diabetes.
Diabetic travelers can call the TSA Cares helpline phone number toll free at 1-855-787-2227. TSA Cares provides information for those with specific medical needs. They can answer any questions you have about the travel process. The TSA also provides a Disability Notification Card  that you can give to security officers. This makes the security screening process easier while maintaining your privacy.
Traveling with diabetes comes with challenges, but with the right preparation you can travel like a pro and leave your stress at home.