But did you know that many of these mustachioed men are actually promoting men's health?
Movember represents a movement in November that encourages men to don mustaches in a quest to  raise awareness about men's health.  Since 2003, Movember  has swept across continents, growing in popularity, and driving attention to  finding cures and educating people about diseases such as prostate and testicular cancer.
Flash forward 10 years, and the foundation is truly changing the face of men's health on a global scale.
Whether you've participated in Movember or are hearing about it for the first time, consider these statistics:
More than 4 million people participated in Movember in 2013.
Since its start in 2003, Movember has raised more than $559 million for men's health and supported 770 men's health projects through outreach, awareness and screening programs.
In 2013, The Movember Foundation accepted the Social Force of the Year award from GQ Magazine.
The objective of the campaign is to encourage conversation about men's health while creating something fun and engaging out of a topic that is sometimes difficult or sensitive to talk about. This initiative lends itself well to making it an office wide effort, and can be a great team building activity.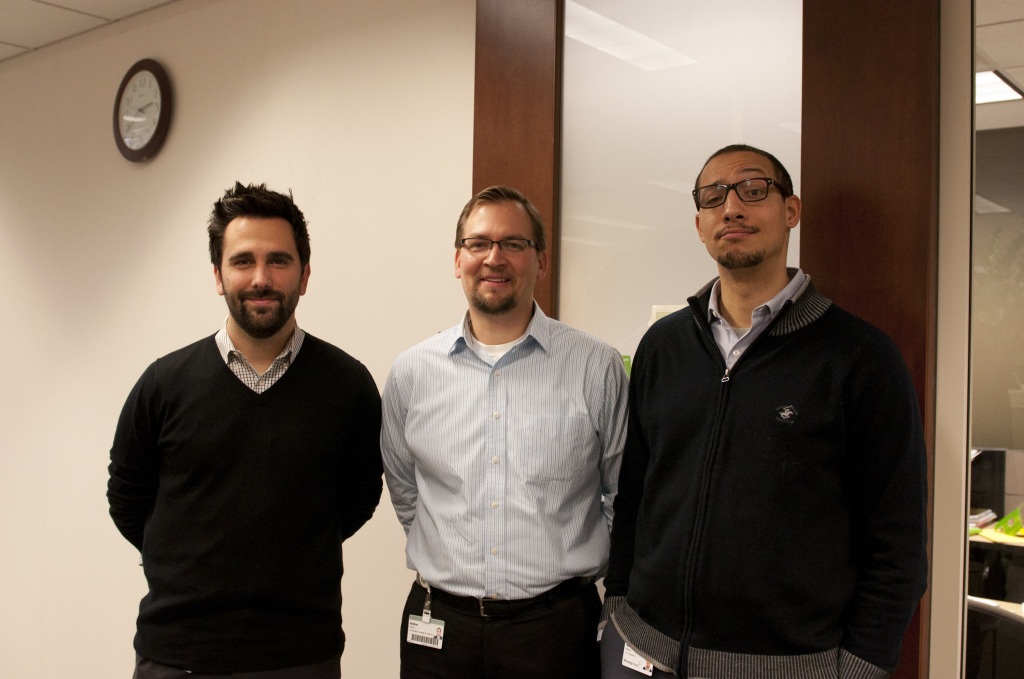 For example, a few members of Priority Health's marketing team participated in Movember by growing out their mustaches in proud support of the cause.
It's not just about the mustaches though…The initiative should be used to discuss men's health risks.
According to the American Cancer Society, prostate cancer is the most common cancer in American men, other than skin cancer. It is estimated that in 2014, 233,000 new cases of prostate cancer will be diagnosed and more than 29,480 men will die of the disease.
However, these four tips – and many more – can help prevent the disease.
Drink more coffee. Harvard researchers found that men who regularly drank caffeinated or decaf coffee were 59 percent less likely to develop advanced prostate cancer than those who avoid the morning cup of joe.
Don't skimp on the red tomatoes. Cooked tomatoes have more potent levels of lycopene, which is a pigment in tomatoes found to help reduce the risk of prostate cancer.
Give fish a chance. Another Harvard analysis showed that men who ate fish three times a week reduced their risk of aggressive prostate cancer by 25 percent.
Above all else, get tested. Prostate cancer, though treatable, often goes undetected because of a lack of symptoms. A physician-performed rectal exam or prostate-specific antigen (PSA) test can help find the disease in its early stages.
For testicular cancer, the ACS estimates that more than 8,000 new cases will be diagnosed in 2014 and nearly 400 will die of the disease.
Although there are no-known prevention tactics for testicular cancer as it is largely genetic, these tips for regular self-examinations can help detect the disease in its earliest stage.
Stand in front of a mirror. A self-check can be as easy as checking for swelling or other abnormalities of the skin. Doing the check after a warm shower or bath relaxes the skin, making it easier to feel anything unusual.
Feel for any lumps. Lumps are often painless and can be pea-sized or larger. Make sure to check for any change in size, shape, or consistency of the testes, and contact your doctor if any lumps appear.
Schedule a physical. Physical exams should be planned at least once a year to assure the best measures of health and to keep open conversations with your doctor about any concerns.
The American Cancer Society also shares that smoking, a poor diet and family history contribute to developing prostate cancer while HIV infection and genetics are contributors to testicular cancer.
Knowing tips to avoid chronic diseases is great, but understanding your own health is even better. Practices including being aware of healthy Body Mass Index (BMI) levels based on height and weight and making a point to get eight hours of sleep cannot only keep cancers at bay, they can actually prolong your life.
Whether you're a "Mo Bro" or a "Mo Sista", raising awareness for men's health is never out of style.