The common back-to-school schedule can bring shock to a system that was easily leisured during summer. Relaxing days become frenzies of transporting kids to and from school and other extracurricular activities. You might be feeling like the time you usually have to prepare a nice, healthy meal for your family has disappeared. Frantic and exhausted, it might seem like the fast food drive-thru is the only option.
Scenarios like these are common for all kinds of families. Experts even say that the concept of a "family meal" has declined steadily through the years and has, in some instances, disappeared entirely. The situation can also be complicated by parents juggling busy work schedules with their kids' commitments.
As convenient as fast food pick-ups may be, they prove not to be convenient for you and your family's long-term health. Fortunately, this dilemma can be solved with healthy thinking and a little planning.
Know your options.
If you find yourself with a night where cooking at home just isn't in the cards, grabbing something on the go is still an option. Just make sure you're looking out for smarter, healthier choices. Many big-name chains now offer side options of fruits and vegetables, along with lower calorie meal deals. Parents may not be surprised to hear that chains like Subway or Panera tend to be a preferred healthier choice, however they may be surprised to hear that places like Qdoba, Chipotle, Chick-fil-A and Wendy's actually offer some lighter menu options.
Grocery grab and go.
Sure, grocery stores may be synonymous with long, drawn-out shopping trips, but when it comes to creating a quick meal, they can actually be a beneficiary. Most grocery stores include deli areas where you can pick and choose items that can easily be made at home. It doesn't have to be an overly-formal ordeal either; some quick plates, like this health friendly charcuterie board, may be perfect for those hectic nights.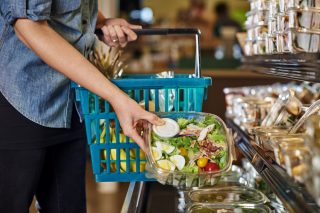 Pack a snack.
If you're insistent on a home cooked meal amidst a crazy schedule, make sure that you're fitting in some healthy snacks to you and the kids over until dinnertime. Snack mixes, homemade granola bars and assorted fruits and vegetables can all fuel a healthy practice or rehearsal, along with staving off any hangry parents in traffic. Check out some other fun and healthy ideas for midday snacks. And be sure to avoid those snacks that are labeled healthy, but may not be as nutritious as the packaging claims.
Prep for success.
Don't let a crazy schedule dampen your preparedness. If you foresee a lack of sit-down family meals in the week ahead, "meal prepping" can be a great and healthy option for you and your family. From snacks to entire meals, prepping provides quick relief for families constantly on the go. Meatballs, quinoa bowls and chicken stir fry are all popular options for professional preppers, in addition to other healthy and creative concoctions.
Weeknights can be crazy, but you don't have to let your eating patterns slip into the unhealthy zone. With a little knowledge and prep, you and your family will be ready for whatever curve balls your schedules may throw at you this fall.