By: Jillian Rippolone
This Fall and every season, I'm prioritizing my health goals! I recently rejoined my local gym and now getting back on track with my meal planning.  I'm making better food choices, not just because of living with diabetes, but for my overall mindset. 
If you're looking for an Autumn seasonal diabetic-friendly recipe, look no further than the harvest salad! I don't believe salads should be boring, so here's one of my favorite well-balanced and fun healthy Fall salads, perfect for lunch or dinner.  This recipe is diabetes approved by a registered Priority Health dietician, and is sure to be easy on your blood sugar yet so fulfilling. 
As someone who has lived with Type 1 diabetes for the past 26 years, I recognize the importance of staying on top of my diet to ensure it benefits my overall health. Following diabetes specific recipes has been a great way to support my health goals while not compromising on a satisfying taste. One way that I encourage variety in my meal planning is by adding seasonal ingredients. While Summer was all about light and cool meals that kept you chill, Fall is a perfect time to mix in some different ingredients to spruce up your meals. 
This healthy salad is filled with the best seasonal flavors and can be modified to your taste palate. When I think of Fall, I think of apple orchards, pumpkin patches, and Thanksgiving. This salad combines all of that into one filling dish and satisfies my cravings while keeping my health a priority.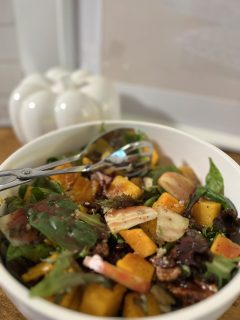 This dish is loaded with vitamins and minerals in ingredients such as crisp apples, dried cranberries, roasted butternut squash, pumpkin seeds, goat cheese, quinoa, and my favorite part, the crunchy pecans. If you're looking to add extra protein, I love adding grilled chicken or chickpeas to mine. Add these toppings on a bed of mixed greens, and drizzle the apple cider vinaigrette and you have one tasty and healthy meal!
Harvest Salad
Ingredients:
1 apple
1/2 c. dried cranberries
1 butternut squash
1/2 c. pumpkin seeds
1/2 c. goat cheese
1/2 c. quinoa
1/2 c. pecans
2 c. mixed greens
protein of choice (optional)
Dressing:
3 tbsp olive oil
2 tbsp apple cider vinegar
1 tbsp honey
2 tsp dijon mustard
Directions:
First, I like to roast the butternut squash as that takes the most time to prepare. I buy it pre-cut, so that saves me time. I toss the butternut squash with olive oil, sea salt and pepper and place on a baking sheet, and bake on 400 until tender.
While the squash is baking, I cook the quinoa, according to the directions on the package of your choice. Normally it's a 1:1 ¾  ratio of quinoa to water for 15 minutes. Then remove from heat and let it sit for 10 minutes.
Next, I prepare the apple cider vinaigrette dressing  by mixing together 3 tbsp olive oil, 2 tbsp apple cider vinaigrette, 1 tbsp honey and 2 tsp dijon mustard. 
Finally, when the butternut squash and quinoa  are ready, lay them on the bed of mixed greens, top with the goat cheese, pecans, apple slices, dried cranberries, pumpkin seeds, your protein of choice and enjoy – happy harvest season!
It's hard to not have my blood sugar spike after a meal, but this salad is a great way to get all my nutrients in without adding any extra sugar, keeping my health my top priority. To learn how Priority Health puts people's priorities first, visit www.priorityhealth.com. This Fall, ask yourself: What's Your Priority? #What'sYourPriority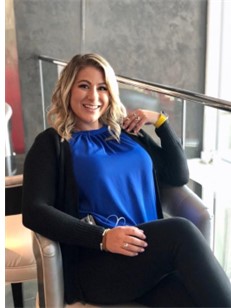 About the Author: Jillian Rippolone is a Lifestyle and Health & Wellness content creator on her social media platforms, @T1Dchick. She lives with type 1 diabetes and has become a patient advocate in her diabetes community. She resides in Michigan enjoying the lake life with her husband Michael.