Thinking about purchasing health insurance for your small business? With so many options available—it can feel overwhelming. Here are some answers to the most common questions when it comes to small business health insurance.
Why is health insurance so important for my small business?

Today's employees are different. They want more control of their work life balance, and expect their employers to offer benefits that fit their needs.
Millennials expect more from their employers when it comes to health insurance. Gen Z employees expect even more than that. They're optimizing their lives and lifestyles through technology. They've become smarter, their technology options have become smarter and they want their employers to be smarter. That's why it's important to not only offer your small business health insurance benefits, but to also choose wisely to ensure that you get the best, most affordable plans that help both your business and your employees.
If you're gearing up to choose and purchase health insurance for your employees, odds are you have questions. The following is designed to help answer questions you may have and point you in the direction (or directions) to help you make the smart choice.
I only have a handful of employees; does my small business really need to offer health insurance?
By law, you only have to offer affordable health insurance if you have more than 50 employees. But, let's say your company has only a few full-time employees and things seem to be running smoothly without a health insurance plan set in place for them. While it may seem like "business as usual" to avoid purchasing a health insurance plan, you may want to reconsider.
Employees, especially good ones, expect more today from their employers than ever before. Offering at least one health insurance option has become table stakes in the job market. Many companies offer several options so their employees can choose a health insurance plan that best fits their needs, health requirements, lifestyle, budget, family planning and more. If you aim to attract and retain top talent, as well as keep employees happy, motivated and excited to work for you—health insurance is beyond necessary.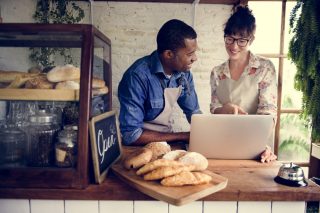 How do I get health insurance for my small business?
The best way to start shopping for options is to find an agent. They can shop the entire market for you, plus they can help with all aspects of insurance because they are not carrier specific, meaning they can help you choose additional plan options such as life, dental, vision, disability and worksite. They're also qualified to help you with ACA compliance, which can be extremely useful. They are an advocate for you and can help make sure you are staying ACA compliant in the ever-changing health insurance marketplace.
How much does health insurance cost for my small business?
It's difficult to put a cost on your small group plan because costs vary based on the age and location of each employee. However, you can get an idea for the price by using an age banded rate grid. This grid lists all the age rates (0 to 65) for a specific deductible level so you can see the cost compared to the basic richness of the plan. Once you've gotten a snapshot of what your costs may look like, you'll want to work with your agent to get a quote for a more accurate cost based on your unique work population.
It is also important to note that you're eligible for several tax breaks if you offer your employees health insurance. These tax breaks can help you save money in the long run.
How do I qualify for small business health insurance?
In order to qualify for a small business plan in Michigan (and nationwide), you have to have at least two full-time eligible employees. Full-time eligible employees are W-2 employees working 17.5 to 30 hours per week minimum. Contracted (1099), part-time and spouse partnerships don't count.
Where do I purchase health insurance for my small business?
As mentioned above, your agent is a great place to start. Agents can help you purchase the best plan for you, your budget and your employees. However, you can also purchase a small business insurance plan directly through a health insurance company, such as Priority Health.
What are the plan options for my small business?
Now it's time to think about your plan design. There are three different types of health plans:
HMO (Health Maintenance Organization) is the most popular health coverage option that emphasizes health and wellness while managing medical costs, ensuring employees receive all the services they need, but none that are unnecessary. Your employees can go to any specialist that's in-network without a referral (but primary care providers can coordinate medical care to help keep out-of-pocket costs low).
POS (Point of Service) plans benefit employers who are looking for the flexibility of traditional health plan but need the cost savings of managed care. In this plan, employees can choose an in-network primary care physician (PCP) and receive full benefits and they can also seek care outside the network without a referral, but must pay more for out-of-pocket expenses.
PPO (Preferred Provider Organization) plans offer employees the greatest freedom of choice by providing in-network and out-of-network options. Employers reap the benefits of a low-cost health care plan, while employees can choose to see network providers and pay less or visit non-network doctors or hospitals and pay more.
High-deductible health plans (HDHPs) paired with an employee health savings account (HSA) are a popular option among small businesses with fewer employees. They offer the same access to care, but put the employee in control of their spending. Each employee sets up their own HSA, which is a tax-free federally protected bank account used to pay for 100% of their medical and prescription expenses until they meet their deductible. Younger, healthier employees prefer these plans because, while the deductible is higher, the premium is generally much lower. That means the employee isn't paying a high monthly premium if he or she rarely needs to see a doctor. Priority Health offers several popular HDHPs to accommodate the budgets of both employees and small business employers.
Is there optional coverage I can offer my small business?
It's a competitive market, and attracting and retaining top talent requires more than just health insurance. Prescription drug, dental, vision and wellness coverage are just some of the ways you can address employee appetite for additional health and wellbeing benefits.
Under a dental plan, your employees have access to an open network, optional orthodontic coverage, easy administration (online enrollment, one billing statement, no claim forms) and split enrollment, so they can choose dental coverage without enrolling in a medical plan. Depending on the size of your organization, taking advantage of these flexible options could save on administrative costs by getting medical, dental and vision coverage all from one provider.
How do I know I'm getting the best value from my small business health plan?
Health insurance companies like to offer added value to the richness of a plan, and they do so in several ways. However, the best way to know you're getting the greatest value is ensuring you're partnering with a plan that keeps both your budget and your employees in mind. Priority Health, for example, boasts additional cost-saving services and solutions offered to add value to every plan offered—including tools such as Cost Estimator which allows employees to research costs for procedures and tests before receiving care so they can shop around for the best care at the best price. Virtual care, or telemedicine, is another great time- and money-saving option, allowing employees to utilize instant medical care that isn't an emergency. Each visit costs roughly $45.
So now that you've done some learning about why insurance matters for your small business—start with an agent and be sure you're getting the most of your new health insurance plan.