Health insurance for your small business is essential. Today's employees want more control of their work life balance and expect their employers to offer benefits that fit their needs. If you're gearing up to choose and purchase health insurance for your employees, odds are you have questions about how to offer the best, most affordable plans that help both your business' bottom line and your employee's wellbeing. The following is designed to help answer questions you may have and point you in the direction (or directions) to help you make an informed decision.
I only have a handful of employees; does my small business really need to offer health insurance?
By law, you only have to offer affordable health insurance if you have more than 50 employees. While it may seem like "business as usual" to avoid purchasing a health insurance plan if you have less than 50 employees, you may want to reconsider.
Employees expect more today from their employers than ever before. Offering at least one health insurance option has become table stakes in the job market. Many companies offer several options so their employees can choose a health insurance plan that best fits their needs, health requirements, lifestyle, budget, family planning and more. If you aim to attract and retain top talent, as well as keep employees happy, motivated and excited to work for you—health insurance is beyond necessary.
Where do I purchase health insurance for my small business?
There are two ways you can purchase a small business insurance plan – directly through a health plan, such as Priority Health or through an agent. Health insurance companies have teams ready to help you make the best decision for your company. Agents can shop the entire market for you, plus they can help with all aspects of insurance because they are not carrier specific, meaning they can help you choose additional plan options such as life, dental, vision and disability insurance. They're also qualified to help you with ACA compliance, which can be extremely useful. They are an advocate for you and can help make sure you are staying ACA compliant in the ever-changing health insurance marketplace.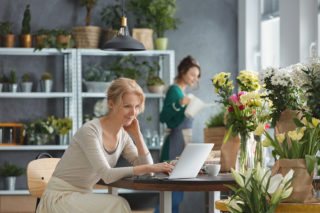 How much does health insurance cost for my small business?
It's difficult to put a cost on your small group plan because costs vary. Small groups with less than 50 eligible employees are community rated, meaning group premiums are based on the location of the business and the age of those enrolling, regardless of their health status.
It is also important to note that you're eligible for several tax breaks if you offer your employees health insurance. These tax breaks can help you save money in the long run.
How do I qualify for small business health insurance?
To qualify for a small business plan in Michigan (and nationwide), you have to have at least two full-time eligible employees. Full-time eligible employees are W-2 employees working 17.5 to 30 hours per week minimum. Contracted (1099), part-time and spouse partnerships don't count.
What are the plan options for my small business?
Now it's time to think about your plan options. There are three standard network arrangements:
HMO (Health Maintenance Organization) is the most popular health coverage option. Your employees are assigned a Primary Care Physician to coordinate medical care to keep out-of-pocket costs low. Often, they can go to any specialist that's in-network without a referral
POS (Point of Service) plans benefit employers who are looking for greater provider flexibility but need the cost savings of managed care. In this plan, employees can choose an in-network primary care physician (PCP) and receive full benefits. Often, they can also seek care outside the network without a referral, but must pay more for out-of-pocket expenses.
PPO (Preferred Provider Organization) plans offer employees the greatest freedom of choice by providing in-network and out-of-network options. Employees can choose to see network providers and pay less by seeing in-network providers or visit those out-of network and pay more.
Interested in looking at plans? Check out Priority Health's small business offerings.
Should I consider a high-deductible health plan for my small business?
High-deductible health plans (HDHPs) paired with an employee health savings account (HSA) are a popular option among small businesses. They offer the same access to care but put the employee in control of their spending. Each employee has the option of opening an HSA, which is a tax-free federally protected bank account used to pay for 100% of their medical and prescription expenses until they meet their deductible. Younger, healthier employees may prefer these plans because, while the deductible is higher, the premium is generally lower. That means the employee isn't paying a high monthly premium if they rarely see a doctor or need health care services. Priority Health offers several popular HDHPs to accommodate the budgets of both employees and small business employers.
Is there optional coverage I can offer my small business?
It's a competitive market and attracting and retaining top talent requires more than just health insurance. Including integrated prescription drug, dental, vision and wellness coverage are just some of the ways you can address employee appetite for additional health and wellbeing benefits. Research shows offering this additional coverage is beneficial to both employers and employees. Integrated benefits provide a more effective, efficient patient experience for your employees, improve their health and lower costs.
How do I know I'm getting the best value from my small business health plan?
Health insurance companies like to offer added value to the richness of a plan, and they do so in several ways. However, the best way to know you're getting the greatest value is ensuring you're partnering with a plan that keeps both your budget and your employees in mind. Priority Health, for example, boasts additional cost-saving services and solutions offered to add value to every plan offered—including price transparency tools such as Cost Estimator, chronic condition coverage, free allergy testing and treatment, virtual care options and more.
So now that you've done some learning about why insurance matters for your small business—start with an agent and be sure you're getting the most of your new health insurance plan.