While some may be looking for the best beach to escape the summer heat, many runners are turning toward early morning or night runs to avoid the scorching temperatures. Be seen and stay safe with these tips for running in the dark.
Reflective running gear – A runner can usually see cars, but cars can't always see runners. Reflective gear combined with the constant movement of running give the appearance of flashing light, alerting drivers to your presence. Reflective running gear loses some of its visibility after washing and constant wear, so make sure to wash your gear in cold water on a delicate cycle without fabric softenerto lengthen the lifespan.The heat from a dryer and washing with rougher materials like jeans can also damage and dull the overall look of reflective fabrics. Examples of reflective running gear include vests, sashes and blinking lights that attach to shoes or arm bands.These items are available at most running apparel stores.
Reflective body stick – A reflective body stick is another great way to be seen on the road. The heat can make it unbearable to wear long-sleeve reflective gear and it can be hard to find breathable materials that still provide visibility to those around you. A reflective body stick can be used on your skin to help you stand out. It can be used on arms, ankles, legs, and hands. Apply this product on arms, ankles, legs and hands—these body parts move the most when you're running and will generate the most attention when sporting this spread.
Reflective clothing spray – Afraid your sweat might wash away the reflective body stick? Give reflective clothing spray a try. This is applied via a spray paint-like bottle and when sprayed on clothes gives them a temporary reflective appearance. Don't forget to reapply to clothing every few runs.
Head lamps – Wearing a headlamp will light the way for you and for those heading toward you. Much like headlights of a car, a headlamp provides light so you can see in front of you and be seen by oncoming traffic. Newer models are lightweight enough to clip onto your hat or visor.
Bright-colored clothing – Bright clothing is a classic, old school method of being seen while road running. Fluorescent colors like yellow, green, blue and pink are the most visible and are easily seen from a distance.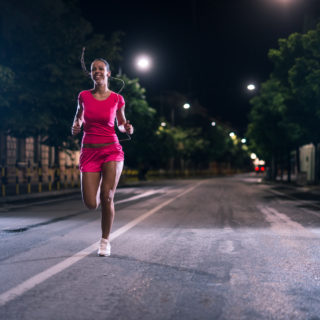 Here are a few extra precautions to take while running in the dark:
Plan your route – It's always a good idea to plan your running route before you set out. Make sure you choose a familiar, well-lit trail.
Run against traffic and behind vehicles at intersections – It's easier to avoid traffic if you can see it coming, that's why it recommended you run against the flow of traffic when running on the road.
Try to make eye contact with and acknowledge drivers around you – Even a quick smile can make drivers aware you're there.
Run with a partner – Two sets of eyes are better than one.
These simple tricks will shine a light on running at darker hours of the day. So lace up your shoes, put on your reflective gear and get outside for a safe run.