By: Chris Spyke
On May 14, the 39th Fifth Third River Bank Run will commence. It's not only the largest race in Grand Rapids, and home to the USA 25K Open Championship, but an annual tradition or first-time experience for many.
Here are some things to expect and a few tips to ensure you have a successful River Bank Run this year:
The Sports and Fitness Expo is Friday, May 13, from 11 a.m. – 8 p.m. at DeVos Place in downtown Grand Rapids.
Walking the Expo presents a great opportunity to move your body and build excitement on the day before the race, but make sure you allow yourself enough time to account for any unforeseen circumstances that may delay your arrival.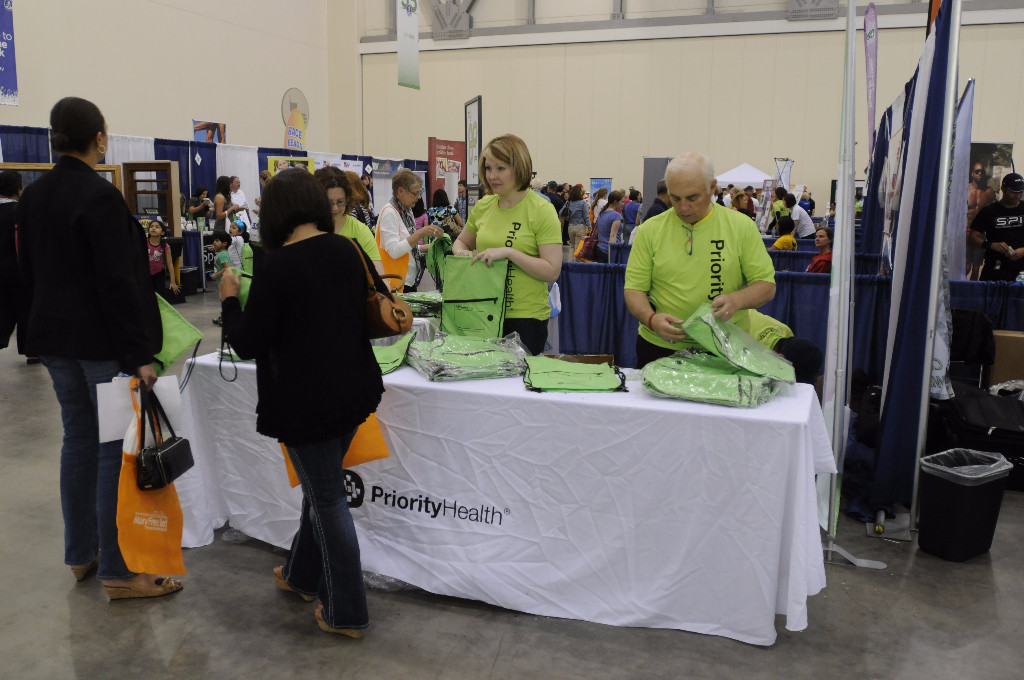 Peak hours are between 11 a.m. – 1 p.m. (lunch hour) and 4 p.m. – 6 p.m. (after work). Try to not put yourself in a time crunch to avoid raising your anxiety level.
Plan time to park in a nearby city lot or below DeVos Place and expect to wait at least 5-10 minutes when picking up your race bib. To ensure this process is efficient, come prepared with your ID and/or any personal information required to pick up a bib for your friend.
The Expo is also an opportunity to obtain any last minute items or things you may need, depending on the weather forecast. Gazelle Sports will be on hand with race day supplies. For example, in the event it may rain, you should consider some Body Glide or anti-chaffe.
The start of the race is located just outside DeVos Place near the corner of Monroe and Lyon. On race morning, make sure you incorporate time for unexpected delays. The field of runners is expected to exceed 18,000 this year with potentially double that in spectators. Time for finding a parking spot, navigating to the start and using the restroom should be accounted for.
The 25K course has claimed World Records, American Records, and many personal records for time and distance. Any seasoned River Bank Runner or local will tell you that for optimal performance you should know a thing or two about this great course.
Find Your Pace. It's always important to settle your nerves and ease into your pace early in a race. However, on this course, it can be hard not to start fast with the first eight miles being relatively flat. In those first eight miles, you want to keep your mile splits consistent.
Endure the Butterworth. The most challenging section on this course is from mile 8.5 to 12. Maynard and Butterworth feature some rolling hills that have been known to demoralize the ill-prepared and under-trained runners. It's more of a placement factor than the elevation gain itself. The hills are nothing you haven't run up before, but in the late and middle stages of the race they present an obstacle.
Push the Last 5K. Following the last hill on Butterworth, you find yourself with roughly 5K to go. It's in this last, flat section of the race where personal records and glory stories take place. While grueling, the last mile of the race is by far the best. As you make way to the finish you're greeted back into the heart of downtown Grand Rapids with streets lined with cheering spectators.
Each River Bank Run finisher has a special place in their heart for the race that has brought joy to the city of Grand Rapids over the past 39 years. Whether this will be your first or thirty-ninth time, make it one to remember.
About the Author: Chris Spyke is the Training Program Coordinator at Gazelle Sports in Grand Rapids, who runs not only for health, but also to satisfy his curiosity and desire for exploration in daily living. He enjoys his role at Gazelle Sports because he thrives on the opportunity to passionately help others reach their goals by sharing his knowledge and experience in running 5+ marathons, including qualifying for the Boston Marathon.