Looking to hop in a local 5K (or maybe even a longer distance)? There are many fun and fast options around the state from which you can choose. Check out some of the best summer and fall races that Michigan has to offer!
The Color Run Grand Rapids (5K) – Jul. 27. A crowd favorite, this nationally-branded event will provide both a great morning of exercise and a colorful photo opportunity for that hard-earned social media selfie. The Grand Rapids edition of the race leads runners from Calder Plaza around downtown towards Belknap Park and back, all while being doused with different color powders at each kilometer. The Color Run is an untimed event without a crowned champion, encouraging a more communal sense of participation. As an added bonus, The Color Run partners with national or local charities at each event to help increase cause awareness. A colorful makeover AND a great cause, what more could you ask for?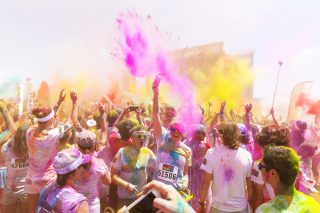 HAP Crim Festival of Races (1-mile, 5K, 5-mile, 10-mile) – Aug. 23-24. The Crim Fitness Foundation, based out of Flint, has been promoting healthy, active lifestyles since 1977, and their annual road race has been a trademark part of the initiative. The two-day event kicks off on Friday with a series of one-mile races for different ages and abilities. The energy continues into Saturday morning with the namesake 10-mile race, while the 5-mile and 5K distances follow on the tail end. Don't forget to bring along your little ones for the 0.29-mile Teddy Bear Trot beginning at noon. Not sure which race you'd like to run? No problem. Crim also offers "combo bibs," which allow runners to compete in more races than one during the Saturday portion of the event. Regardless of the distance completed, the Crim is a great opportunity to experience a positive and competitive running environment.
Lake Michigan Credit Union Bridge Run (10-mile, 5K) – Sept. 15. Are you a West Michigan runner who's landed in a post-Amway River Bank Run rut? There's no better way to shake off the post-spring race season cobwebs than with this Grand Rapids fall classic. The 10 mile and 5K courses both give runners a cruise through downtown, combining some of the more modern and historic parts of the city. Consistently rated high as a top race by MLive, the Bridge Run also provides a plethora of benefits for runners—including assigned pacers for the 10 mile, unique finisher medals for both races and a portion of registration fees donated to local charity partners.
Detroit Free Press/TCF Bank Marathon (assorted distances) – Oct. 19-20. Don't let the title fool you, this event offers competitive distances from 1-mile to a full marathon. Perhaps one of the more unique features, though, is the international factor of the half and full marathon races. That's right, both courses allow for runners to cross both the Ambassador Bridge and Detroit-Windsor Tunnel into Windsor, Ontario for a quick Canadian tour before heading to the finish line on Fort St. This event provides a great opportunity to set a personal best, and to see all of the great things happening in downtown Detroit.
The Grand Rapids Mud Run (5K) – Aug. 24. Looking to get down and dirty while also bumping up your heart rate? Then the Mud Run is perfect for you. An adventure-style race, the Mud Run takes participants through mud pits, tunnel crawls, wall climbs and even a 60-foot mud slide. Of course, anything is better when you bring along friends, so in addition to individual registration, the Mud Run provides the opportunity to race with a team of four—no more, no less. Exhausted and caked in mud, you'll surely finish this race eager to come back the next year.
Whatever your running fancy may be, there's a race out there for you. Looking for a running even near your town? See a full calendar of Michigan races here.
Need help getting that extra training push? Be sure to consult your local running store (Gazelle Sports, Striders, Hansons), as many provide community training programs, some even geared toward specific races.