Eighteen months ago Rick VandeKerkhoff, a facility director for Ottawa County, received a call that changed how he lives his life today. Kris, a health coach with Priority Health, called Rick as part of his employer's health program. She explained the process of what a health coach does. This made Rick wonder if he would be more successful in achieving his wellness goals with some help and support from a health coach. What started out as curiosity, transformed into major lifestyle changes.
Rick started working with Kris as his health coach to set goals and more importantly, achieve them. He says she held him accountable by sending weekly emails, defining specific goals and sharing new ideas to try.
After receiving tips from Kris, Rick made a goal to start waking up earlier in order to get his daily workout in. He used to only exercise a couple of days a week and is now getting over 170 minutes of exercise every week with daily walks, tracking his steps and mileage using an app. Michigan winters can be tough, but he doesn't use weather as an excuse. He's able to get a mile and a half in without going outside by walking through a skywalk in downtown Grand Rapids.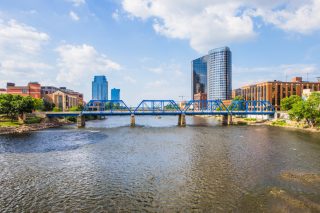 "I lost weight and certainly got stronger. More importantly, I'm just more fit and have much more endurance than before coaching. I run stairs, do planks and sleep better too. Better yet, I've developed a habit of consistently working out."
Regular activity was a big lifestyle change, but Kris also helped him realize that being healthy wasn't just about exercise. She taught him it's also about taking care of himself nutritionally, mentally, emotionally, financially and socially. "The fact that I was devoting time to improving my physical and emotional wellbeing was a huge improvement."
As Rick began to feel and look healthier, he shared his success with his doctor who recommended he also meet with a nutritionist. The nutritionist helped him better understand the relationship between carbs, fats and proteins, and how the body responds to them.
"I was able to better balance nutrition with better information. That wouldn't have happened previously. I'm eating a lot more veggies." He and his wife, Pam are "empty nesters" living in downtown Grand Rapids near the temptation of many restaurants. They still eat out for special occasions, but make the decision to choose lighter options and split meals.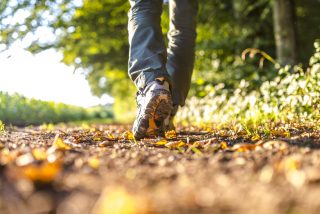 Rick says he's excited to continue on his journey to a healthier lifestyle and that he wouldn't be here if he hadn't taken a leap of curiosity with his health coach. Throughout his journey, he's achieved small goals that have all contributed to better overall wellbeing. Kris motivated Rick to devote time to improving his physical and emotional health, and the two continue to connect weekly for 45 minutes to review the past week's goals and set new goals for the following week.
"Who sets aside each week to talk about yourself and the progress you've made? And who would listen? With Kris, I'm able to bounce ideas off of someone who has been trained to keep me on track."
Rick acknowledges that sticking to his goals can be tough, even with Kris' help. The hardest part of Rick's journey is the constant vigilance.
"It's so very easy to just say 'I deserve a day off. I'll work out tomorrow.' But once I get up and get moving, I'm always glad I did."
For Rick, his health is something he'll always work on improving. "I may not look like the picture of health some people would envision, but I'm certainly healthier than I was 18 months ago. I'm committed to getting better."
He also sees the impact of having a health coach on those around him. "My wife walks and works out with me quite often, and one of my employees now has a health coach and proudly lost 20 pounds."
He credits his employer for helping him get connected with a coach. "Ottawa County has a unique wellness plan that gives you choices and the information to make informed choices. They've done an excellent job providing tools and resources to their employees that were previously unavailable. By focusing on their employees and partnering with Priority Health, they have reduced claims, reduced costs and have a healthier workforce."
If health coaching is something you're interested in, talk to your human resources representative to find out if it is a part of your company's wellbeing plan or contact Priority Health customer service.