Sore throat, cough and runny nose. They can feel like the norm during winter in Michigan, but they can also be warning signs. The flu has similar symptoms to the common cold, but it can be much more serious—especially if you're a senior. According to the Centers for Disease Control and Prevention (CDC), about 70 to 85% percent of seasonal flu-related deaths have occurred in people 65 years of age or older along with 50 to 70% of hospitalizations happening in this same age group.
It sounds scary, but with a little knowledge, the flu can be both preventable and quickly treatable. Here's a helpful Q&A guide with everything seniors and those caring for them need to know about the flu this season.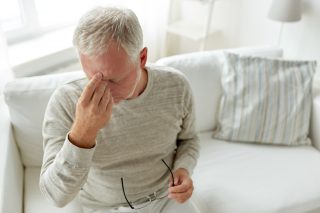 What is the Flu?
Short for influenza, the flu is a respiratory illness ranging from mild to severe, with the most serious cases resulting in hospitalization or even death. The flu comes from the influenza virus, which can infect both people and animals, allowing it to spread quickly through communities. There are three main types of influenza viruses:
Influenza A is the most common around the world and can infect humans and animals. It's often found in wild birds, which carry the disease across continents. This common type has caused most of the flu pandemics in the most recent centuries.
Influenza B is a strand that only survives in humans and seals. Combined, type A and B cause the annual influenza epidemics that impact up to 20 percent of the population each year.
Influenza C is the mildest of the three virus types and is passed among humans and swine. It's not preventable with a vaccine, but type C symptoms are much less severe.
Within each type, there are several different strains of the virus, which is why new vaccinations are developed each year with revised formulas to fight the flu.
When is Flu Season?
There's no specific start day when flu season begins. It varies each year depending on location around the world.
In Michigan, flu season officially kicks off whenever levels of flu infections begin to rise above normal levels. It usually happens between fall and spring months, with peaks in—you guessed it—the winter months of January and February.
Since it varies by community, there's also no clear cut end date to flu season. If a certain strain of the influenza virus reaches pandemic levels, it can even extend the season to longer than a year while a vaccine to fight it is developed and distributed.
Do Flu Shots Work?
Since seniors have weakened immune systems making them especially vulnerable to the flu, and are at higher risk for developing serious complications from it, the CDC strongly recommends vaccination for the best protection. In fact, a 2017 study showed that flu vaccination reduced deaths, intensive care unit (ICU) admissions and overall duration of stay among hospitalized flu patients; with the greatest benefits for people 65 and older. Since vaccines are updated each season to keep up with changing strains for the flu virus, it's important to get a flu shot every single year.
What Are My Options?
The top two recommended options for seniors are high-dose flu shots and those with adjuvant. A high-dose flu shot helps with weakened immune systems and creates more antibodies to help fight the flu if it enters the body. And adjuvant is an ingredient that helps create a stronger immune response.
Any doctor or health care provider can distribute a flu vaccine. Flu shots are also available at pharmacies or blood testing labs. For seniors—keep an eye out for flu shot clinics in residential senior housing, community centers and other nonprofits in your area.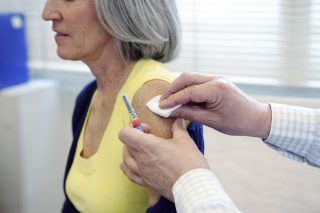 What Does It Cost?
The flu vaccine is covered by your insurance and Medicare. They're also covered under the Medicare B provision as long as the provider or location you choose doesn't charge more than what Medicare covers. For example, Priority Health Medicare members receive an annual flu shot at no extra cost as preventative care. Check with your health plan about your best option if you haven't received your flu shot yet this year.
Are There Side Effects?
While there are possible side effects of the vaccination, the National Council on Aging notes that they are rare and that you will not get the flu from the shot.
Who Should NOT Get Vaccinated?
You shouldn't get a flu shot if you've had an allergic reaction in the past or currently have a high fever—though you should get one as soon as your fever ends.
Even though flu vaccines can contain an egg protein called ovalbumin, the CDC still recommends seniors with allergies to eggs get a shot. This is because professionals who administer the shot will keep an eye on you for 30 minutes to check for any allergic reactions and treat as needed.
How Else Can You Prevent the Flu?
Besides a new vaccination each year, there are other preventative steps seniors can take in order to reduce their chances of getting the flu this season.
Lead a healthy lifestyle. This includes proper nutrition and getting regular exercise. Get plenty of sleep, manage your stress and be sure to drink plenty of fluids.
Stay clean. Washing your hands will often help protect you. If soap and water aren't around, use an alcohol-based hand rub.
Contact matters. Avoid close contact with sick people and if you get sick, stay home from public areas. Germs are often spread when a person touches something that is contaminated and then touches their eyes, nose or mouth, so avoid touching these areas
Cover up. Cover your mouth and nose with a tissue when coughing or sneezing. Flu and other serious respiratory illnesses, are spread by cough, sneezing or unclean hands.
Keep up with your other vaccines. The flu shot can help prevent the flu, but if you actually get it you can develop other advanced conditions you should be protected against. Here is the CDC's helpful guide to vaccinations by age.
What are Flu Symptoms?
You can expect the following symptoms if you feel the flu coming on: fever, cough, sore throat, runny or stuffy nose, body aches, headache, chills and fatigue. Some also experience vomiting and diarrhea. It's also possible to have the flu with respiratory symptoms—but without a fever.
If you feel the flu coming on, it's time for care. This will allow you to address any immediate concerns and will also help you know if you're contagious—so you can help stop spread the virus.
Not sure if you should seek in-person treatment? Consider scheduling a virtual visit. Virtual visits allow you to talk with a board-certified doctor 24/7 via an internet-enabled device, so a medical professional can help you determine whether you require an in-person visit or if you recover from the flu at home. Check with your health insurance plan to verify virtual care coverage. Priority Health Medicare Advantage plans cover virtual visits at no cost.
When is Flu an Emergency?
If you or a loved one are 65 or older and experience any of the following emergency warning signs from the flu, the CDC recommends immediate emergency care.
Difficulty breathing or shortness of breath
Pain or pressure in the chest or abdomen
Sudden dizziness
Confusion
Severe or persistent vomiting
Flu-like symptoms that improve but then return with fever and worse cough
Is Treatment Available?
The answer is, yes. You should seek treatment as soon as possible because antiviral drugs work best when started early (within 48 hours of symptoms). A prescription is needed for an antiviral drug, which fights against flu by preventing the multiplying of viruses in your body—which can make your flu illness milder and help you get better faster. It may also prevent additional serious health problems that can result from the flu. Your doctor or health care provider can recommend the best antiviral option for you.
So remember, education and prevention are keys to success this flu season. If you or someone you're caring for is 65 or older, make sure to get a flu shot option recommended for seniors and follow other steps to combat the flu this winter. If do you get the flu, keep a close eye on your symptoms and seek care right away when needed to help stop the spread—and help you feeling better faster.