New Year's resolutions are always a hot topic once the calendar changes, especially when it comes to health and fitness. This year, we're following three Priority Health Champions and their 2020 resolutions. For our first article, we're taking a dive into each featured member's background along with their action steps to reach their healthy goals.
Champion #1: Amber
Her health journey: Amber has struggled with her weight on and off her whole life. Running was her go-to way of staying active, but after a tough foot surgery, she wanted to keep her endurance workouts without the high impact on her foot.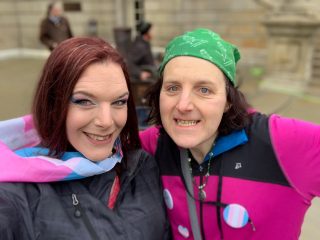 Resolution: "My goal is to cope with having a surgically repaired right foot by doing something drastically different. Running isn't going to happen anymore, so I'm staying in endurance racing by doing aquabike and swimming a 5K and riding the 67 at Holland 100."
What she's doing: Amber turned to her community in the Holland area and found that a community pool offered swim lessons and lap swimming.
"I thought if I could run a 5k, I could also swim one."
Along with swimming, Amber is doing at home workouts like gentle yoga and Pilates and more recently, biking.
The surgery hasn't been easy on Amber, but she is taking it one day at a time. With the help of her fellow Champions, she feels connected and not so pressured to be perfect, "It's community. I feel like I've formed bonds with this group that aren't as strong in other places. Other than that, I like that Champions are real. We're not cut, lean, training machines. We skip workouts, we struggle with workouts."
Her best advice: Take it one day at a time and find something in which you're interested. "Try yoga? That doesn't work? Run. Running bores you, try riding a bike. Fitness is wide open, so you'll find something!"
We love how Amber isn't letting a major setback ruin her healthy lifestyle.
Champion #2: Heidi
Her health journey: At 26 years old, Heidi was diagnosed with Multiple Sclerosis. After six months of treatment she was feeling better, aside from some weight gain. For 10 years Heidi had not endured any physical activity and admitted she was not living the healthiest lifestyle. Then in 2018, Heid's friend asked her to run a 5K on St. Patrick's Day. The run gave Heidi the sense of accomplishment she was yearning for—and sparked a new love for running. In 2019, Heidi and her son ran a half marathon together, which only fueled her fire to run a full marathon in 2020. She hopes her completing the marathon will inspire others to take a chance at something that they have always wanted to do, but feel as though it may not be possible.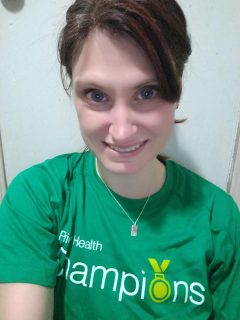 Resolution: "My goal is to complete a full marathon this coming September. Now is the time to start because I have proved to myself that I was fully capable of completing a half marathon in September of 2019. I plan to keep my resolution by continuing to train hard and persevere as I have conquered 14 years with MS."
What she's doing: Heidi is keeping active in the winter months by running 5Ks and getting outside with her husband to cross-country ski and hike. Any runner or active person can sympathize when Heidi says, "The hardest part of my health journey is at times dedication.  Running, by all means, is not easy. It took me a long time to get to where I am today. At times I have to fight self-doubt and motivate myself to stick with a dietary plan and my planned runs."
Her best advice: "You at least need to try! You will never know if something is for you unless you give it try.  If you are intimidated to try on your own, get a friend to do it with you or join a group."We can't wait to see Heidi tackle and conquer that marathon!
Champion #3: Randy
His health journey: Randy's health journey has always been a focus for him. He has been in good health most of his life and believes that having this healthy lifestyle has made him stronger, faster and more resilient as he ages. This has helped him bounce back after some more serious issues like Basal Cell Carcinoma. Randy believes that these types of setbacks make him appreciate his health and encourages him to stay on track with it. He specifically enjoys weight training, running, biking and other outdoor activities for not only his physical health, but his mental, emotional and spiritual well-being.
Resolution: "I've committed to more strength training this winter so I can gain a few pounds (even if it slows my race times) for more overall strength and resiliency."
What he's doing: Randy has really started to focus on his weight training and is hitting the gym about five days a week all through January. His goal in February is to add some new flexibility work into his routine with yoga.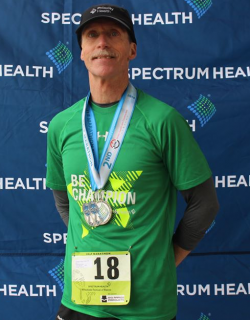 "I signed up for a three-day internet yoga challenge this week, and I felt like both laughing and crying this morning during the 10-minute video."
He also has plans to be a pacer at the River Bank Run and run the half distance of the Grand Rapids Marathon with his son this fall.
His best advice: "Persistence and consistency will be rewarded, so start slow and build up gradually. Also, don't be afraid to try something new. You may find something you love, and if not, epic failures become some of our best and funniest memories." 
Props to you, Randy, best of luck in training, and with those downward dogs.
It's never too late to create a New Year's resolution and stick to it. These Champions are holding each other accountable and you can join them too. Once you become a member of the Priority Health Champions, you can stay up-to-date with these featured Champions and others in an exclusive members Facebook group. Plus, enjoy many other benefits like event discounts, free gear and more.
About Priority Health Champions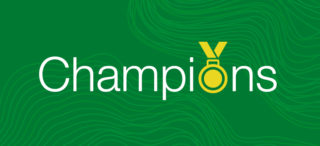 Priority Health Champions are virtually connected individuals from across Michigan who are committed to working on personal health goals and an active lifestyle. Champions come together as a team, online and in person, to share stories, inspire others in their health journeys and cheer each other on. To learn more about the passionate people that make up the Priority Health Champions community and to sign up, check out priorityhealth.com/champions.