January – Amber, Heidi & Randy
We kicked off the new year with three champions sharing their plans to make 2020 the healthiest year yet.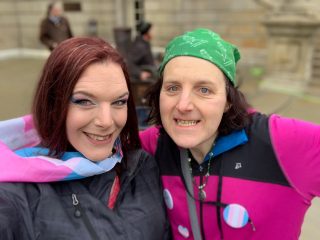 Amber: After foot surgery, Amber was looking to replace running with other high-endurance workouts that wouldn't place such high impact on her foot. She expanded her workout scope to include swimming, biking, yoga and more.
Her advice for staying active? Take it one day at a time and find something in which you're interested.
"Try yoga! That doesn't work? Run. Running bores you? Try riding a bike. Fitness is wide open, so you'll find something!" said Amber.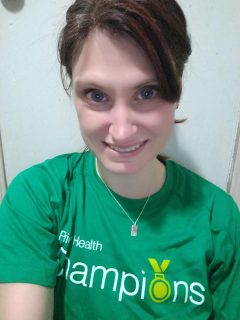 Heidi: In 2018, Heidi began her journey to living a healthy lifestyle after a friend asked her to run a St. Patrick's Day 5K. This sparked her love for running, and in September 2019 Heidi completed a half marathon with her son. Her goal is to complete a full marathon.
Heidi says, "You at least need to try! You will never know if something is for you unless you give it try. If you are intimidated to try on your own, get a friend to do it with you or join a group."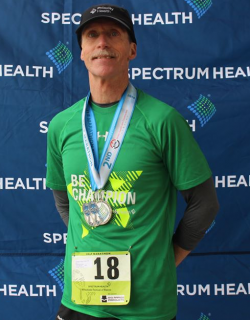 Randy: Living a healthy lifestyle has always been a focus for Randy, and he says it has contributed significantly to his physical, mental and emotional health, while also helping him overcome personal challenges in his life. This year, his resolution was to focus more on building strength and flexibility.
"Persistence and consistency will be rewarded, so start slow and build up gradually. Also, don't be afraid to try something new. You may find something you love, and if not, epic failures become some of our best and funniest memories," advises Randy.
Way to set those goals and stay committed to healthy living, Champions!
April – Lindsey DeYoung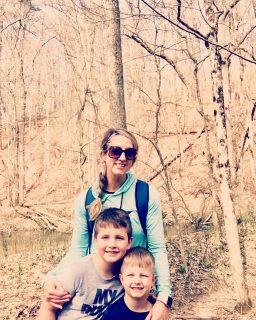 An occupational therapist and mother of two, Lindsey DeYoung has been finding many ways to keep herself and her children active and healthy throughout COVID-19. They've used the extra time at home to play more sports outside together, and Lindsey still trains for local races with a group of women nicknamed the "Sole Sisters."
"Exercising amidst the COVID-19 pandemic has been vital to me. I need those endorphins to keep my anxiety levels low and give me some mental clarity. Working out is a time that I don't have to think about the craziness around me," said Lindsey.
May – Tasha Carper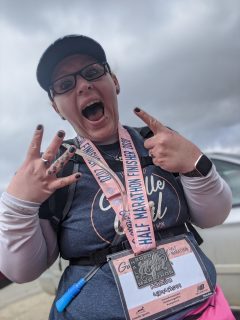 We celebrated Mother's Day 2020 with a feature on Tasha Carper, a self-motivated mom committed to setting a healthy example for her son. The stay-at-home order didn't keep Tasha from crushing her goal of completing her first half marathon. She says her son is huge source of motivation.
"I want to show him you should never give up on your goals and you should live a healthy lifestyle."
Great job leading by example, Tasha!
June – Jeffrey Fujioka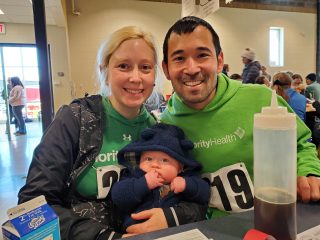 For Father's Day 2020, we featured Champion dad Jeffrey Fujioka. When his son was first born last year, Jeffrey took a break from running 5Ks and instead found walking races that allowed strollers so he could bring his son along. Throughout COVID-19, Jeffrey has kept active by participating in virtual races. He and his wife usually run five times a week, with their son in tow.
"Children, especially at his age, love to model behaviors of others. They learn from watching what their parents do. I think it is good to model healthy behaviors to your children, whether that is practicing good eating habits or participating in fitness activities," said Jeffrey.
Way to be a healthy role model, Jeffrey!
September – Andrew Wittland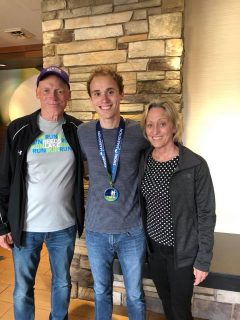 Champion runner Andrew Wittland was gearing up to run the Boston Marathon this fall – then COVID-19 hit. Though disappointed by the cancelled race, he quickly took advantage of the new virtual format and used it as an opportunity to incorporate loved ones into his run.
"When they officially announced that the Boston Marathon was going virtual, I texted a few friends and college teammates to ask them to join me in completing the virtual race," Andrew said. "In mid-September, we met up and – while maintaining proper distancing guidelines – my friends ran different parts of my race with me while my family cheered us on."
Shout out to all our incredible champions who have turned this crazy year into one filled with opportunities, support for your fitness goals and healthy choices. We can't wait to see all you'll accomplish in 2021.
About Priority Health Champions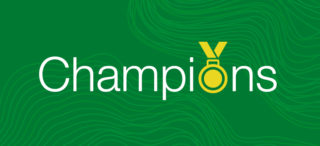 Priority Health Champions are virtually connected individuals from across Michigan who are committed to working on personal health goals and an active lifestyle. Champions come together as a team, online and in person, to share stories, inspire others in their health journeys and cheer each other on. To learn more about the passionate people that make up the Priority Health Champions community and to sign up, check out priorityhealth.com/champions.