While snow on the ground and brisk, cold air may sound like a great time to exercise indoors, consider the benefits of winter sports such as snowshoeing, cross country skiing or fat tire biking before you hibernate.
Michigan Snowshoeing Trails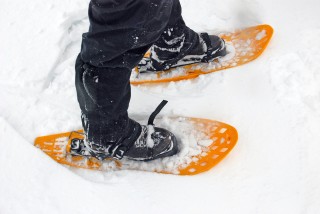 Snowshoeing is one of the easiest sports to participate in this winter. It provides a cardio workout while building strength, agility, balance and endurance. Snowshoeing is the perfect sport for people of all ages and is certainly an easy and inexpensive hobby to pick up as a family. Calorie burn for this activity is anywhere between 420 to 1,000 calories per hour.
Strap on your snowshoes and head to one of these great Michigan hiking trails:
Corsair Ski Trails – the Highbank trail at Corsair follows a high bluff overlooking the historic AuSable River Valley and is considered one of the most scenic trail routes in the Midwest.
Crystal Mountain – during the winter, the Michigan Legacy Art Park doubles as a beautiful snowshoe destination that features an outdoor amphitheatre and more than 20 viewable sculptures.
Hanson Hills – there are two loops available on this trail, one for beginners and one for more advanced snow shoers.
Or on the snowiest Michigan days, take a whirl around the neighborhood before the snow removal trucks remove the freshly fallen snow.
Kick It Up a Notch to Cross Country Skiing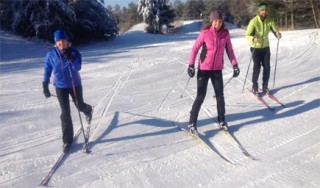 Another activity that involves the great outdoors is cross country skiing. This type of skiing can be enjoyed in a wide variety of forms. Types include nordic skiing, track skiing, skate skiing, telemarking, backcountry skiing and ski touring
The activity is a full-body workout that engages every major muscle group depending on the stride you use.
Cross country skiing can burn more calories than any other form of exercise or sport with up to 1,200 calories per hour.
Check out these top notch trails:
Boyne Highlands Cross Country – this trail offers more than 35 beautifully-groomed kilometers of cross country fun that weaves through Boyne Mountain.
Cross Country Ski Headquarters – the Cross Country Ski Headquarters is located at the heart of Michigan's cross country skiing mecca and is one of the premier destinations in Michigan and the Midwest.
Roll Where Few Bikes Frequently Roll: In the Snow
Fat tire biking, or fat biking, has been around since the 1980s, but it is a sport that has really taken off in the last year. A fat tire bike is one that has wide rims and extra large tires and allows bikes to roll into brand new territory, including snow covered tundras. Since the sport has gathered so much attention within the last couple of years, resorts and trails across the state have started building designated bike trails.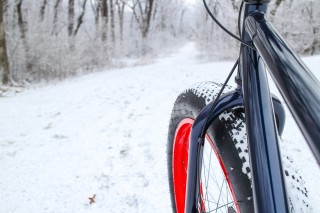 Crystal Mountain is one of those resorts that has catered to the demand and offers a trail that is nearly 6 miles long and takes anywhere between 30 and 45 minutes to complete.
Or try your hand on other trails by renting a bike at the Einstein Cycle's fat bike rental at Timber Ridge in Traverse City.
Fat biking is a bit more difficult than it looks and requires a different mindset when you ride. Since the bikes are heavy and they are someone slow to turn, fat bikes are sometimes considered the monster truck of the bicycling world. Because of the extra exertion it takes to handle the bike and pedal through snow, sometimes you can burn up to 1,500 calories per hour.
Try It For Yourself
Getting involved in any of these activities couldn't be any easier during the month of January. For the first month of the year, everyone is invited to enjoy discounts at participating northern Michigan area trails for "Learn to cross-county ski month" through the Great Lakes Winter Trails Council.
From Jan. 1 to Jan. 31, you and your family can get lessons, rental equipment and a beginner's trail pass for $20 at participating properties:
Boyne Highlands Cross Country Center – 231-526-3029
Boyne Mountain X-C Center – 231-549-6088
Corsair Ski Trails – 989-362-2001
Cross Country Ski Headquarters – 800-832-2663
Crystal Mountain Resort – 800-968-7686
Einstein Cycles Fat Bikes at Timber Ridge – 231 421-8148
Forbush Corner – 989-889-1644
Hanson Hills – 888-876-2196
Treetops Resort – 888-873-3867