If you get a call from Signify Health telling you about a no-cost, in-home health assessment, it's a benefit that's part of your Priority Health coverage for Medicare and individual plan members. Priority Health partners with Signify Health, a mobile clinician network, to provide in-home health assessments (IHHA), or "bonus" doctor visits in addition to regular primary care visits—all in the comfort of your own home. During this visit, a doctor or nurse practitioner will sit down with members to review medical history and medications, and answer any questions about their health.
We sat down with Sharon Wiggers, a Priority Health Medicare member, who recently took advantage of a Signify Health checkup.
Sharon is an avid gardener and painter, but recently she's been limited in her passions due to fatigue and dizziness. After a visit to her primary care physician, she was prescribed a medication to treat her symptoms—except the prescription didn't seem to help. That's when she got a call from Signify Health about an in-home checkup and decided to give it a shot.
Sitting at her kitchen table, Sharon chatted with Dr. Christiansen about her recent fatigue and dizzy spells. The two discussed her symptoms and reviewed her medications. Dr. Christiansen performed a brief examination, during which—based on her symptoms—he screened Sharon for peripheral arterial disease and identified a blockage in her carotid artery. Now with a diagnosis from Dr. Christiansen, Sharon made a follow-up appointment with her cardiologist. Thanks to her in-home health assessment, Sharon is now on her way to feeling healthy again.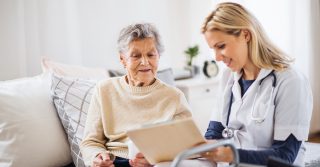 Sharon wanted to share her experience with other Priority Health members and encourage people to accept the bonus checkup offering. "You don't feel rushed or like you're just another number," Sharon said. "They know what they're talking about and help you learn more about your body. It's nice to have a second opinion."
What is a bonus checkup/in-home health assessment?
A bonus checkup is an opportunity for a face-to-face visit with a physician or nurse practitioner in a preferred comfortable setting, like in your own home, or the place of your choosing. It can help identify any ongoing health issues before they become serious. "The physician who visited my home was able to identify a vessel blockage in my leg, which led me to visit a cardiologist," said Sharon. Bonus checkups are also a great opportunity to clear up any concerns or ask any questions you have about your health since your last doctor visit.
What can I expect from my bonus checkup?
The clinician will review your health history and medications, in addition to over-the-counter vitamins or supplements you may be taking. Depending on your health status and concerns, a brief examination is performed. These visits are also an opportunity to discuss any preventive screenings you may need. "The physician who visited me was very nice. It was a more in-depth and personalized visit than what you get at a physician's office," Sharon said.
How long will the visit take?
Visits typically take about 45 minutes.
Does it have to be at my home?
No, the visit can be at a friend's house or in another quiet setting appropriate for medical conversations.
How do I schedule my bonus checkup?
Signify Health will contact eligible members. "I received a call one day asking if I wanted an in-home visit and I gladly scheduled one," said Sharon. "Since I'm 80 years old, I was happy to hear I could have a bonus checkup. It was nice because they scheduled the visit at my convenience." But, if you're a Priority Health member you don't need to wait for Signify Health to call you—you can also schedule an appointment yourself, if you prefer. Call 855.746.8710 between 9 a.m. and 7 p.m. Monday through Friday.
Will my primary care physician know about this visit?
Yes, the provider at your bonus checkup will send a summary of your visit to your regular doctor, which you can review together during your next office appointment. You can also ask for your own copy of the summary letter. "I was very pleased to obtain the summary letter because I took it straight to the cardiologist regarding my vessel blockage," Sharon said.
How can an in-home visit help me?
Having a fresh set of eyes to thoroughly review your health concerns and conditions is a smart way to stay well. As a Medicare member, you can also earn $25 for completing your in-home health assessment. Learn more here.
Thank you to Sharon for sharing her in-home health assessment story. Learn more about in-home health assessments and how they can help you identify and treat any health issues and get back to feeling healthy.