By Dominique Duba
Although our calendars tell us the Spring equinox has come and it's Spring, the weather doesn't always reflect that! So finding ways to remain positive as we transition from winter to spring is so important for our mental health. As we anxiously anticipate the official arrival of warm weather, here are ways to keep your spirits high!

Start Your Day on a Positive Note
Not only is coffee a potential mood booster, it's also the perfect gift for a caffeine-loving friend or stranger! Have you ever had someone pay for your coffee? It instantly makes you happy and is a simple small act of kindness! In fact, studies show helping others can improve your mental health and help lower stress levels.
With so many places implementing outdoor heated seating, starting your day with a delicious coffee away from home is doable year-round. So, visit your favorite local cafe to brighten your and someone else's day!

Have Flowers and Potted Plants at Home
Flowers and potted plants can add freshness to your living space and better your mood! With spring upon us, it's the ideal time to visit local farmers markets for the latest selection of seasonal flowers and plants. Visit this directory to find a farmer's market near you!
Flowers positively impact those "feel-good" brain chemicals such as serotonin, dopamine and oxytocin!
If you don't have easy access to a market, try a local flower and plant shop where you can build your own bouquet with whatever flowers or greenery that fit your current mood. Stems Market in Grandville, MI has a great mix of pre-made bouquets and a variety for building your own. 
In addition to being beautiful, fresh flowers and plants provide mental health benefits. Plants can increase concentration and productivity (by up to 15%), reduce stress levels and boost your mood.

Get Outside…Everyday!
This one is tough for me because honestly, I love being cozy and comfy in our house on a chilly or rainy day. However, getting your daily dose of fresh air helps release the endorphins that come from physical activity and being in the sunshine (if we are lucky!)
It's also harder this time of year to get the Vitamin D you need to stay happy and positive. In addition to taking a daily Vitamin D supplement, try to feel the sun whenever possible — walk your dog, garden or, go to the park, etc — and wear sunscreen even if the UV index is low. I think it's so important to show my daughter how beneficial it is to get outside and move our bodies, even when bundled up!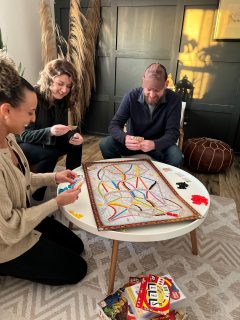 Spend Time with Loved Ones
With the isolation most of us experienced the past few years, leaning into the mental health benefits of spending time with loved ones is essential. Nurturing close relationships has been linked to lower anxiety and depression rates, higher self-esteem and greater empathy.
One way we love staying close with friends is with a game night! It's a fun activity to pass the time and isn't dependent on weather conditions. We have friends who also love game nights, so we take turns hosting. There are tons of games you can play in a group — our current favorite is Ticket to Ride! 
Maintain a Beneficial Skincare Routine
As a nurse working in the hospital, wearing a mask for 12-hour shifts hasn't been the best on my skin. Masks, coupled with the dry, cold air, has made improving my skincare routine a priority. Along with staying hydrated, I use hyaluronic acid and rosehip seed oil on my skin to prevent dryness. Something about a calming skincare routine just makes me feel better! 
I also love a soothing bath with lavender Epsom salts, which has multiple benefits. Lavender is known for its calming effects, and the magnesium in Epson salt baths can help with muscle fatigue and stress reduction. Something as simple as a skincare routine has been helpful to me in many ways!
The transition from winter to spring can feel like an eternity, but hopefully these tips will help with your mental health while anticipating warm weather! 
About the author: I'm Dominique Duba, from the lifestyle blog And She Loved. I am a wife, mom, pediatric RN and blogger who loves sharing her life in Michigan.