By: Dominique Duba, RN
Checking in with yourself:
This time of year, while beautiful and hope-filled, is a reminder of some of the hard things I've experienced. I have to relive a great loss in my life, and I need more frequent mental health check-ins with myself. 
While Autumn boasts beautiful landscapes, for many this time of year signifies the coming of cold weather, less sunlight, and a long winter ahead. In the midst of this, it is important to remember the necessity of prioritizing your mental health, and ways to practice mindfulness every day.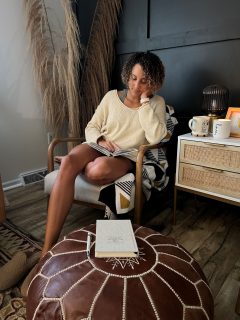 In a recent poll by the American Psychiatric Association, one of the major impacts from the pandemic is increased anxiety among adults and children. Along with anxiety, depression, sleep problems, and trouble concentrating are all things that people are regularly experiencing. A renewed focus on mental health can combat some of these effects. 
How meditation has helped me:
One way I focus on my mental health is by meditation. Meditation gives me a pause in my day to breathe, focus and re-center my thoughts. Mediation is a practice in which users apply a set of techniques to encourage focused attention, awareness, clarity, and a sense of happiness.
When I talk about meditation, I don't necessarily mean the kind of meditation that involves repetitive chants and a designated meditation area. This can be a great way to practice, but I prefer an alternate form of meditation. For me, meditation is something I can do at home, in the car, or in nature. Meditation for me means talking slow, deep calming breaths. Focusing on my breathing and centering myself to be present in that small moment. When I'm feeling stressed or overwhelmed, taking a moment for mindfulness helps me relax. 
Stress relief is one of the most influential aspects of meditation, and studies have proven meditation's effectiveness in reducing stress levels- read more about that here. In my life, meditation is also a way to channel grief into something less daunting, and a little more approachable. The past few years, Fall blows in and brings with it feelings of grief and I know that if I don't focus on my mental health, this time of year can be a struggle for me.
Being a Pediatric RN during this time of year is also a challenge due to the beginning of the respiratory illness season. Pediatric patients are usually hit hard with RSV, influenza and other respiratory viruses. This causes an increase in hospital census, and can bring added stress to bedside nurses who are working extra shifts to provide the best patient care possible. 
Being mindful of how stress at work is affecting me is another opportunity to refocus on my mental health to prevent burnout. Developing mindfulness through meditation is a strategy that can be used to promote individual well-being. I love my job and my patients, but during this season, it's even more important to leave my job at work, and not bring that added stress and overwhelm home with me. 
Meditation tools available:
I do feel that focusing on mental health is becoming less stigmatized. Because of that there are now more resources available for meditation, including apps, YouTube channels, books,  and support from primary care doctors and therapists. When I'm leaving a long 12-hr shift at work, I can sit in my car for a few minutes and easily pull up a 5-minute meditation on my phone to let go of any mental stress of the day.
For those looking for an easy meditation app to get into the practice, there are many great subscription apps available. Many of these are free or an affordable cost, such as:
Calm
Insight Timer
Headspace
Buddhify
Unplug
Simple Habit
Priority Health offers the Wellbeing Hub to its members, which has a wealth of resources to help you prioritize your mental health- including goals to get your body moving each day, improving sleep habits, and discovering new ways to reduce stress. Having a resource like the Wellbeing Hub makes it easier to prioritize your mental health every day. 
Focusing on your mental health does not have to be an overwhelming task. Checking in with yourself daily, being aware of stressors, and making time for meditation are all simple ways that you can focus on your mental health. Throughout the year but especially this Fall, it's important to work on your mental health, not to just survive — but to thrive.
About the Author: Dominique Duba is from the lifestyle blog And She Loved. She is a wife, mom, pediatric RN and blogger who loves sharing her life in Michigan.