Or maybe you haven't even started yet. Even though stores start reminding us 'tis the season to shop for holiday gifts the day after Halloween, many leave it to the last minute. And while it's easy to get everyone a scarf at the last minute (and no judgement if you do—we've all been there), you could also take a look at this list of great gift suggestions for the health-conscious. Your run-loving, veggie-eating, weightlifting and activity-tracking friends and family will thank you.
What to get the workout addict: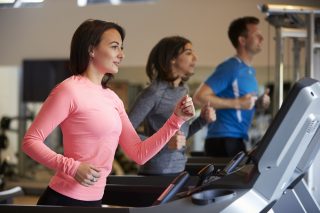 Fitness tracker accessories. Most gym-goers already have a fitness tracker. For the holidays, give them a fashion upgrade that's still fitness focused. Most fitness trackers offer a variety of band colors and accessories for that specific model. We like these woven bands for the Fitbit Versa because they're fashionable enough for streetwear but sporty enough for the gym.
Gym bag upgrade. Your gym buddy is probably still using the same gym bag they've had for months or even years—and it might smell like it. You can't go wrong getting them a classic duffel bag, like this one from Adidas. Look for waterproof materials and vented pockets for storing sweaty post-workout clothing and gear. And due to COVID-19 protocols, throw in a fitness mask or travel-size sanitizing wipes to keep them moving safely.
Home gym equipment. If your avid gym-goer friends and family members are finding themselves working out more at home due to COVID-19 restrictions, help them make their living space fit for fitness. They might really appreciate a portable resistance band set that provides many of the same benefits as a full weight room. Or consider a padded workout mat that folds away for easy storage to make squats, planks and push-ups more comfy on a hard floor home surface.
What to get the yogi: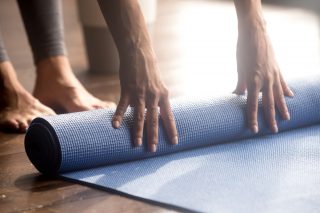 A comfy cardigan. The yogi in your life will appreciate having a cozy cardigan they can throw on over their yoga clothes—especially this year if their studio is also their home. Lightweight enough to keep on during gentle practices but chic enough to wear while running post-yoga errands or hopping on a Zoom, look for cardigans and wraps like this versatile one from Athleta.
Yoga socks. For chilly toes that still need to grip, yoga socks are a welcome addition to any yogi's workout wardrobe. Grippy yoga socks ensure a rock-solid warrior. They also make a great stocking stuffer. These gripper socks from Bombas come in men's and women's sizes and tons of fun colors.
Mat cleaner. Yoga mats can get a little funky after a few practices, as every yogi knows. A bottle of mat cleaner and a microfiber towel are the perfect pairing for every yoga lover's yoga bag and will keep things smelling fresh—from aromatic to Zen.
What to get the health foodie:
A healthy snack basket. Even health foodies get the urge for a 3 p.m. snack. Give them a gift that's yummy and nourishing, like this all-organic snack basket from Nuts.com. For a less expensive option, you can also head down to your local health food store and put together your own snack gift basket—include goodies like dried blueberries, almonds and dark chocolate.
A CSA membership. Community supported agriculture (CSA) memberships are the perfect gift for foodies who like to eat local. Throughout the farming season they'll be able to pick up a box of varied seasonal produce from local farmers. Some even include recipes for how to use the latest crop, so your foodie friend can try new tastes. Fresh produce while supporting local agriculture—it's a win-win. Find a CSA near your health foodie here.
A sturdy bento box. A well-packed lunch is the trademark of a true health foodie, which means the food lover in your life will swoon over a stainless steel bento box. An upgrade from old school Tupperware, a bento box has multiple compartments for portion control and for foods that need to stay separate until mealtime.
What to get the self-care enthusiast:
A mindfulness journal. Mindfulness is the name of the game for self-care enthusiasts. With prompts and activities to encourage mindfulness, a mindfulness journal is the perfect gift for anyone on your list looking to slow down and focus on mental and overall wellbeing in the new year.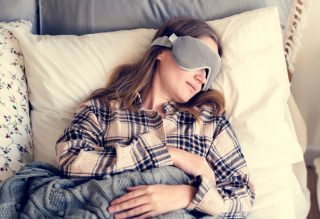 A luxurious sleep mask. Every lover of self-care knows how essential sleep is. That's why they'll love a silk sleep mask for blocking out extra light. Tons of these handy little masks are available online, so you can find one with a pattern or color that matches the personality of the self-care enthusiast in your life.
An adult coloring book. Adult coloring books have gotten a lot of buzz in the last couple of years—and with good reason. If someone on your holiday list has had a stressful year, a set of colored pencils and a beautiful coloring book are just the soothing trick. Include a few fun frames so they can display their finished works of art.
And if you have a friend or loved one who doesn't fit into one these categories, but has mentioned wanting to get healthier—ask them about their goals. You may be able to cover their first 5K run registration fee, pay for a few yoga classes to get them started or help them out with sign-up costs for a new gym membership. Remind them to check with their health insurance provider on what fitness incentives, like gym memberships or at-home programs, are included with their plan benefits.
So don't get tripped up treating the health enthusiasts in your life to a thoughtful gift; remember to consider their healthy style, their needs and their personality. Whether they're watching calories or lifting weights, they're sure to enjoy the thought you put into their gift this year. After all, it is the thought that counts.