Updated: July 22, 2019
It's no secret that staying active is important as you age. Regular exercise is one of the most important things older adults can do for their health. It can prevent health issues and help strengthen your muscles so you can keep living life without becoming dependent on others. In fact, the Centers for Disease Control and Prevention (CDC) recommends older adults follow these guidelines for regular weekly aerobic and muscle-strengthening activity.
Now that the days are long and sunny, there's no better time than the present to shake up your regular fitness schedule and try some new summertime activities. After all, there's no age limit when it comes to trying something new to stay fit. The warm summer weather offers some unique opportunities for older Michiganders to maintain your healthy lifestyle. Here are four activities for the summer that will keep you moving and having fun.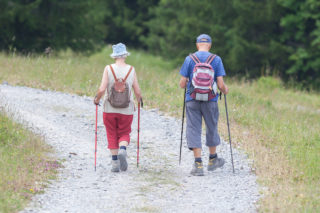 Hit the trail.
There's no shortage of amazing trails in Michigan, many of them bike-friendly. With over 1,300 miles of bike trails across the upper and lower peninsulas, you'll find tons of fun places to ride. Grab a friend or family member, and find a new trail or an old favorite to enjoy along with the natural beauty that's all around us in the Great Lakes state. Biking is a great workout. For example, if you weigh up to 175 pounds and bike at an average rate of 10 mph, you'll burn 215 to 240 calories per half hour. The calorie burn increases with speed, of course. Just make sure you practice safe riding.  If pedaling isn't your thing,Michigan also has many hiking trails if you prefer to explore on foot. A 160 pound person can burn between 430 and 440 calories per one full hour of hiking. Visit michigan.org for more information on Michigan's biking and hiking opportunities.
Visit Michigan's zoos & aquariums.
Our state's zoos, aquariums and animal sanctuaries let you to get up close and personal with some of nature's most interesting creatures while staying active. Get your daily steps in with a trip to John Ball Zoo, Binder Park Zoo or the Detroit Zoo. At 125 acres, the Detroit Zoo offers a 1.7 mile walk just by sticking to the main paths, and that's certain to increase if you choose to explore. Not only will your day be filled with fascinating wildlife encounters and a chance to enjoy the view with family or friends, but you'll also be walking and burning calories the whole time.
Try a new sport.
Make use of warm weather and try an outdoor sport. Golf is a relaxing activity that can be played alone or with friends. Ditch the cart and walk those nine or 18 holes for even more exercise.. Most golf courses offer discounted greens fees specifically for seniors. Tennis is another great outdoor sport that can be enjoyed at all ages. Bring a friend to a local tennis court or find a nearby athletic club and take some lessons. When the summer heat gets to be too much, take up swimming as a way to stay cool and get your heart pumping. Swimming is an effective low-impact exercise for older adults that puts limited stress on the body. Be sure to practice swimming safely whether you're jumping into a pool, a river or a big lake.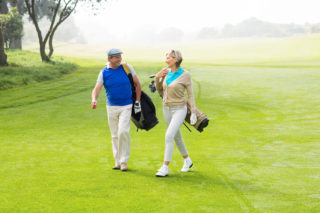 Too hot outside? Head to the gym.
While working out is a year-round activity, going to the gym can be a great way to beat the heat on the hottest summer days. You can still try something new by changing up your regular gym routine. Consider mixing in weights along with your treadmill sessions. It's widely agreed that resistance-strength training in older adults can improve overall health and quality of life. According to the CDC, resistance training exercises help you maintain bone density, reduce your risk of falling and can even prevent and treat chronic conditions like osteoporosis and arthritis. Resistance training can also reduce the amount of muscle tissue lost due to the aging process.
There are plenty of ways to stay active this summer for Michiganders of all ages.. Talk to your doctor about what activities are right for you as you age so you can be safe, have fun and stay healthy all year long.