Reading is good for the soul, and, depending on the book, it can be good for the body. Many people have found inspiration for healthy living and fitness through great books. Since March is National Reading Month, we wanted to review some of the titles that are beloved by active bookworms alike.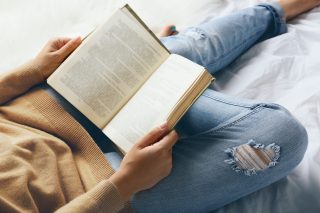 "Born to Run: A Hidden Tribe, Superathletes, and the Greatest Race the World Has Never Seen" by Christopher McDougall: Author and journalist Christopher McDougall faced issues like many others aspiring to run: an influx of injury and a lack of motivation. As a result, he turned to a reclusive Mexican tribe in the Copper Canyons. What follows is a breathtaking perspective of endurance running and the mechanics of the sport, which have served as continual talking points among runners alike today.
"The Boys in the Boat: Nine Americans and Their Epic Quest for Gold at the 1936 Berlin Olympics" by Daniel James Brown: This inspiring true story of rowers (and future Olympians!) can surely rock your boat. The ragtag crew from the University of Washington's trials remind us the importance of hard work and diligence, along with doing it all for something bigger than ourselves. It's a great perspective on a modern activity that's often overlooked, and one that will be seen again in the upcoming Summer Olympics.
"Atomic Habits: An Easy & Proven Way to Build Good Habits & Break Bad Ones" by James Clear: Exercise is one thing, but what about jogging your mental health? James Clear's bestseller explores how we form habits, decipher the bad ones from the good ones and make positive changes toward a healthy mentality. Are you planning on eating better foods this year? Maybe thinking about quitting smoking? How about trying to hit the gym more? This book will help sharpen those habits into actions.
"Eat, Drink, and Be Healthy: The Harvard Medical School Guide to Healthy Eating" by Walter C. Willett: Speaking of those healthy eating goals, this popular book dives into many crazed diets of this day and age, along with whether they work. Willett also details research on how the fats, carbohydrates and proteins in our foods should be healthily proportioned. For those looking to regiment their diets this year, this book may be your guide.
"Why We Sleep: Unlocking the Power of Sleep and Dreams" by Matthew Walker: It's no secret that sleep is integral to your health and well-being. But have you ever wondered about its intricacies? Walker discusses many of the subtopics around sleep and how they may be helping or even limiting the amount your body needs. From debating if caffeine affects sleep to research about sleep's ability to prevent cancer or Alzheimer's. Perhaps the perfect bedtime read?