As members of the Priority Health Champions program, a healthy lifestyle is important to the Andrus family. From quick group runs to active family vacations, Hannah says her goal is to make fun fitness a priority for her household.
As a mom to 6-year-old Stella, 3-year-old Sterling, 10-month-old Cobalt and wife to Caleb, along with working as a registered nurse, Hannah has a lot on her plate. Even with the busyness of school, work and everyday life activities, this Champion family finds fun ways to stay healthy and active wherever they go.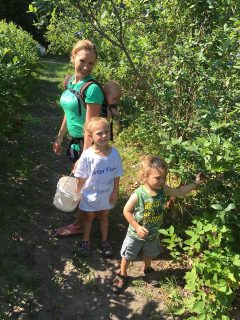 Hannah became a Champion in February 2018, shortly after the birth of her third child. She knew the weeks following her delivery would determine her exercising habits for years to come. She was thankful for the Champion program.
"I find other Champions inspiring and they help remind me that having kids and a busy life is never an excuse to not live a healthy lifestyle."
The family stays active together by riding bikes, walking trails and running—even if it means a little more of a workout for Hannah and her husband Caleb who push strollers during their longer runs.
"I'm training for a half marathon and many runs are with a jogging stroller, but that only makes me a stronger runner. And my kids make awesome running partners. I love their chatter at mile 9."
Hannah is grateful for her husband Caleb, the perfect running partner and accountability system. He even makes sure Hannah gets out of bed for her long runs. The couple has learned that flexibility with workouts is key with a busy family.
They've introduced their kids to a fun lifestyle by keeping them active in many ways, including on vacations. Hannah does not want her kids to view working out as a chore. She wants them to find it fun. That's why their family vacations include scavenger hunts, hikes and beach trips. Hannah tries to plan her activities around trails that go by parks, beaches or splash pads to give her kids a fun break.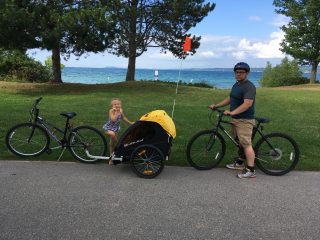 Hannah wants to empower the kids through her examples. "I hope that while I'm training for my first half marathon, my kids will see the dedication, time and effort that's needed on my part to be successful. I really want them to make the connection that hard work is required to achieve big goals and dreams."
Hannah's favorite family memories include water park weekends and going down slides with her daughter at Great Wolf Lodge, or hiking Sleeping Bear Dunes with her husband Caleb while both of them carried sleeping kids on their backs.
"It's reassuring to know that we can still participate in the activities we love with our children. Before having kids, I was under the impression that your activities pre-kid would become a thing of the past, but we haven't found that to be true at all."
Hannah's family has plans to walk together at the Grand Rapids Heart Walk (as a nurse, she loves any walk that supports saving lives). 6-year-old Stella is completing miles for the Grand Rapids Kids Marathon in October and Hannah will compete in her first half marathon in South Haven, as well.
Great job to this Champion family and best of luck on your upcoming races.
About Priority Health Champions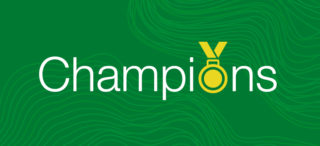 The Priority Health Champions program is a group of people focused on getting and staying healthy while inspiring others to follow suit. This program is open to everyone who has a passion to be and stay active and healthy. Champions are a close-knit group of people across the state of Michigan who come together to compete in races and walks, and share insights on how they're living healthy lifestyles. To learn more about the passionate people that make up the Priority Health Champions community and to sign up, check out priorityhealth.com/champions.