By Kris Rich, NBC-HWC, CPT, CET
What do you do when the August temps are too hot to handle your workouts? How can you make the best of a sweltering situation? Rather than getting frustrated and just skipping your workout altogether, try one of these cool tips to help you stay in control of your summertime exercise routine.
1. YouTube and/or DVD workout videos.
Thanks to the internet, we can access the world—and a workout—with a single screen tap. Why not take advantage of that on a hot summer day and search for workout videos on YouTube? It's a great way to change up your routine and try something new, like yoga or maybe even belly dancing. Or, maybe you have a few classic DVD workout videos collecting dust in your cabinet. Pop them in the DVD player and sweat a little less in the comfort of your own air conditioned living room.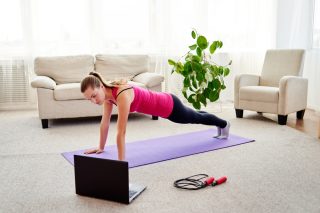 2. Set up a basic home gym.
I bet you're thinking an expensive treadmill, elliptical, stationary bike or weightlifting station of some sort right now, correct? Not so fast—resistance bands, hand weights (dumbbells), stability balls and jump ropes can all work your body head to toe without taking up tons of space and breaking your bank account. This investment gives you great options all year round—like when the snow flies and you can't get to the gym.
3. Beach day workouts.
The dog days of summer may be a good time to take advantage of a local beach. But don't just lay out the blanket and lawn chair and snooze. There are tons of ways to get active at the beach — from walking in the sand to frisbee, volleyball or even building a sandcastle. And when it gets too hot, jump on in the water to cool off. Swimming can burn up to 410 calories per hour.
4. Turn household chores into a fun workout.
Talk about checking two things off the list at once! Housecleaning is necessary, but often boring. Why not spice it up a bit by adding in some cardio? By the time you take a few extra trips up and down the stairs, add in some squats while loading the dishwasher and lunge from one room to the next, you'll have a solid workout in before you know it. Keep in mind that a workout doesn't have to be a consistent 30 minutes all at once. Any extra movement throughout the day really adds up.
Michigan weather is certainly unpredictable, no matter the season. Although there are plenty of picture-perfect days in our state, you can expect that there will be hot, muggy days when you can't get outside to exercise. Get ahead of the unpredictable weather before it actually happens. There are plenty of ways to stay active and beat the heat. Whether you use one of these tips, or come up with an idea that works for you to keep you cool, planning ahead and getting a little creative can help you stay on top of your routine.
About the author: Kristina Rich, NBC-NWC, CPT, CET is a nationally-certified health and wellness coach. She works with people to help them develop a personalized plan for their own health and wellbeing based on what is realistic and beneficial. Kristina is also a certified personal trainer and cancer exercise trainer through the American College of Sports Medicine.