By Kris Rich, NBC-HWC, CPT, CET
Whether you were someplace tropical, enjoying the sun and sandy beaches, or you were on a more adventurous vacation with lots of activity, you probably put a lot of effort into preparing for that trip. Remember back to the months of February and March—the anticipation of the impending spring break. The excitement and exhilaration of knowing you'd be leaving the polar vortex and arriving in the sunshine. Those feelings probably drove you to the gym, to that fitness class, maybe in front of your TV for an amazing YouTube workout. It felt so important and motivating to exercise and eat well.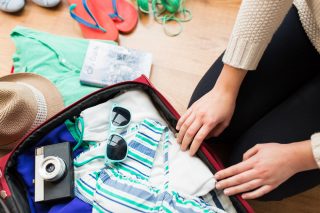 That's why it's more important than ever to make sure those good behaviors stay put now that you're back in beloved Michigan. Being away on vacation usually has a way of making us feel like we "need" to get back to a routine or "need" to go on a sugar detox once we arrive back home, am I right? But it's never as easy as it sounds. So, it's important to have a plan. What healthy habits were you forming in the months before your trip? Let's avoid the post spring break slump and persevere!
Now that you are home, your body might be crying out for some TLC. Here are five ways to help get you back on track and continue to live healthy after vacation:
Go food shopping. Maybe the very first post-vacation day, you get a "get out of jail free" card, but after that you need to be prepared. An empty kitchen sets you up for disaster. If time is short due to playing catch up, consider online grocery shopping. It's convenient and oftentimes cuts down on impulse buying.
Drink a lot of water. More than likely, you've immersed yourself in the full experience of traveling by trying new foods, indulging on tasty drinks and desserts and probably slacking on your overall water consumption. Nourishing yourself with healthy meals, packing in the greens and staying hydrated throughout the day will keep you feeling your best.
Schedule your exercise. Whatever form of movement you adore most, get back at it! A yoga sequence to stretch your muscles does amazing things for your physical and mental health. Going for a jog, hitting the gym or even simply walking around the block are all great ways to help you get re-energized, motivated to get back to your pre spring break routine and clear out that aggravating brain fog.
Prioritize sleep. Upon returning home from vacation, there's a lot to do and catch up on. For instance, laundry, grocery shopping, getting prepared to go back to work and school, catching up on emails, etc. But all that stuff eventually gets done. Don't neglect your sleep or else you can quickly feel overwhelmed by life and more easily give in to unhealthy choices
Temporarily tame your social life. A little downtime might be necessary after an exciting vacation. Try and schedule some evenings dedicated to a workout or a home-cooked meal, especially your first week home. Consider limiting alcohol to the weekend. Just think: with all the money you save from not going out, you will be able to start saving for spring break 2020!
Remember to put in an effort as big as the effort you put in to get prepared to go away on spring break. It's important to get back into a healthy routine and these five steps will help.
About the author: Kristina Rich, NBC-NWC, CPT, CET is a nationally-certified health and wellness coach at Priority Health. She works with members to help them develop a personalized plan for their own health and wellbeing based on what is realistic and beneficial. Kristina is also a certified personal trainer and cancer exercise trainer through the American College of Sports Medicine.