Healthy options aren't limited to the food at the Ford Arts Beats & Eats festival. Priority Health also is encouraging walkers and runners to sign up for the Arts in Motion 5K/10K races at 8 a.m. on Aug. 30 in Royal Oak.
If running isn't your style, head to the Michigan Lottery stage where instructors from Vibe Fit and Zumba Fitness will teach an exhilarating Zumba class at 11 a.m.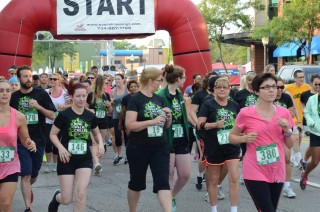 Participants will receive a free t-shirt for participating in the races and a bottle of water for joining the Zumbathon. Participants also will earn free admission with a guest to Arts, Beats & Eats for Saturday, free parking and a shuttle to the main stage.
Be sure to beat the crowds and sign up early. Pre-registration for the Priority Health Arts in Motion 5K and 10K run/walk is $35 and $40, respectively. Race day registration is $40 and $45. Registration for anyone under 18 is $25 for either race.
Proceeds from the 5k and 10k run/walk will benefit Michigan Youth Arts Council and Rock CF Foundation, a nonprofit dedicated to increasing the quality of life for people with cystic fibrosis.
Pre-registration for the Priority Health Zumbathon fitness party is $7 and day-of registration is $10. The registration fee will include a donation to St. John Providence Cancer Center.
Don't miss all of the fast-moving fun happening at this year's Royal Oak Arts, Beats & Eats.
Photo Credit: Melissa Valenti and Tom Putters