Five years ago on a cold, sunny Michigan February afternoon, Caitlin Mae Faber was born to loving parents Shelly and Mike Faber.
"The Lord blessed me and made me a mom. I had a healthy and smooth pregnancy and a quick, fairly easy delivery. Mike and I were smitten and so in love."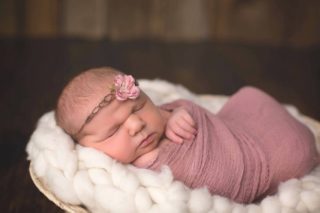 Home just two days later after a standard newborn hospital stay, the couple began adjusting to life as first-time parents with a newborn. They didn't know what to expect, but Caitlin did so well—she was eating and sleeping great, and she loved to cuddle on their chests. Shelly remembers her cry as loud. "She really made herself known."
Caitlin's first two primary care check-ups after coming home from the hospital went great. As a health and wellness coach passionate about exercise and nutrition, Shelly continued her trend from pregnancy of eating and drinking healthy so breastfeeding meant Caitlin was getting the best nutrients. Shelly and Mike were happy that everything was going so well, but as Caitlin approached 3 weeks old, something begin to change.
"She would cry a lot more and it was getting harder to calm her. Her eating habits were going the opposite direction and she would push me away. We called our primary care doctor, talked to others, and really thought she was struggling with colic." Shelly will never forget February 26, 2015 as a turning point. Mike, a teacher, had parent conferences late into the evening and Shelly called her mom and mother-in-law to help calm Caitlin's crying and try to get her to eat even just a bit. When nothing worked, they called the doctor and made an appointment for the next day. But when Caitlin still wouldn't calm down, they called the on-call doctor who sent the family to the Helen DeVos Children's Hospital ER.
"We sat holding her, praying and hoping for clear and easy answers." At first, tests came back clear, but Caitlin still wouldn't calm down. More tests and bloodwork, more failed attempts at calming and feeding her, and still no answers. A concerned doctor admitted Caitlin to the Pediatric Intensive Care Unit where the staff determined she was having constant seizures. The next step was to figure out what was causing them and how to stop them.
"We had a moment of hope, an answer. We both thought, seizures can be stopped with medication right?" But Caitlin's brain was at risk from significant damage with so many seizures, so the team put her into a medically-induced coma to let her brain rest and to stop the seizures. It worked and when they slowly weaned her off the medication to wake her up, they all eagerly awaited signs of movement—toes wiggling, eyes opening, anything. But nothing was happening.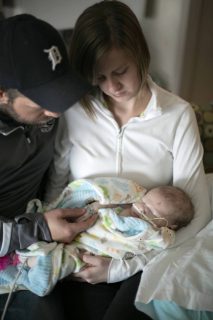 "We were soon told our worst nightmare was coming true. Caitlin was not going to make it. Her brain was too damaged and the only thing keeping her stable was life support. We begged, pleaded and prayed hard for a miracle—for our baby girl to wake up and prove us all wrong. But that wasn't her story. She was almost completely brain dead. We were devastated, not sure how to function. Our pastor, close friends and family came to the hospital for a baptism. We had our chance to snuggle with her and tell her how much we loved her. On March 9, 2015 at about 7 a.m., Caitlin went peacefully to heaven."
Shelly says along with their unimaginable grief, they also struggled with why this had happened. Was it a fluke? What were the chances of it happening again? Could they have more children and would they be healthy? The couple consented to join a genetic research study through the Children's Hospital of Philadelphia to find answers. Doctors involved in the study couldn't find anything after testing for all common diseases and estimated a 25% chance Shelly and Mike could lose another child.
After a year of checking in with the research study, the couple welcomed their healthy baby boy Dylan. He had an EEG done right away and was healthy. Thankful and relieved, Shelly and Mike had their third child a year later—Elena Mae. Elena was also healthy at birth. Shortly after her birth, however, Shelly and Mike got a call from their doctor that Caitlin's tests had finally revealed an answer—that she passed away from a genetic condition called Isolated Sulfite Oxidase Deficiency (ISOD). It's a nervous system disorder and babies who have it usually don't live for more than a few months. Since Elena was still a newborn, Shelly and Mike learned there was a 25% chance she might have it (Dylan was a healthy two-year-old at the time, past the danger of late-onset ISOD).
"We rushed Elena back to the hospital for testing. Then we had to wait two weeks for results. Two long weeks of reliving those sad days in the hospital, two weeks of questioning, crying, praying and struggling." On a Friday, Shelly and Mike got the call that Elena was a carrier of the gene that causes ISOD, but thankfully did not have it.
Today, Elena and Dylan are both healthy and the couple says they thank God daily for the gift of being their parents, along with their heavenly baby Caitlin. They recommend any parents going through a painful journey like this work with their doctors and health care providers to consider genetic testing. Shelly says she's grateful for her Priority Health insurance coverage, along with all of those who helped them along the way.
"I met some great people through this journey. People stepped up as we navigated children's special health care, bills, insurance. Priority Health's customer service was always helpful and patient as we navigated so many questions. We had the best nurses. Some of whom I still see today."
The testing couldn't save Caitlin's life, but it provided peace of mind for the family after Elena's birth and will be helpful for her future. As a carrier, Elena will be armed with knowledge that will allow her and a future partner to be tested before having their own children to determine their risk.
"Even though we have an answer, I still question and am hard on myself for what happened. I know it's genetic—but the pain of loss is there. I know God has a plan for our story and I have seen pieces of that come together. We had people from all over the world praying for us and with us in both circumstances."
Five years later, Shelly says she still misses Caitlin and there hasn't been a day where she doesn't think about her. "I imagine what she would look like and what she'd be doing. Some days I cry still, some days I smile—remembering her beautiful face. I've learned that grief is a journey and there is no end. I am so blessed to be her, Dylan and Elena's mom, and I hope she's looking down and so proud of us all. I want to take any and every opportunity I can to tell the world about her in hopes that our story will encourage or help someone else."