By: Derrick Worthey
Our garden did well this year, and I enjoyed teaching our boys the ins and outs of gardening. Even though I have been gardening for years, I readily admit to them I am still learning — it's a process.
Gardening is a hobby that the whole family enjoys. I learned how to garden from both of my parents, and feels good to pass the tradition onto my sons and it allows us to spend family time together all year round.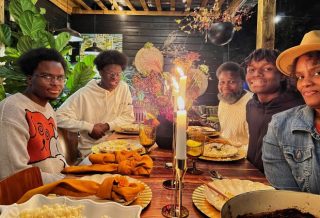 It's also nice to teach our boys about the correlation between eating fresh organic vegetables and health. My mom often said, "Eat the rainbow!" I have found that there is undeniable wisdom in this simple phrase.
So, at summer's end we eat the last of our summer's harvest. Savoring the fruits of our labor make our shared meals taste just a little bit better, and provide a sense of pride and well-being throughout the family.
As our Michigan autumn is in full swing and the temperatures begin to fall, the landscape of our garden also changes.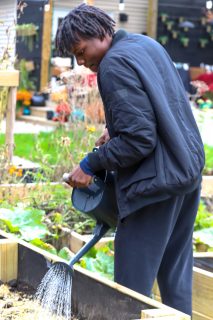 Last weekend, we harvested the last remaining items of our summer garden, including tomatoes, squash, herbs, kale, and celery. We didn't let them go to waste as we used them that night to make our family dinner. Our feast included braised short ribs, a salad, and a cheesy baked squash dish that the whole family enjoyed. Check out how I made the cheesy squash au gratin below. 
What You Will Need 
Squash. This year we grew trumpet squash, also known as Tromboncino squash. Harvested when young and green, trumpet squash has a bit sweeter taste than zucchini. However, when harvested later in the season, from late September and just before the first frost, the squash has a taste profile similar to butternut squash and delicata squash.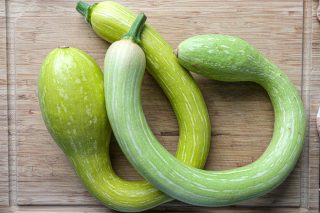 All-Purpose Flour & Butter. Make a quick rue with equal amounts of all-purpose flour and softened unsalted butter over med-high heat, and stir until the mixture takes on a light brown color. Making a good rue is easy to thicken sauces, gravy, stews, etc. Non-dairy butter can be substituted for a vegan version of this recipe.
Whole Milk. Add a cup of milk (half and half, skim, or 2% milk works well, too) to the rue and stir with a wire whisk until the mixture is smooth and lump-free. Want to make this recipe non-dairy? I recommend replacing cow's milk with one of the following:
cashew milk
coconut milk
plain oat milk
soy milk
non-dairy whipping or heavy cream
Cheese. For this recipe, I used freshly grated smoked gouda and asiago cheese; both kinds of cheese add lots of flavors. Other cheeses that pair well with this recipe:
parmesan
sharp cheddar

gruyère

goat cheese

comté

jarlsberg
Sea Salt & Cracked Black Pepper. Season this squash dish to taste with sea salt, kosher salt, and freshly cracked black peppercorns. 
*Take this simple recipe to the next level by topping the cheese with homemade herb breadcrumbs and chopped walnuts.
Easy Cheesy Squash Au Gratin
6 Servings
Ingredients:
2 medium size squash
2 tbsp extra virgin olive oil
2 tbsp unsalted butter
2 tbsp all-purpose flour
1 1/2 cups whole, skim, or 2% milk
3/4 cup grated smoked gouda cheese
1 cup grated asiago cheese
Directions:
Preheat the oven to 350 degrees.

Place a large skillet over medium-high heat and add two tablespoons of unsalted butter and extra virgin olive oil. Rinse, peel, and slice two medium squash and set them aside.

When the butter melts and the oil is hot, stir in the all-purpose flour with a wire whisk. Continue to stir until the rue turns a pale blond color.

Whisk in the milk until the mixture is free of lumps, and add sea or kosher salt and freshly cracked black peppercorns to taste.

Add the slices of squash in a circle pattern along the inside of the skillet and continue layering the pieces towards the center of the skillet.

Sprinkle on a little salt and cracked black peppercorns, and add the grated cheese.

Place the skillet on the center rack of a preheated oven and bake for forty minutes (40) or until the squash are fork tender.

Remove the squash from the oven and serve immediately. 
We have learned how gardening has improved our lives and well-being in more ways than one. 
Our garden isn't done just yet. We have prepped it for winter and that continual harvest will allow us to prioritize what's important to us. Not just our health and well-being but bonding together as a family.
About the Author: Derrick Worthey is the co-owner of This Worthey Life, a food + lifestyle blog. He resides in Mid-Michigan with his wife, Tatanisha, their three teen boys, and two adorable Labradoodles.