By: Tatanisha Worthey
Discover ways to prioritize weekly family dinners and create wholesome meals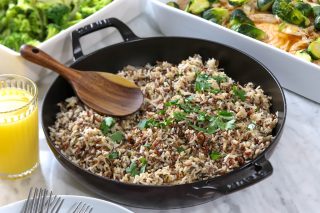 When our boys were little, we had a set evening routine that included enjoying dinner as a family. Sure, there were nights we had to pivot to accommodate a school function or sporting event, but we maintained dinner time together. 
Dinner during the week doubled as a time to check in with family members, talk about upcoming events and vacations, and connect as a family. 
As the boys got older, our weekly family dinner time took a backseat due to various schedules packed with school, college courses, work schedules, basketball practice, games…the list goes on.
This past year, we've recommitted to family dinners a few nights a week. So, we're sharing tips that helped us carve out time and focus on eating healthier and more-nutritious meals. 

Be realistic. 
As a mom, it's easy to want everyone's schedules to work with your expectations. However, I've learned to set realistic goals and be flexible. 
Maybe you can't have family dinner every night, but create a realistic goal everyone can achieve. It may result in weekly Sunday dinners or dinner a few nights per week. 
Get the whole family involved. 
One of my favorite tips for prioritizing family dinners is getting the whole family involved. Every family member should give input, from the schedule to the meal planning.
Cooking together as a family not only creates engaging dialogue and memories, but it also shows our boys the importance of making healthy food choices. 
Create a dinner ritual. 
Dinner is not just a time to come together to eat. You can use this time to create wholesome conversation, check in with the family, and create priceless memories. You can also establish a dinner ritual. It could be everyone doing a 60-second update on their day/week or having each person pick another family member to compliment. 
Everyone has a favorite meal. 
Do you want your kids to show up for dinner? Let them know you're making their favorite meal. Baked Salmon, chicken casserole, and breakfast for dinner are a few of our favorites. 
And try making a nutritious meal! Eating healthy doesn't mean eating bland foods. With a few tips below, you can eat and enjoy healthier meals that also taste good.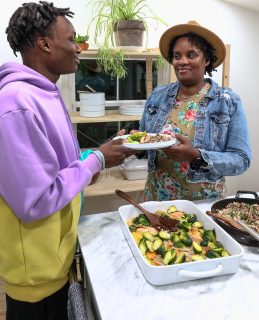 Baking and Using Your Air Fryer. 
Baking foods like meats and veggies instead of frying them is a way to reduce calories. Same for the air fryer. When you fry foods in oil, you add extra calories, possibly contributing to unwanted weight gain. 
Lightly brush lean cuts of meats with healthy oils like grape seed, avocado, or safflower oil for the oven. You can follow the same method for the air fryer, using the spray oil version of these products. 
Want more healthy cooking oils and sprays? Try these:
Sunflower oil/cooking spray
Medium heat oils 

Canola oil/cooking spray

Sesame oil/cooking spray 

Low heat oils 

No heat oils

Flaxseed oil/cooking spray
Meatless Meals.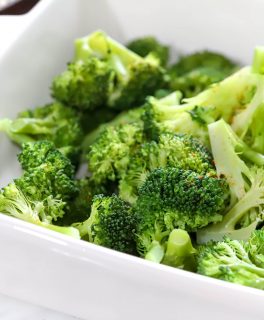 Preparing meals like veggie lasagna, tofu stir-fry, or using zucchini noodles instead of traditional pasta, are all easy ways to get your veggie groove on. 
Eating less meat is an easy way to reduce your overall cholesterol and encourage heart health! To get an expert's take, I pulled in Sophia Speroff, Registered Dietitian at Priority Health. 
"Studies have shown those who eat more vegetables have a lower risk of chronic heart disease. In fact, the more vegetables eaten, the more their risk went down," says Speroff. "A moderate change to protect your heart, such as reducing animal food intake by one serving per day and replacing it with legumes or nuts as your protein source, can have a positive impact on your health. Focus on eating more plants, healthier animal products and reducing intake of processed foods by making swaps like meat lasagna for veggie lasagna."
Eat more fish.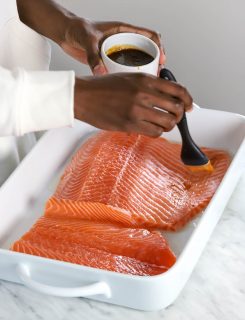 Salmon, trout, bluefin tuna and orange roughy, are healthier meal options. Fish is generally low in fat and high in omega-3 fatty acids, a good source of vitamins B12 and D, and rich in minerals iodine, iron, magnesium, potassium, and zinc. 
We love pairing salmon with broccoli, onions, and brussel sprouts served with wild rice. Here is a simple recipe to try for your next family meal:
Baked Teriyaki Salmon with Onions & Brussel Sprouts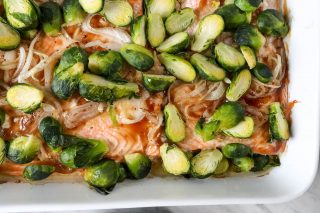 Ingredients:
3-pound salmon filet 

3 tbsp of olive oil

4 tbsp of low-sodium teriyaki marinade

1 large onion sliced

3 cups of Brussel sprouts cut in half

coarse sea salt

freshly cracked black peppercorns

4 cups of steamed broccoli 
Directions:
Preheat the oven to 350

°

Drizzle 2 tbsps of olive oil into a large baking dish

Cut the salmon filet in half and place both pieces into the baking dish

Brush the salmon with the low-sodium teriyaki marinade

Place a large skillet over medium-high heat and add the remaining 1 tbsp of olive oil

When the oil is hot, add the sliced onions and season with a couple pinches of sea salt and freshly cracked black peppercorns

Continue to sauté until the onions are slightly browned and soft 

Place the sauteéd onions over the salmon 

Cut the Brussel sprouts in half and set them aside 

Place a small stock pot filled with water over medium-high heat

When the water begins to boil, add the Brussel sprouts and blanch for about five minutes, using a large slotted spoon transfer the Brussel sprouts over the salmon. 

Place the salmon into the preheated oven onto the center rack and bake for 25 minutes 

Remove from the oven and serve with wild rice and steamed broccoli  
Instant Pot Wild Rice
Ingredients:
4 cups of wild rice

4 cups of low-sodium chicken broth

extra virgin olive oil

2-3 sprigs of fresh flat-leaf parsley
Directions:
Add the wild rice to the Instant Pot and add the low-sodium chicken broth

Secure the lid and select the rice setting

Allow the rice to cook and when finished, allow the Instant Pot to naturally release

Remove the lid and fluff the wild rice with a fork 

Transfer the wild rice to a serving dish and drizzle with olive oil and top with torn apart flat-leaf parsley

Serve
Cook and season your food with less salt. 
Using less salt is another great way to create healthy habits that last a lifetime. 
According to Speroff, "although most salt substitutes do not contain sodium, most have a large amount of potassium. For those with chronic kidney disease this can be problematic, and it's recommended to avoid using salt substitutes or seasonings that contain potassium chloride." 
There are plenty of salt-free and low-sodium marinades and seasonings to choose from, and they are packed with flavor.
"Be sure to read ingredient lists when looking at seasonings, this is where potassium chloride would be listed, if any. Seek out seasonings that are purely mixed herbs or spices. Salt can enhance or increase flavors, therefore, you may need slightly more of a spice than a standard recipe calls for," says Speroff.
Spring is a great time to reset and prioritize what's important. Having family time around the dinner table while enjoying a delicious and nutritious meal is essential.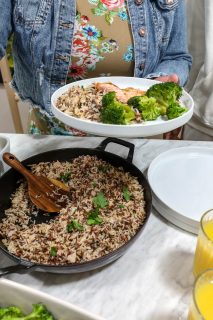 About the Author: Tatanisha is a mom of three teen boys, residing in Mid-Michigan along with her husband and two adorable Labradoodles. She is the co-owner of This Worthey Life, a food + lifestyle blog.