"A lifestyle change without gimmicks that yields success—who can beat it?"
This is how member Opal Denk describes the Diabetes Prevention Program she completed in 2017 as part of her Priority Health Medicare plan. After her doctor diagnosed her with prediabetes, Opal signed up for the free program. She committed to meeting once a week for an hour for 16 weeks, followed by meeting an hour once a month for six months. Today, she's celebrating her success and proudly displays the certificate of completion she received on March 20.
"I went from 186 to 148 pounds in the first 16 weeks and have stayed under 150 pounds through months of travel, holidays and a couple of months of house guests. This is a lifestyle and habit change I can live with," Opal says.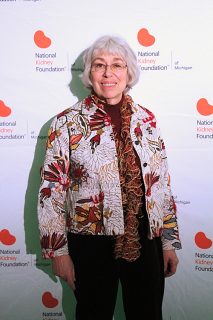 She credits the program for providing her information on all kinds of skills she needed to learn to help prevent Type 2 diabetes. She says it was fun learning about herself and enjoying her success.
"I got tips for cutting calories, finding where fats are hiding, increasing activity and dealing with barriers to success—like stress and potlucks," she says. Food was just one piece of the puzzle for Opal—getting intentional about exercise was also key to changing her life for the better.
"I almost welcomed a yard full of leaves because I could get hours of exercise outdoors as unintentional exercise. I call it 'free' exercise—no gym or repetitions, and I'm so intent on finishing the job, the time just flies by."
In addition to raking leaves, Opal bought her first bike and began riding.
"I was shaky at first and limited to very short trips. By summer's end, I could ride several miles throughout my town. I'm much more energetic—which makes it fun to be around people, helping others."
Her numbers tell the story of her success. After completion of the program, her sugar levels are healthy again. "And my good cholesterol is up; the bad is down. My doctor even told me, 'I wish I had your numbers.'"
These days, Opal continues to stay active and manage her weight by keeping an eye on what she's eating.
"Whenever I see the weight creeping up, I go back to writing down everything that goes into my mouth. It's kind of a game—do I really want to 'spend' that many calories on a hamburger? My taste buds have been re-educated. I enjoy well-prepared vegetables so much that some seem like dessert! And I have 'met' new vegetables that are new to me, like turnips—so yummy!"
"This is typical of the feedback I have received over the past four years on the Diabetes Prevention Program and how this program is changing our members' lives for the better," says Kandi Jezak, Senior Medical Program Specialist at Priority Health.
The program is becoming more important than ever as diabetes and prediabetes continue to become a growing health concern. More than 100 million U.S. adults are now living with diabetes or prediabetes according to the Centers for Disease Control and Prevention. That's 1 in 10 adults living with diabetes and 1 in 3 adults who have prediabetes. Prediabetes is a condition that if not treated often leads to Type 2 diabetes within five years. Diabetes is the seventh leading cause of death in the U.S., according to the American Diabetes Association, and is more prevalent in seniors ages 65 and up.
"Priority Health was the first health plan in Michigan and still the only one that provides the Diabetes Prevention Program to all adult Commercial and Medicare members who are at risk as a preventive benefit," says Jezak.
Opal and other Priority Health members from the Diabetes Prevention Program attended the National Kidney Foundation of Michigan's Champion of Hope Tribute Dinner in Lansing in spring of 2018. They met with state legislators to share how much they appreciate being able to participate in this prevention program at no cost as part of their health plan. Her friend Phil Calkins attended with her. Phil has also had great results through the program, losing more than 80 pounds and improving his numbers—preventing Type 2 diabetes. Their faces and the thumbs up say it all: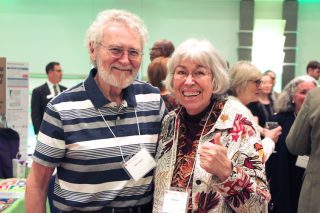 Led by certified lifestyle coaches, the Diabetes Prevention Program at Priority Health is award-winning with extremely successful results. Sixty five percent of members who have participated have met their weight loss goal with 45 percent exceeding it. Type 2 diabetes has dropped by 58 percent for members thanks to participation in the program. It's now offered both via in-person classes throughout Michigan and online via a virtual class. Learn more.