By: Danielle Yarbrough
Hi there! I'm Danielle the creator of Daily Splendor, a home and style blog. I'll be sharing some creative ideas on how we can unplug at home as the seasons shift. When the weather begins to change, we feel stuck indoors and it's easy to use screens more than we would like. By making an effort to spend quality time together doing relaxing, seasonal activities, you can cut back on the stress of the season while creating meaningful memories.  
Get crafty as a family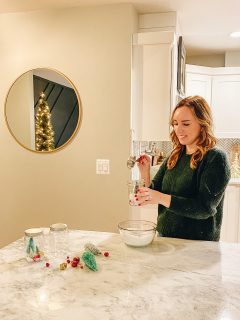 One fun way to minimize screen time is to get the family together to make a craft. Seasonal crafts are an exciting way for my kids to celebrate an upcoming holiday or just the season itself. 
Here's an easy snowy scene that you can make at home with anyone in your family. The craft is suitable for all ages (toddlers will need supervision). What you will need:
Plastic or glass jar (any size you prefer)
Small bottle brush trees
Additional decorations (bells, gifts, etc)
Sticky squares
Fake snow
Glitter (optional)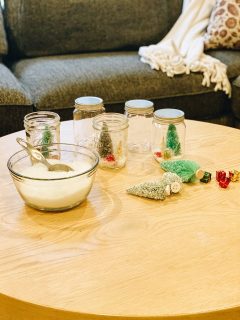 Choose which trees you want to use and arrange them along the bottom of the jar to make sure they fit well without being too snug. Small houses or figurines would work in place of the trees too. Put a sticky square on the bottom of each tree and secure it in place. Glue would also work but it takes awhile to dry and can get messy – with the sticky squares there's no waiting. 
Next add in the snow! Start with a few tablespoons and add more as needed. You can also add in some glitter at this point, if you want. Seal the top well and give it a shake! Find the spot you want to place and nestle it on top of some twinkle lights to give it a glow.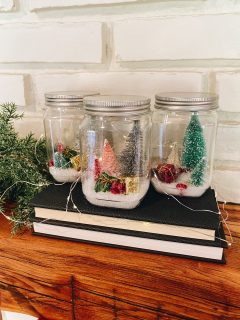 You can use them individually around the house. My kids like to keep them on their nightstand. Or you can make a bunch and group them together to make a little village. Just add some greenery and lights around it to make it feel cohesive. Another thing you could do is the kids could make them for friends and personalize them a bit by adding their name or a pretty ribbon around the top. 
Family time snacks 
To make it a whole winter wonderland experience, try creating a little hot cocoa station while you are crafting. Add some fun mugs and treats for the kids to choose from. And lots of topping options is a very important step!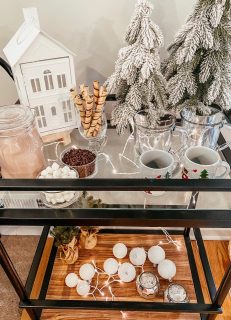 We also love to whip up some baked apples around the holidays. It's a super simple dish that's perfect for making with your kids! All you need to do is peel and slice a few apples, sprinkle with a little cinnamon and sugar and top with a pinch of rolled oats. Cover and bake at 350 degrees for 15-20 minutes until fork tender. It's easy but delicious and perfect for a cozy night in.
For other healthy snack ideas for when you're spending time with your family this holiday season, check out these ideas from ThinkHealth.  
Other family fun activities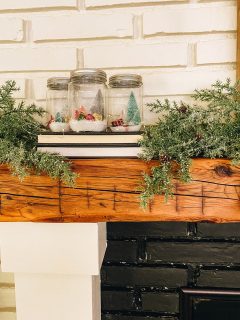 If you need some other ideas on a fun family activity, game nights are always popular in our house and there are so many to choose from. Checkers is currently a favorite and our whole family has decided this winter we are all going to learn how to play chess. 
Another fun one I have done with my kids when they needed to get their energy out is to build an obstacle course in our living room. That was a big hit! Michigan also has a variety of ways to get active as a family in the winter, from skiing and snowshoeing to winter hikes and ice skating. Find more ideas here. 
Happy crafting!
About the Author: Danielle is a Michigan based blogger, wife and mama to 2 and who loves to create and design! She shares a lot of home centered content from design and DIY to simple everyday hacks. She has always been so inspired how sharing ideas among friends and family can be so helpful for one another and loves being able to do that within her community.