When the news of COVID-19 began to circulate, one of the last things that many active Americans expected was that the new coronavirus would cut into their ability to lace up their shoes, hit the starting line and test their limits at community races. However, in a matter of weeks, those same starting lines were bare, as many races from community 5Ks to the world's major marathons were postponed or canceled.
While there is certainly no shortage of inspirational running literature out there, there unfortunately also isn't a handbook for how to handle a pandemic throwing your favorite summer half marathon or other sporting event out the window. We hope we can still help provide clarity to those with mixed feelings about canceled events.
First, it's perfectly okay to be upset or angry. Many experts say anger is part of the key stages of grief, and grieving is what everyone is feeling during COVID-19. Whether you were set to run your first race or looking to shave lots of time off your personal best, you most likely put forth lengthy amounts of training, and it can be easy to feel as though it was "wasted" or "for nothing." However, to quote Fred Rogers, "what do you do with the mad that you feel?" Experts suggest that mental framing can help. Here are some helpful tips from our health coach Angie Horjus on shifting your thinking from negative to positive. And if you need even more support—these tips and free resources can help you stay mentally fit during the pandemic.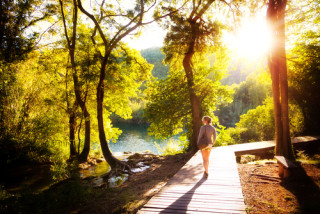 Even though your race may not happen, or is still happening virtually, that previously mentioned hard work is something you should look back on positively. You might not have gotten the chance cross the finish at races like the River Bank Run or the Bayshore Marathon up north, but you can still carry the badge of honor that comes with merely training through full cycle. Maybe things weren't so smooth, and you found yourself with a couple of injuries during your training. This may be an opportune time to figure out what's going on and what changes to make so that you can be healthy once races start up again. Acknowledge your disappointment, but be sure to also find little victories in the process.
It's far from an easy process, but once you've adjusted your mental frame, you can start finding positive ways to make the most of this socially distant time. Maybe do a little spring fitness cleaning. If you've been a strict road runner, this might be a good time to explore the twists and turns of trail running. Feeling a little stuck with running? Maybe try hopping on the bike to see if that's your sweet spot instead or hitting the water for some swimming practice during the hotter summer months. If you've always wanted to build your strength, get some weights or bands to add to your home workout routine. When there's no spotlight to shine under or strict event date looming, there's no shame in trying new things or finding new ways to fall in love with exercising.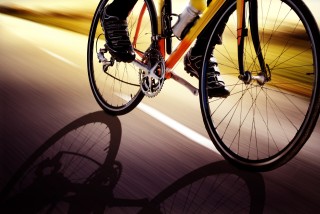 Races and events will be back again. There's no predicting when exactly, but the starting lines and finishing medals are surely not gone for good. Until then, be good to yourself, family and friends. We may not be able to control the world around us, but we can control our health and fitness.