Whether you're working with an agent, buying direct or shopping for health insurance through your employer, you'll want to avoid these common mistakes.
Forgetting to comparison shop.
Sure, shopping for health insurance doesn't seem fun, but don't let apathy trap you in the wrong plan. Instead, ask yourself a few questions: Does your current insurance company help you stay healthy and save money? Which plans allow you see specialists without a referral? Are you covered if you travel out of state or outside the U.S.? What virtual care options are available? It's smart to compare plans before choosing to enroll in one for next year.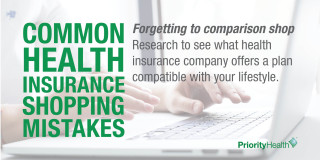 Not calculating the true cost.
It may be tempting to buy the plan with the lowest monthly premium, but like everything else in life, you get what you pay for. All plans come with the same essential health benefits but are divided into different metal levels to designate difference in cost. Metal levels include bronze, silver and gold. These levels have nothing to do with the quality of care you'll receive, but instead are used to indicate how you and your plan split the cost of your health care. Bronze and silver plans have lower monthly premiums and higher out-of-pocket costs. Gold plans cost more up front but have richer coverage.
If you choose a plan with the lowest premium, be sure to set aside extra cash so you're ready for expenses as they pop up.
If you're savings-minded, you may consider a plan that's paired with a health savings account (HSA). Your HSA will help pay for medical expenses, you'll save on federal taxes and any unused money rolls over from year to year. Keep in mind you'll pay 100 percent of the cost of your health care out of pocket until you meet your deductible.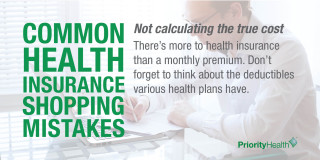 Buying more (or less) than you need.
It's wise to look ahead and anticipate how often you'll really use your plan. If you're looking for simple coverage and general care, you may be able to save. For example, why pay for a PPO plan if your doctor and preferred hospitals participate in an HMO? If you have known health problems or a chronic health condition, be sure your plan gives you the support you need.
Not understanding your network.
Insurance companies offer many plans, and each plan has its own network. With some, you'll pay extra if you visit a doctor outside of the network. With others, you must always use doctors and facilities within the network.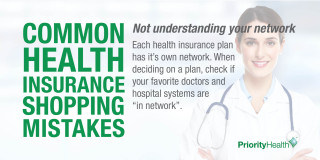 Before choosing your plan, check the network online or call customer service. If your favorite doctors and hospital systems are in network, you'll get the care you need with no unexpected fees. If not, keep shopping unless you're willing to switch to doctors or pay out-of-pocket costs.
Not taking advantage of Uncle Sam's help.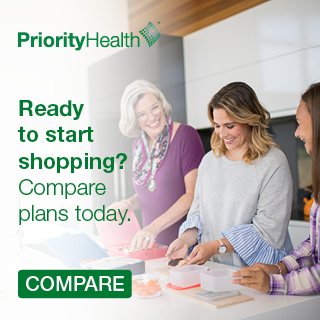 Thanks to the Affordable Care Act, you may qualify for financial help, even if you earn up to 400 percent of the federal poverty level (FPL). In 2021, that's $12,880 for an individual and $26,500 for a family of four. This can lower your premium, reduce your cost-sharing or give you tax credits.
The Kaiser Family Foundation has a Health Insurance Marketplace Subsidy Calculator that estimates your subsidy based on where you live, your income and the number of people in your family.
Want to learn more? Speak with a licensed insurance agent or get a quote now.