For all college students, back-to-school prep means a whole lot more than notebooks, pencils and a tissue box for the classroom.
It means sending high school graduates out into the world to fend for themselves on multiple fronts. Setting up their dorm room, signing up for a meal plan and buying their first books are some standard first steps. But what about planning for health care needs while they're away from home? What happens when they get a fever, their asthma flares up, or they come into contact with COVID-19?
The time to answer those questions is before move-in day. Here are a few tips to help:
Where's the doctor?
Most colleges and universities have health clinics on campus that provide multiple services, many of which are free to students. These clinics generally offer flu shots, over-the-counter medications or treatments for minor illnesses or injuries. Look for information during orientation or check the school's website.
Schools should also provide information about the nearest off-campus facilities, like urgent care clinics, hospitals or primary care offices. Whether visiting the campus clinic or nearby doctor, make sure to check your health insurance plan to see what's covered, especially if the school is in another state— making it potentially out-of-network.
Virtual visits
Check out your options for virtual doctor visits. A quick video visit with a doctor or nurse practitioner may be enough to manage an ongoing condition or confirm minor issues such as pinkeye or sinus infections.
This care option is expanding every year and many insurance companies, including Priority Health, work with area hospitals and other providers to offer it to their members. It's an ideal option for students away at school because they can see a doctor right from their dorm room or apartment using a laptop or phone.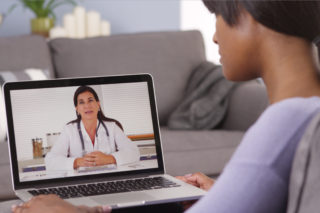 Safe travels
If your student is planning a semester abroad or headed south for spring break, it's a good idea to investigate health care options at their destination, too.
Priority Health members have the benefit of Assist America® whenever they're traveling more than 100 miles from home. One phone call will put your medical care in motion, including help with travel-related issues like emergency transportation, travel documents or lost luggage. Assist America is free to Priority Health members for vacation travel. For stays longer than 90 days, like overseas semesters or sabbaticals, members can pay an additional fee for the service.
Preventive care
Back to school check-ups aren't just for elementary school students. When your child heads off to live in close quarters with hundreds of other students, it's a good idea to make sure they've had a check-up to ensure all immunizations are up-to-date, including that annual flu shot.
Your primary care provider should have your child's records and know what's recommended. Many colleges and universities also have that information on their website, or you can check these recommendations from the Centers for Disease Control and Prevention (CDC).
Mental health
If your student is already seeing a counselor or therapist, make sure to investigate options on or near campus for a seamless transition.
Even if they aren't seeing anyone, the stress of a college workload, communal living and being away from home can spur students to seek counseling for the first time. Mental health counseling is another service readily offered at most colleges and universities. Check online or ask at orientation.
Many health insurance companies, including Priority Health, offer a 24/7 behavioral health resource for members to address concerns ranging from stress to substance abuse. Not a Priority Health member? Check your insurance plan to see what's available.
Self-care
Students living away from home won't have the benefit of parents nagging them to eat right and exercise. Unless they're a college athlete with a strict training and nutrition schedule, they'll be on their own when it comes to managing their overall health and wellbeing.
Encourage your child to exercise. Suggest walking or biking to classes instead of driving or riding a bus. Tell them to check out nearby fitness centers—many of which are on campus and included in their room and board or tuition.
Need a little guidance? Check to see if your insurance plan offers any assistance. Priority Health members have free access to the Wellbeing Hub, a virtual service to help you and your family members identify then reach personal goals for health and fitness.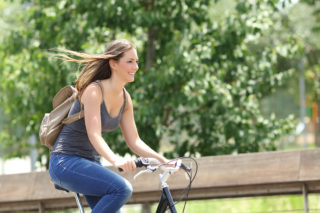 Pack for health
While packing dorm room decorations is fun, bringing necessary supplies can save you money later. In addition to bulk protein-packed snacks and healthy drinks, don't forget about medical needs. If your student takes medications regularly, send them off with a fresh supply and educate them on getting refills locally. It's never too early for them to learn about the various cost options of prescriptions.
And parents, one of the last parental things you can do for your fledgling adult is to send them off with a first aid kit and ensure they know how to use it. Include the basics: bandages in various sizes, gauze, tape, pain relievers, cold medicines, thermometers, ice packs, antibiotic ointment and hydrocortisone.  Follow this helpful CDC list for extras you may want to include in a traveling kit. Even if they never crack it open, it can give you some peace of mind when you're wondering how they're doing in between phone calls or texts.
Best of luck to all parents and college students as you head to campus this fall. Following this list of tips will help you head out well-prepared for a happy, and healthy, start to the new school year.