Tony Ventimiglia's first triathlon was in 1993 in Crystal Lake, IL where he competed in the Olympic distance event (0.5 mile swim, 25-mile bike and 10K run). His biggest concern was getting through the swimming portion of the event.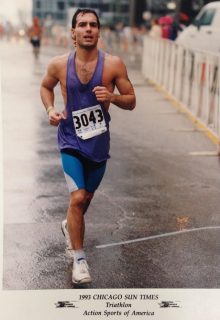 "I ended up being the last one out of the water, basically treading water on my back so I could breathe," said Tony. "I was cold, tired and shaking. I almost dropped out of the race."
Due to the way he felt at the time, Tony said he'd never swim again.
Years down the road, one of his friends convinced him to try a whole sprint triathlon (500-meter swim, 13-mile bike, 5K run). In an effort to improve his swimming, he took four swim lessons at a local health club.
"I showed up in a regular swimsuit and could barely swim one length of a 25-yard pool," Tony said. "I was relegated to the 'guppy lane,' but the group accepted me and helped me improve tremendously."
After taking swim classes and training on his own, Tony began to enjoy swimming. He completed the triathlon with his friend in 2013 and the next year followed that event with the Steelhead Half-Ironman Relay (1.2 mile swim). Tony has competed in two triathlons every year since (as a relay).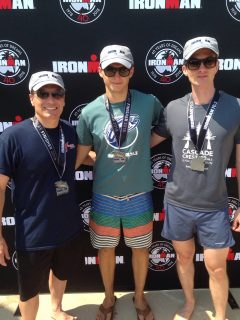 "My unofficial swim coach and friend, John Brinker, who is a two-time Kona Ironman finisher, always says to swim strong not fast and that's exactly what I've been doing," said Tony.
Due to an injury, Tony hasn't been able to participate in the running portion of triathlons, so now he completes triathlon relays. Running has always been an important aspect of his health journey, but he's finding other alternatives to take its place.
Tony said the key to his success is his training group. "I find it difficult to work out on my own and I'm thankful for my group," said Tony. "They keep me motivated and accountable."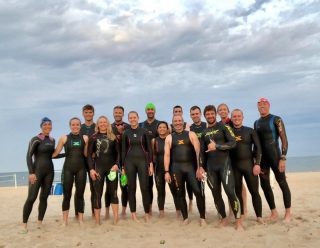 Tony said he likes the Priority Health Champions program for the same reason. He enjoys seeing others share their health journeys. "I love the motivation and support the program gives me," said Tony. "I post my workouts and it's nice to see other Champions cheering me on."
August is National Wellness Month, so Tony is making sure to focus on himself. He's going to eat the best he can and continue with his consistent workouts.
His motto is, "if you do your best, that is good enough. Don't be so hard on yourself."
While Tony hopes to find a solution to his running pain soon, he would like to someday complete the Mighty Mac, a 4-mile swim under the Mackinac Bridge.
About Priority Health Champions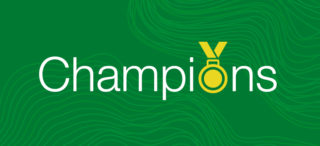 Priority Health Champions are virtually connected individuals from across Michigan who are committed to working on personal health goals and an active lifestyle. Champions come together as a team, online and in person, to share stories, inspire others in their health journeys and cheer each other on. To learn more about the passionate people that make up the Priority Health Champions community and to sign up, check out priorityhealth.com/champions.