In late December 2017, 38-year-old Comstock Park, Michigan dad of two Ryan Rodarmer was relaxing on the couch watching holiday movies with his wife when he rested his cell phone on his belly. His wife Lindsey looked down at him and then at her own lap, and they both looked at each other and said, "Ugh, we feel gross, it's time to seriously do something about it!"
Ryan has his own unique version of a genetic connective tissue condition, very similar to Marfan syndrome, which affects about 1 in 5,000 people. It affects his heart, eyesight, and other areas. He has a large aortic aneurysm and in the past has suffered from a mild stroke causing a small loss of vision in his right eye and two separate rounds of endocarditis (or, heart infection). He had his mitral valve repaired in 2013 with robotic heart surgery to prevent blood from flowing backwards through his heart. The surgery was tough as the couple's daughter was only 18 months at the time. "My surgery didn't go exactly as planned and was scary for Lindsey, but we got through it together with the help of family, friends and our faith."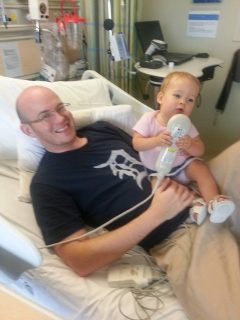 Because of his aneurysm that's closely monitored every six months and treated with medication—lifting weights or anything over 40 pounds is not an option. Instead, cardiovascular exercise is welcomed and encouraged by his cardiologist and surgical team. Not wanting to use his heart concerns as an excuse, Ryan knew it was important to get back on track with exercise in 2018. As Lindsey remembers, "He was letting the chaos of busy family life and his packed schedule at work get in the way of his own self-care. As he usually does, he was putting everyone else first and neither of us felt good about that."
The couple talked about how they could boost their activity together. While they had a family YMCA membership their two kids Braiden and Mia loved, going to the gym a few times a week was no longer motivating for them—especially during the colder weather months. Home workouts with the kids' busy sports and after-school activities were hard to fit in.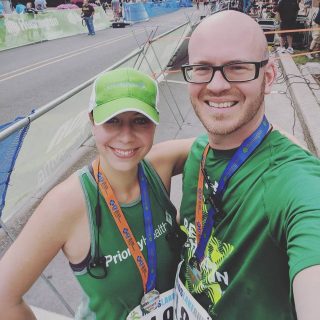 That's when Ryan suggested lacing up their running shoes again. "Let's train for a 5K this year. They have couch to 5K plans that can work for anyone, even us." Lindsey was skeptical, since she enjoyed workout classes over just running, but she agreed to try something new to support him.
The duo downloaded the C25K app on their phones that day and hit the indoor track at their local Y on January 1, 2018—pumped and ready to go. Ryan remembers being the only two people on the track that New Year's Day, and how out of shape they both felt. "We didn't have the right shoes. We couldn't jog for more than 1 minute without feeling out of breath. But the app helped us with an appropriate warm up and cool down, and a run/walk plan to get us going—adding another minute or two each week as we went. It was challenging, but it wasn't unmanageable. After a few weeks, we started to feel good—losing weight and gaining more energy. Together, we stuck with it. Even on those cold and snowy January and February days when we just wanted to go back to the couch."
In addition to motivating each other, the two joined the Priority Health Champions to keep them both accountable. They heard about the program through friends at work — Ryan is a Genetic Counselor at Spectrum Health for over 13 years with Priority Health insurance and Lindsey joined Priority Health's marketing department in 2017.
As they started to make progress despite the snowy winter weather, the pair signed up for their first 5K, choosing the Spectrum Health Irish Jig in East Grand Rapids on March 17, 2018. Since Ryan met Lindsey on St. Patrick's Day back in 2006, he felt this was a fun way to celebrate being together for more than a decade.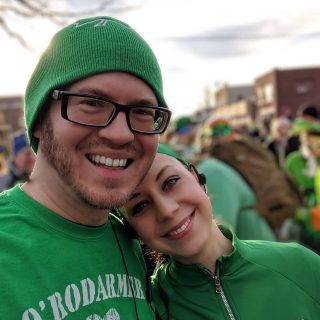 In addition to running weekly, Ryan committed to limiting red meat, low sodium and plenty of fruits and veggies in his diet, as well as limiting alcohol. The pounds kept coming off and energy levels were at an all-time high as March approached. Ryan remembers feeling both nervous and excited. "We'd been training to build our endurance on an indoor track, so I wasn't sure how we'd do on regular pavement in the cold air. Having layering options to wear with our Champions gear was so helpful. It's such high quality stuff and we were proud to wear it since we'd earned it through our activities. Plus, it was green—perfect for an Irish-themed race."
At the event, the couple had a blast in a sea of green and loved seeing so many fellow Champions along the race course. By no means the fastest on the course, they were still proud to complete their first 5K in more than six years at a steady pace without needing to stop and rest or walk.
That first finish line feeling sparked a new energy in Ryan and his partner that lasted throughout 2018. By the end of the year, with the help and inspiration of his fellow Champions online and at races, Ryan had run two 5Ks and then proudly boosted his distance to complete three different 10Ks. Lindsey added the 2018 Gazelle Girl 5K in April to her roster before moving to 10Ks as well.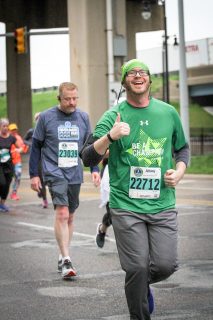 Ryan's proud of losing 45 pounds in 2018, and having some of his best cholesterol and BMI numbers in years. His biggest win, though, was being able to get off of both cholesterol and blood pressure medication after 2018's running success as his heart team continues to monitor his progress.
"I love seeing the Champions in our Facebook group and out in the community. Whether they're working out at home with their young kids, doing yoga, cycling, lifting weights or running full marathons—they inspire me. If they can do it with busy schedules and life's challenges, I can certainly keep going."
In 2019, this Champion couple is back at it as Ryan is hoping to improve on his 10K time and achieve a new personal record. Lindsey is training for her first-ever half marathon at Gazelle Girl in April.
They noted as they ran together on the first Saturday of January 2019 what a difference one calendar year has made since they committed to get moving together. They went from not being able to run one minute straight to running 40 minutes straight and wanting to do even more. As they work to prepare for this year's longer distances, they'll be running the Irish Jig again to celebrate a year of running together.
And their two kids: Braiden, age 17, and Mia, age 6, are also proud Priority Health Champions who love to run and swim (Braiden on the Comstock Park High School varsity basketball team and Mia is a first grader in the second highest level swim class at the YMCA who can't wait to sign up for "Girls on the Run" when she's old enough). Even their new puppy—a foster rescue named Perrin after Ryan's favorite local brewery, loves to run—although as he says, "mostly away from us."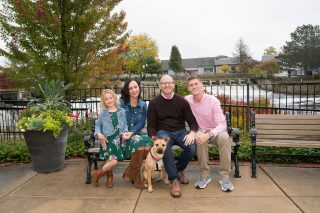 About Priority Health Champions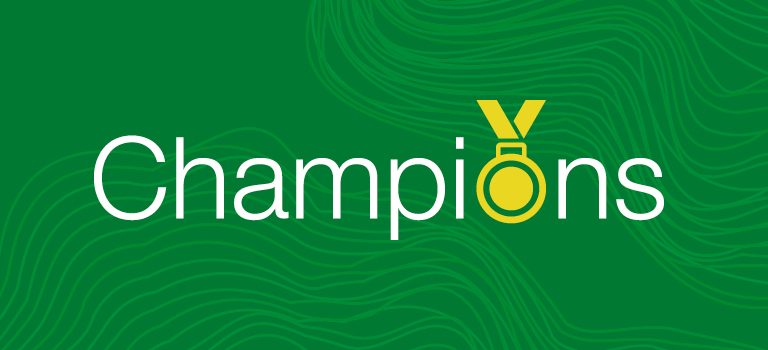 The Priority Health Champions program is a group of people focused on getting and staying healthy while inspiring others to follow suit. This program is open to everyone who has a passion to be and stay active and healthy. Champions are a close-knit group of people across the state of Michigan who come together to compete in races and walks, and share insights on how they're living healthy lifestyles. To learn more about the passionate people that make up the Priority Health Champions community and to sign up, check out priorityhealth.com/champions.