One goal at a time.
In 2004, Lance could barely run a mile, but within 10 months he was eating healthier, training regularly and completed his first 5K—losing 100 pounds in the process. Then, the stress of working a full-time job, completing a master's degree program and an inconsistent diet caught back up to Lance. He gained those 100 pounds back.
In 2015, Lance had yet another setback when he was in a serious car accident that made laying down, standing and walking extremely painful. Lance endured weeks of physical therapy and as soon as he could, added some mileage into his everyday routine. He asked his physical therapist if she thought he would be able to run the River Bank Run 25K in Grand Rapids. She said it wouldn't be impossible, but it would definitely be a hefty goal. Lance was up to the challenge.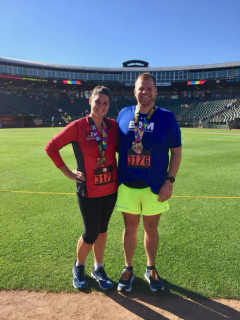 Several months later the River Bank Run 25K came around, and with training and encouragement from his best friend, current Priority Health Champion and running buddy Kari Nadar, Lance finished without injury and a huge sense of accomplishment. In June of that same year, he completed his first marathon.
"That marathon is what really made me realize how far I had come," Lance remembers.
The idea to run one half marathon each month came about when Kari and Lance were at the Borgess Half Marathon in Kalamazoo. While getting ready to run, Lance and Kari met a man who had been running a half marathon every month for a year. During the run, Lance convinced Kari that they should try to do the same thing. Clearly, it didn't take too much convincing, because Lance has been running a half marathon a month for two and a half years.
"The first year of half marathons, Kari and I did all 12 together. Although we didn't always run at the same pace, it was still great to have someone at the finish line waiting for me and cheering me on."
In 2017, Kari announced she was moving to Lansing, which was hard on Lance as he lost his running and accountability partner. Lance stumbled across the Gazelle Sports Priority Health Run Camp and decided to join. He was back on track with running and a great new support system.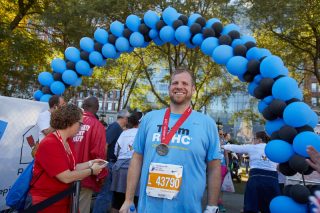 Lance has six more races until he achieves running at least one half marathon a month for three years (that's 36 half marathons and 471.6 miles, not including training). He credits his success to his training program and the supportive friends he runs with in the mornings.
"I don't like to let people down. When I say I will be there, I am there. That's what motivates me to get up to exercise. When I used to run by myself in the morning, I was constantly talking myself out of running so I could get a little more sleep."
Training with others has given Lance the support he needs. He's now a team captain at the Run Camps and all of his hard work paid off even more this fall. Lance ran the Bank of America Chicago Marathon on October 7 with a goal to finish under 4 hours and 30 minutes. He finished in 4 hours 29 minutes and 11 seconds, shaving 15 minutes off his previous personal record.
"It was by far the hardest race I have ever run, but so rewarding. I am here to tell you that you can do anything you put your mind to. You have to believe in yourself."
Way to go Lance—we can't wait to watch you cross all the finish lines in your future.
About Priority Health Champions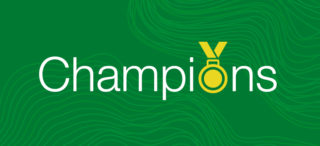 The Priority Health Champions program is a group of people focused on getting and staying healthy while inspiring others to follow suit. This program is open to everyone who has a passion to be and stay active and healthy. Champions are a close-knit group of people across the state of Michigan who come together to compete in races and walks, and share insights on how they're living healthy lifestyles. To learn more about the passionate people that make up the Priority Health Champions community and to sign up, check out priorityhealth.com/champions.