Andrew Wittland accomplished his goal of qualifying for the Boston Marathon after graduating from Albion College where he was on the cross-country team. He had completed his first Marathon in Traverse City just a few short weeks after finishing school, and he immediately began training for Boston which was on the calendar for April.
"I had envisioned that day being very special," said Andrew. "My whole family was going make the trip out to watch. My mom went to college in the Boston area and would go watch the race when she was there, thinking the people doing it were crazy. We joked a lot that one of those crazy people was about to be her son."
Having been around the sport of running for a while, he had always known how greatly it was cherished by people around the world.
"I was fairly upset when the possibility of no Boston Marathon began to circulate," Andrew said. "However, I – like many others – eventually realized the severity of the pandemic and why an event of that magnitude wasn't a safe idea. During times like these, we have to keep perspective and remember that this pandemic has caused significant tragedy in people's lives."
Andrew, like many of the Priority Health Champions, struggled with the initial reality of all large races and events being canceled. However, he used it as an opportunity to try new things.
"Running during this pandemic has helped me keep a sense of normalcy," he said. "Even when things around us seem uncertain, your ability to lace up your shoes thankfully isn't canceled. Throughout the week, I'd try to run and explore different areas of Grand Rapids to freshen up my scenery. If you're not having fun with running, you're not getting the most out of it."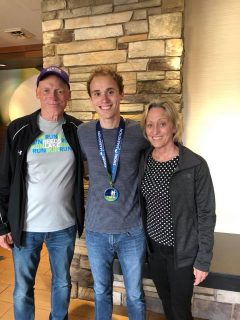 While there was no in-person Boston Marathon this year, organizers gave the qualifying runners the opportunity to do a virtual race. This basically means they could run 26.2 miles on any day, anywhere they want within a two-week timeframe. Although he was still disappointed that he couldn't physically run in Boston, Andrew made the most of the circumstances.
"When they officially announced that the Boston Marathon was going virtual, I texted a few friends and college teammates to ask them to join me in completing the virtual race," Andrew said. "In mid-September, we're all going to meet up and – while maintaining proper distancing guidelines – my friends are going to run different parts of my race with me while my family cheers us on."
Andrew said he is using this experience as motivation to train for the next in-person marathon where he'll be able to have the full experience.
"Even though it's been a strange year for all of us, I'm looking forward to hopefully making this one of the brighter parts of 2020, despite how much the full 26.2 miles will hurt," said Andrew. "I'm excited to see other Champions get creative and make the most of this unconventional time."
Andrew is a role model to all of us on how to make the best of unfavorable circumstances and continuing to live a healthy lifestyle during these times. We can't wait to see you running in the next
About Priority Health Champions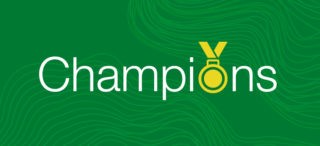 Priority Health Champions are virtually connected individuals from across Michigan who are committed to working on personal health goals and an active lifestyle. Champions come together as a team, online and in person, to share stories, inspire others in their health journeys and cheer each other on. To learn more about the passionate people that make up the Priority Health Champions community and to sign up, check out priorityhealth.com/champions.