After weighing over 260 pounds and undergoing weight loss surgery, Champion Tasha Carper says she's now "addicted" to working out and giving her son Aiden a strong role model to look up to.
Just like motherhood has challenged her, Tasha is always looking for workouts that can challenge her and make her feel accomplished. Some of her favorite workouts involve lifting weights and running. Tasha took on her biggest test this year when she decided to go from her usual 5K once or twice a month to running her first ever half marathon.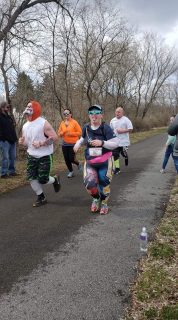 "I thought I would never be able to run. I even told my boyfriend that I would never run a half marathon. I had already completed a few mud runs and warrior dashes. I was going to try a triathlon, but decided I wasn't a very good swimmer and bikes are usually uncomfortable when I try to ride. I decided to train for a half marathon and will do more once the stay-at-home order has lifted and more races become available."
Tasha ran her first half marathon, the Gazelle Girl Half Marathon, virtually in her own neighborhood due to the COVID-19 executive order in Michigan. Her running route took her past a huge incline near her parent's house. While working her way up the hill, she was yelling to herself that she could do it. This mom has no problem with self-motivation.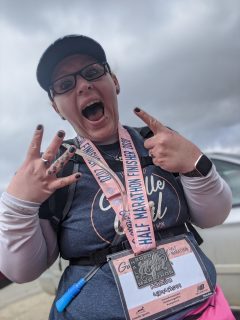 When Tasha isn't training for her next run or looking for new challenges, she's a mom who enjoys spending time with family. She enjoys cheering on her son, little brother, and nieces and nephews while they play sports.
One of her favorite things about being a mom is understanding that it can be challenging, but there are always great rewards. She loves having someone to help and care for. "I want to show him you should never give up on your goals and you should live a healthy lifestyle."
Tasha is an early riser (hello 3:15 a.m. workouts!), but on days off the duo will work out or go on bike rides together. Being into weightlifting herself, she is also trying to teach Aiden different weightlifting exercises so he can become a football or other sports star.
As much as Tasha leans on her son for support, she also loves the support of the Champions group. She says, "[It's] amazing and so inspiring, with lots of positive people — always motivating each other, it's a great group to be in."
When Tasha thinks about her journey as a mom she only has one thing to say: "He's made my life better!"
So Happy Mother's Day to Tasha, and all moms—including those who serve as moms in many different ways. We're all in this together, now more than ever as we work in new ways, keep our families safe, stay up on our fitness and healthy lifestyle goals and even home-school the kids the best we can during COVID-19. As Rosie Pope said, "If you're a mom, you're a superhero. Period."
About Priority Health Champions
Priority Health Champions are virtually connected individuals from across Michigan who are committed to working on personal health goals and an active lifestyle. Champions come together as a team, online and in person, to share stories, inspire others in their health journeys and cheer each other on. To learn more about the passionate people that make up the Priority Health Champions community and to sign up, check out priorityhealth.com/champions.