Champion Katie Boyer, age 39, is a librarian who enjoys reading, photography, painting and hand sewing felt keepsakes.
She also enjoys spending a lot of time focusing on her health and fitness.
Growing up, Katie had always been an active person. It wasn't until after high school, though, that Katie started to struggle with maintaining a healthy lifestyle.
After finding herself weighing over 300 pounds, she decided enough was enough. It was time to be healthier and focus on losing weight.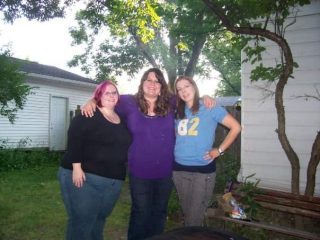 "I started off walking for fitness, and then joined a gym," said Katie. "After I lost a significant amount of weight, I decided I wanted to take up running because when I was heavier I couldn't run."
This thought was what kept Katie motivated, and what got her to start participating in races. She started her journey off by walking 5K distances, and before she knew it, she was ready to start running them.
The first race she ever ran was the Lory's Place 5K in 2011. Since then, she runs the race annually as a way to remember her first competitive running effort.
After that first 5K, Katie found herself moving up in distance, finishing 10Ks, 15Ks and even half marathons.
"I enjoy running because I remember that I wasn't always able to do it," says Katie. "There are days it sucks out there; I'm short of breath, my legs are tired, I'm slow and sore, but those days are some of the most important because they make the good days even better."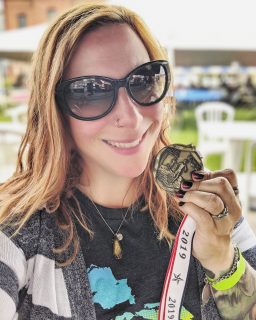 Katie uses a training plan for most days of the week to ensure that she stays focused on maintaining her healthy lifestyle. Whenever she feels like skipping a workout, she tries to remember that she has never once regretted going for a run or working out.
"Forward is a pace," says Katie. "There are some days when being out there is hard enough so on those days I just try to keep going forward and not focus on speed."
Losing weight can be difficult, especially when you don't know where to begin. Katie says it starts with small changes.
"Stop drinking pop, start taking walks," suggests Katie. "Being healthy is a lifestyle change, it isn't some diet you start for a while and eventually stop."
The hardest part of losing weight is making sure you choose the right foods for your body.
"You do sometimes have to say no, but you have to make sure that you don't feel deprived," she explained. "I don't want to live in a life where the foods I enjoy are completely off-limits."
Katie also believes that having a group like Priority Health Champions can be very helpful.
"I like seeing other people post their workouts, it helps give me ideas and motivation," says Katie. "I like being able to talk to people who know what I am going through and know what it is like to struggle, but also to preserve."
Katie loves trying new things, as well as surprising people with what she can accomplish.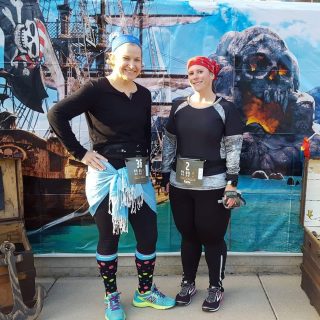 "I push myself to do longer distances, different kind of races, lift weights and try other gym workouts," says Katie. "I'm very proud that at one time I held four different records at my local gym."
Katie is working on improving her swimming and biking for triathlon distances. She would like to speed up her times and eventually do a Half Ironman (70.3 miles) on her own.
We can't wait to see what you accomplish next, Katie!
About Priority Health Champions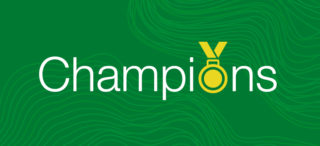 The Priority Health Champions program is a group of people all focused on getting and staying healthy while inspiring others to follow suit. This program is open to everyone who has a passion to be and stay active and healthy. Champions are a close-knit group of people across the state of Michigan who come together to compete in races and walks and share insights on how they're living healthy lifestyles. To learn more about the passionate people who make up the Priority Health Champions community, check out priorityhealth.com/champions.