Prior to becoming a Priority Health Champion, Jason Davidson compared his health journey to a "rollercoaster ride." He got frustrated without quick results, which often lead to a retreat to more familiar, and less healthy habits.
Jason wanted his health to be a lifestyle, rather than just an activity that he completed. "I realized that it takes time, commitment and sacrifice to achieve goals," said Jason. "Doing one mile, eating one healthy meal, or going to the gym once isn't enough—I need to make the commitment, and have it become part of my routine."
Motivation from others also became a key aspect to his success, much of which he attributes to the Champions program.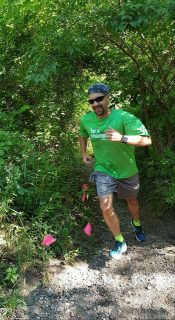 "I enjoy seeing other Champions and what they're doing—and sharing stories, tips, recipes and events with others," Jason said. Jason finds support from both the Champions program and the running community.
Jason was selected among more than 400 applicants to be a 2019 Detroit Free Press/Chemical Bank Marathon Ambassador—an honor that only 19 other Michiganders share.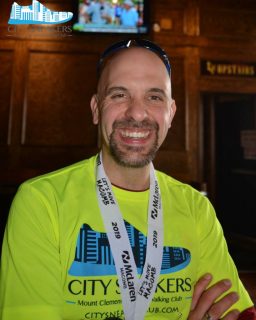 He will represent the race, which draws over 30,000 participants from all over the world. It's the only race to cross an international border twice.
"I'm so honored and humbled to be an ambassador alongside all of these great, unique, inspirational individuals," Jason said. "The diversity, the stories, the journeys, the challenges and successes that have all brought us to where we are at today make this group extremely special."
Even though Jason loves receiving his support from fellow runners, his biggest competitor is himself. He competes with previous performances to improve his time, race after race.
When Jason isn't running, he instructs classes at LA Fitness. In an effort to motivate his class, he likes to remind his participants that it is their class and that he is only there to provide guidance, suggestions and ensure their safety.
"Results don't happen overnight. Your health is a marathon, not a sprint," Jason said. "Take pride in each gain, big or small, and don't dwell on temporary setbacks."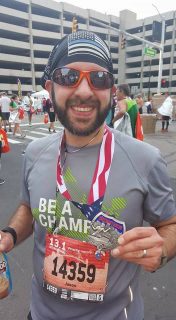 For now, Jason focuses on completing his first full marathon this year. Good luck Jason—we are all rooting for you.
About Priority Health Champions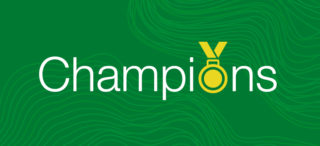 Priority Health Champions are virtually connected individuals from across Michigan who are committed to working on personal health goals and an active lifestyle. Champions come together as a team, online and in person, to share stories, inspire others in their health journeys and cheer each other on. To learn more about the passionate people that make up the Priority Health Champions community and to sign up, check out priorityhealth.com/champions.