Prior to becoming a parent, Crissy was committed to a healthier lifestyle. Along with eating better and trying new workouts, she joined Priority Health Champions and Gazelle Sports Run Camp—groups that led her to triathlons, marathons and more.
For the first time ever, Crissy says she felt like her healthiest self. When she found out she was pregnant, she knew she didn't want to change her healthy habits. She continued to run and work out right up until her daughter, Jasmine, was born.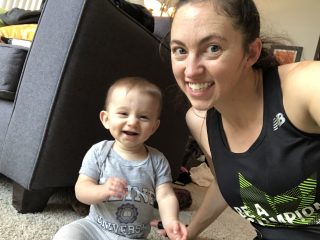 But with her new role of mom to Jasmine, Crissy began to struggle to keep her healthy regimen as consistent as before. She also had trouble accepting less from her workouts.
"Consistency is hard because sometimes it's truly hard to fit it in without giving up something else. Most often that 'something else' is either time with my daughter and husband, or sleep," Crissy said. "Neither of those are things I'm all too willing to give up, so that's where acceptance comes in. It can be hard to accept that I might not get a great workout (or any workout) in as often as I'd like."
She likes to remind herself that sometimes—rest is best, and prioritizing is crucial.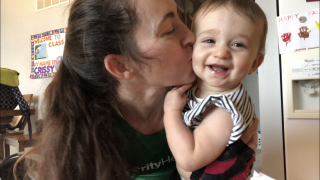 "For my daughter specifically, I want her to see the positive example so she knows to love herself and her body, and take proper care of it," says Crissy. She even includes Jasmine in many of her workouts.
"If I'm on the floor, you best believe she's climbing on me and making my workout more challenging," Crissy said. "Her favorite is squats… the girl loves doing squats with Mommy!"
With Crissy being a working mom and a nursing one at that, she learned it's easier for her to shift her workouts to home rather than a gym. She said that one of her favorite at-home workouts is BodyPump.
Crissy finds encouragement and motivation from the Champions Facebook group posts.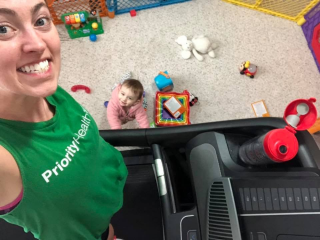 "I love that we can really try to help promote healthy living. It's a subject pretty near and dear to my heart, so I love being able to be a part of a team of people that are also committed to that," Crissy said.
It can be very challenging to balance a healthy lifestyle, as well as transition to new motherhood. But Crissy says it's all worth it at the end of each day. "Being a mom is truly the best thing ever, and I couldn't be more grateful that I get the privilege to experience such an incredible blessing."
Happy Mother's Day, Crissy. Keep up the amazing work.
About Priority Health Champions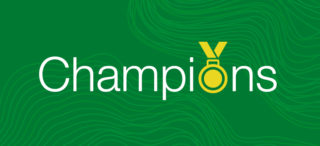 Priority Health Champions are virtually connected individuals from across Michigan who are committed to working on personal health goals and an active lifestyle. Champions come together as a team, online and in person, to share stories, inspire others in their health journeys and cheer each other on. To learn more about the passionate people that make up the Priority Health Champions community and to sign up, check out priorityhealth.com/champions.