Updated: May 21, 2019
This weekend marks what many Michiganders call "the start of summer." While summer doesn't officially begin until June 21, Memorial Day weekend unofficially kicks off the summer season with its universal power of getting people outside after a long winter. For some, it presents an annual ritual of cleaning and filling the swimming pool. For others, it's the first time to fire up the grill for a neighborhood cookout. For many in the Mitten state, Memorial Day weekend means packing up the car and heading to a remote destination to do some camping.
But between the sleeping bags, coolers, firewood and fresh air lies the most important element to help you beat the elements. You guessed it; your health. That's why we've put together this shortlist of tips to help you stay your safest—and healthiest—at camp this summer.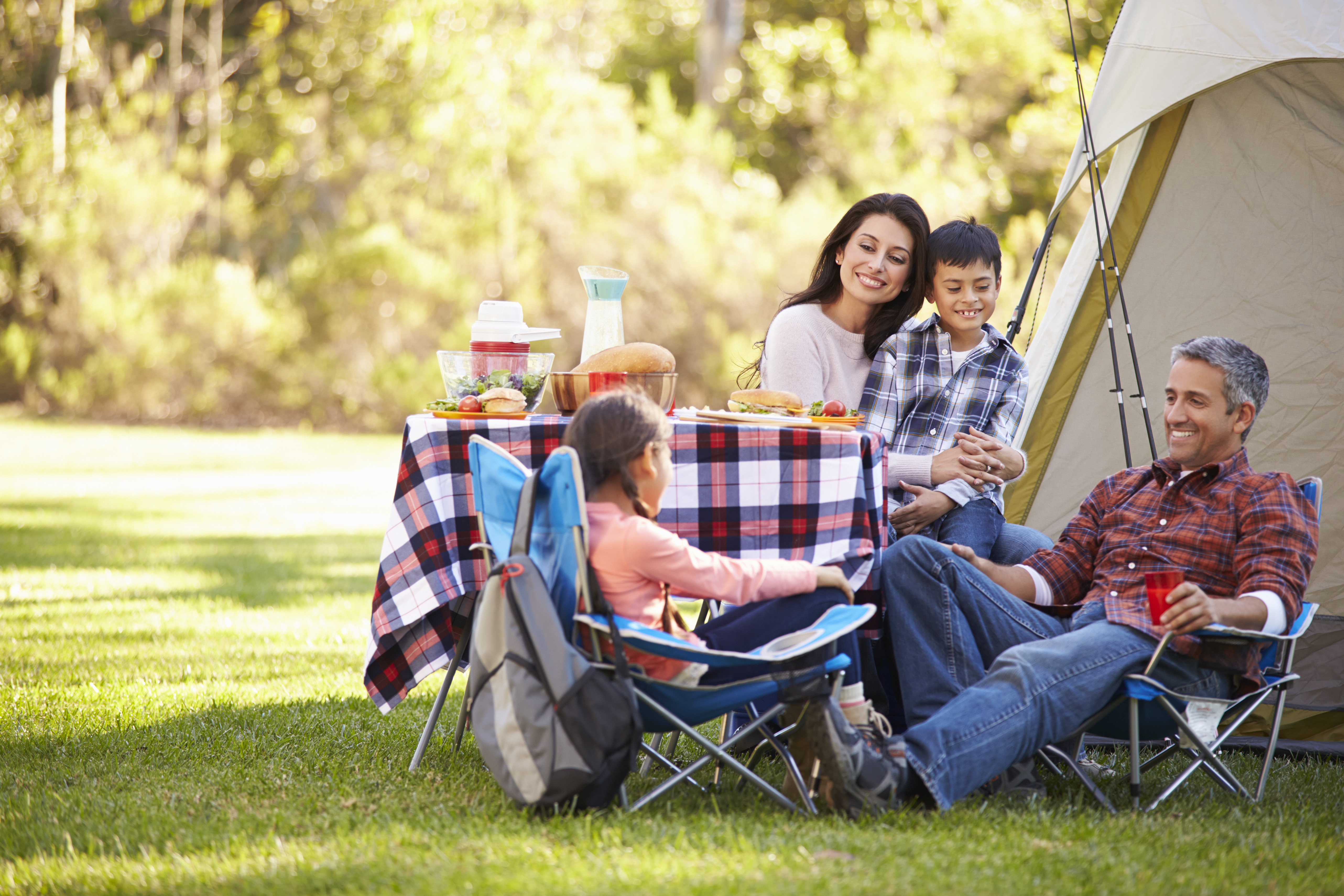 Don't become bug food.
According to the Michigan Department of Health and Human Services, Lyme disease is on the rise, along with the number of tiny little critters that carry it—ticks. The Environmental Protection Agency (EPA) recommends several insect repellents designed to keep ticks and other harmful bugs like mosquitos off your body and out of your tent. As another precaution, check yourself for ticks before bed (or ask a family member or friend for help) and remember, there are many factors involved with getting sick from a tick including the species, your location and where you've been bitten. Don't worry if you find a tick. Just remove it as quickly as possible and be sure to call your doctor if you notice any signs of irritation or illness. The Centers for Disease Control and Prevention (CDC) provides a helpful list of signs and symptoms to watch out for after a tick bite.
Be sun smart.
While rain and clouds are in the forecast for Memorial Weekend and beyond, you can still get enough sunshine to damage your skin. To avoid sunburn and prevent skin damage, a great place to start is with a bottle of sunscreen. Make sure it's new and not expired from last summer. Apply it early and often. Remember, the higher the SPF, the better the protection. If you're fixing to find a swimming hole, don't forget to reapply afterward. There are other ways to promote safe skin under the sun; use these tips to help you—and your skin—all summer long.
Pass on poisonous plants.
Steer clear of poisonous plants this weekend. While allergic rashes from poison ivy or poison oak are highly treatable, they're still painful, uncomfortable and generally a real pain—especially if you're in the middle of the woods. For some, exposure to these plants can be more harmful and possibly serious. Use this guide to recognize poison ivy, poison oak and poison sumac plants and keep your camp, and your body, as far away from them as you can. Particularly in Michigan, giant hogweed is another plant that's potentially more dangerous than the usual suspects. If you're unfamiliar, learn more about it before your outdoor adventure begins.
Choose healthier foods over the fire.
You may be "roughing it" this weekend, but your diet doesn't have to. There are plenty of healthy, delicious cooking recipes to try over an open fire. Think beyond the s'mores and hot dogs and fill your cooler with fruits, veggies and lean meats to make your campfire a healthy culinary hit. For instance, these marinated fish and vegetable skewers are rich in omega-3's. Or pack your cast iron pan to make these pan-roasted campfire veggies. You can also pack snacks like almonds or trail mix to add protein and nutrients throughout your trip.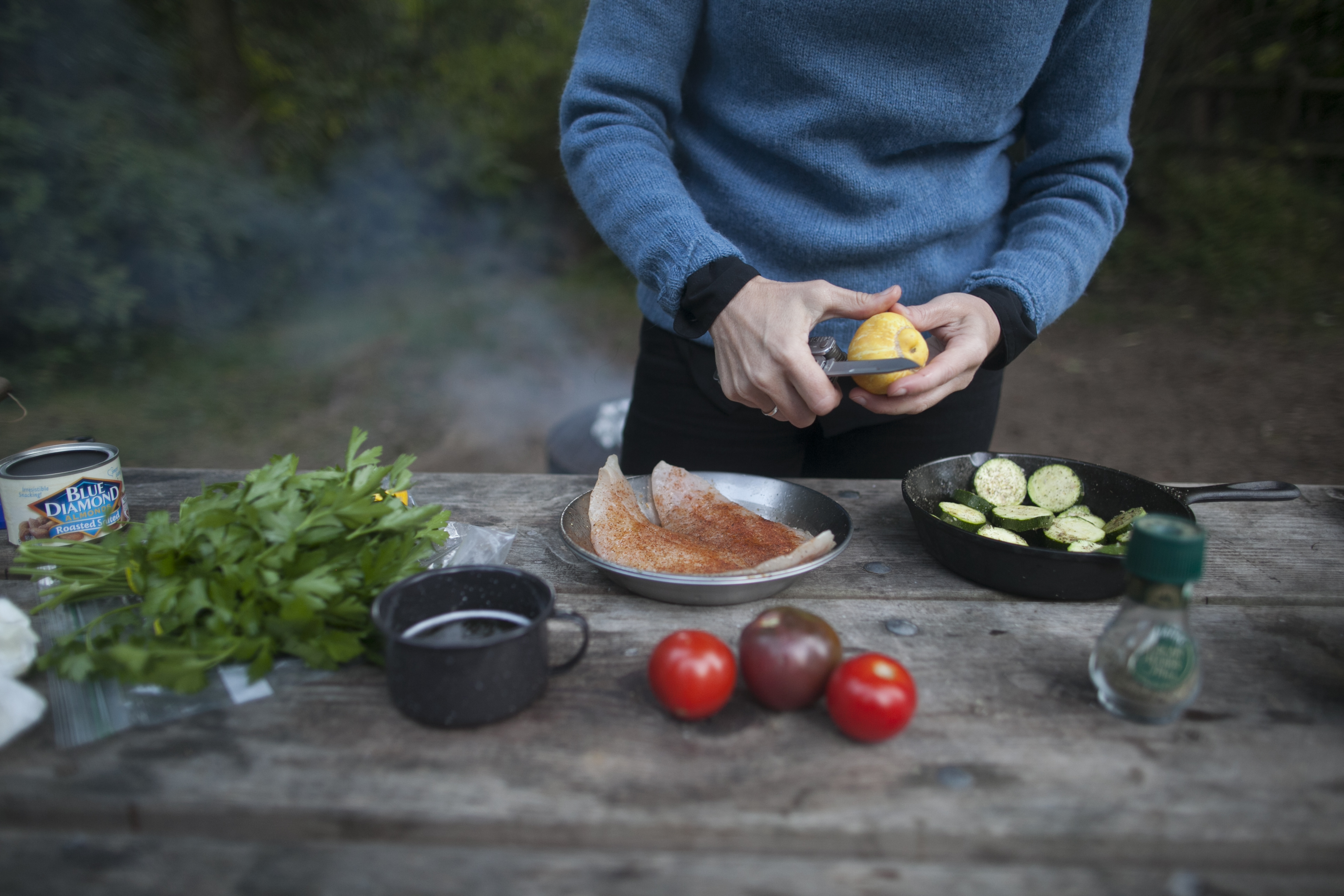 Stay hydrated.
Odds are the outdoor activities you have planned this weekend require plenty of moving. Whether you're hiking, biking, fishing, swimming or simply strumming your guitar around the campfire, you'll want to hydrate. If you're going to spend the day hiking or climbing, you'll want to drink about a quart of water every half hour you're on the trail. If your outdoor to-do list is less strenuous, you won't need as much water, but remember that it's best to take smaller sips more frequently to hydrate your body instead of guzzling a canteen's worth each time you drink. Water bottles come in a variety of styles for outdoor activities, so be sure to find one that's right for you.
Wear the appropriate attire.
Before you leave home (and your closet) behind, try taking inventory of your things as well as the terrain on which you'll be camping. In other words, make sure you don't show up to a trail head with nothing but flip-flops and tank tops. If you'll be hiking, make sure to pack breathable socks and shoes suitable for rugged trails, dirt, roots, etc. If you're not sure which footwear fits your itinerary, try doing a little research before you venture out to make sure you and your feet will be comfortable and prepared all weekend long.
The ultimate goal is to have a fun and safe weekend, wherever you set up camp. Remember to pack a first-aid kit in case of any accidents. If you're taking a wireless hot spot with you into the wilderness, check your health insurance plan to see if virtual care is available to you, should you need it. Priority Health members have access to virtual care, and can access it anytime through their MyHealth account.
Enjoy the great outdoors, stay safe and healthy and most of all, happy camping!