What can be shredded, sliced, spread and melted? If you answered cheese, you're correct. Cheese is a great dish to pass with a side of crackers, shred atop pasta or added to a sandwich or salad. It's a household staple because it's quick, flavorful and packed with nutrients; calcium, protein, fat, phosphorus and more. U.S. residents are eating cheese in record numbers, although tastes are changing from processed American cheese and plain cheddar to more foreign varieties.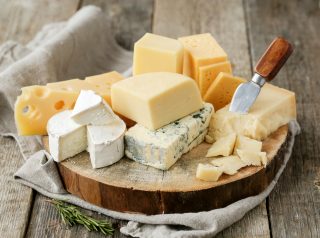 Among cheese's many benefits, there are also drawbacks. Like the fact that cheese can be high in calories and saturated fat. According to the American Heart Association, foods that contain saturated fats raise cholesterol. High levels of LDL cholesterol can increase your risk of heart disease and stroke. It's important to keep this in mind when you're adding cheese to your plate.
As Americans celebrate the unofficial but popular holiday "National Cheese Lover's Day" in January, you don't have to feel "bleu" about taking part. We put together three cheeses found to be healthier than others, along with a few recipes that fulfill your love of cheese and commitment to your health.
Parmesan is a hard cheese made from cow's milk. The salty flavor allows it to be mixed with many dishes to enhance  flavors. It's a great versatile ingredient; add it to your favorite soup, sprinkle it over pasta or mix it into salad dressing. Parmesan may be low in fat, which allows it to be a more guilt-free option, but it's also high in sodium. Like salt, be mindful of how much you're using in each dish.
Recipe: In need of a side dish for tonight's dinner? This Parmesan-Roasted Cauliflower is calling your name. It's a great side dish versatile enough to accompany any protein.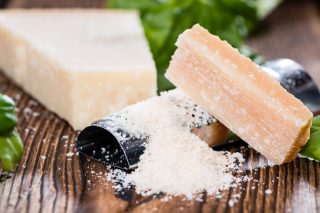 Cottage cheese is made from curds of pasteurized cow's milk. This is a popular health food due to the high protein content and low caloric value. According to Healthline, one cup of low-fat cottage cheese provides 28 grams of protein and 163 calories. The cheese has many varieties. You can choose from different levels of milk fat content and curd size, which allows you to find a cottage cheese perfect for you. If you aren't a cottage cheese fan currently, give it a try and combine it with some fresh, unsweetened fruit as a topping. It's a great snack or side dish  to add to your daily healthy diet.
Recipe: Next time you're in need of a delicious yet lighter dish to pass, give this yummy Cottage Cheese Ranch Dip a try. You can add an assortment of fresh veggies for dipping to make it a crowd-pleaser.
Feta cheese hails from the Greek Islands. Made from sheep and goat milk, it's a soft and tangy cheese. Not only is it delicious,  it's also low in fat and calories (double win!) You may only associate Feta with Greek food, but it's a delicious addition  atop many other dishes. Try it sprinkled over scrambled eggs or add it to your pasta and you won't be disappointed.
Recipe: This Chickpea Salad with Lemon, Feta and Fresh Dill is a fresh lunch or snack to pack when you're on the go. Whether you drain a can of garbanzo beans or cook a batch of dried garbanzo beans, this recipe is easy and filled with flavor.
Cheese is a household staple and can add much-needed flavor, calcium and protein to many dishes at all mealtimes. This National Cheese Lover's Day, celebrate in moderation and remember to keep in mind the nutritional facts of each type of cheese along with the amount you're consuming.