The holidays can get hectic. Whether you're worried about staying on track with your wellness goals or find it difficult to maintain structure, here are five tips you can incorporate this year. The goal is to help you maintain health, balance and a more realistic approach to the holidays this season.
Don't make it all about the food.
Yes, the food is pretty great, but don't worry. There's plenty to go around and chances are—there will be plenty of leftovers for the weeks to come. Holidays are a way to celebrate and reconnect with family or friends. Food is just a part of it and time with loved ones may not always be available. You can offer help in the kitchen, lead a game inside or out for the family to get involved in, or bring an old tradition back like bingo. You might be surprised with how much fun you'll have, without the food.
Enjoy the company.
Sharing time with family and/or friends can really impact  your overall wellbeing. Using quality time to strengthen and share conversation with loved ones can actually be a great advantage when you're deciding if you really want that second helping of your aunt's famous homemade stuffing. Choose to sit with others at the table and engage in conversation. This will allow you to take some time to digest your food and signal if you're still actually hungry.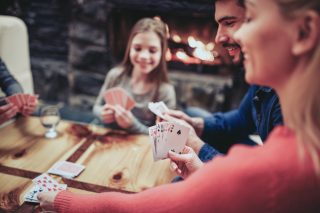 Substitute healthy options when you can.
Does your family count on you to bring your legendary mashed potatoes and red velvet cake with frosting every year? You can still fulfill their wishes and try altering a few ingredients in recipes that you know no one will miss to cut back on half of the salt, sugar or fat. Of course, some traditional recipes are not to be messed with—but you can swap out or cut back on ingredients you know won't be missed. Try swapping canned fruit or vegetables for the real stuff to eliminate extra sugar and sodium. You can also eliminate the butter in the mashed potatoes and keep the milk or substitute the heavy cream for low-fat milk to keep that creamy texture.
Build a healthy plate.
You may fear the extra calories, but remember—holiday favorites also contain a lot of great nutrients, too. Build a plate of a few favorites, but choose some healthy options, too. Try to pick something from every food group. If you normally go for the dark meat, try taking one slice of dark meat and a few slices of white meat instead. If you don't usually get the salad, try to incorporate more greens and other colors that can provide more nutrients. Be mindful with the sauces and gravy as they can be high in saturated fat and sodium. Aim for two to three tablespoons per serving size. Even if you do eat more than you'd like, don't beat yourself up over one meal. If you want to take leftovers home, choose healthy options and take just one slice of your favorite cake instead of the entire platter.
Give to others, and to yourself, this season.
Holidays are about giving to others around you, but don't abandon your wellbeing. The greatest gift you can give to yourself is your health. You may fear falling off track during the season, but don't fix your mind on strict limitations if you're eating or exercise habits change. Find some time to de-stress, pick up a book on positive thinking or explore new recipes and health communities that can help you challenge those negative thoughts to promote your growth for the year to come. After all, New Year's Day and a time to reset and set new health goals is just around the corner.
With these top five tips in mind, you're in for a happy, healthy and balanced holiday season.