By: Chris Lampen-Crowell
Winter running is easier when you have a guide to help you through, especially one filled with tips to keep you moving – and warm – during the winter months.
At Gazelle Sports, we state "Moving Matters" because it creates an opportunity to connect with yourself in a positive way. Moving, as in running, outside through the winter may sound crazy and difficult — to some. However, many people find joy in exercising outside in a winter wonderland.
Running in the winter also is a lot easier and more fun with others. I believe one of the best ways to meet people is through run camps, including the Priority Health Run Camp, starting soon.
This run camp offers group training on Wednesdays and Saturdays in both Grand Rapids and Holland. You can register for two different camps. The first is 16 weeks long, beginning in January, and prepares you for the Gazelle Girl Half Marathon or the 25K at the Fifth Third Riverbank Run. The other camp is 12 weeks long, beginning in February, and will prepare you for the 5k at the Gazelle Girl Half Marathon or the 5K and 10K at the Fifth Third Riverbank Run.
Here are some tips and tricks that I find helpful when training during the winter.
Connect with others at your pace – I run with different people that share my pace and find the runs often go by quicker this way. Plus, I form new friendships (we runners are super friendly and the common bond of running in the winter is very strong.)
Stick to your speed – I find it is easy to start too fast as I am excited to run with others, but if I do, I end up not maintaining my consistent, easy pace.
Don't be afraid to walk – I have been running for 42 years and I still enjoy periods of walking as I reset my training for the winter. It may feel like you are losing your breath quicker as your lungs adjust to the cooler air.
Set Goals – This is critical for me, so much so that I write mine down at the beginning of each run. When I look back, I almost always have reached the goals that I have written. It makes you accountable.
Allow recovery days – It is important to have days of rest and incorporate different activities such as swimming or yoga into your schedule. These days give your legs time to recover and prepare to go farther next week.
Don't feel negative if you have a setback – I have been injured or have gotten sick during winter training. Try to ease yourself back into training and don't push your body too hard during the recovery phase.
Celebrate – After a success (farther distances or feeling stronger) I like to have a mini celebration. For me, that is a coffee drink and snack. Or maybe a warm cup of hot chocolate.
Have fun – Bring your sense of adventure and fun because you will find lots of happy people on very cold days that agree that winter running is crazy and awesome!
And after all that, don't forget to dress appropriately for the weather conditions. Here are some good things to keep in mind when it comes to your winter running wardrobe.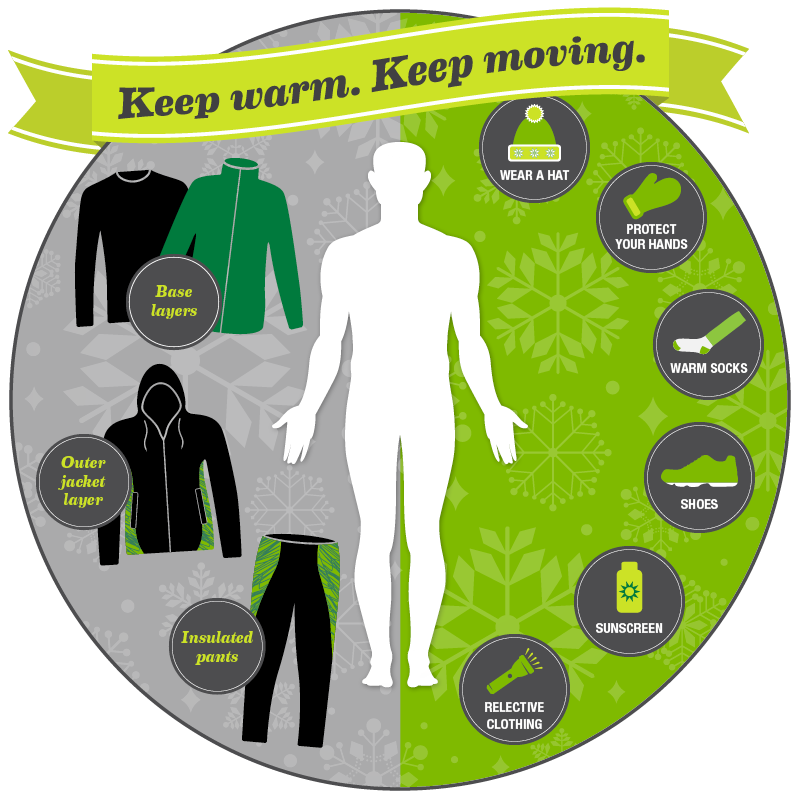 One of the best authors on running, Dr. George Sheehan says it best:
"Every mile I run is my first. Every hour on the roads a new beginning. Every day I put on my running clothes, I am born again. Seeing things as if for the first time, seeing the familiar as unfamiliar, the common as uncommon. Doing what Goethe said was the hardest thing of all, seeing with my own eyes that which is spread before me. Bringing to that running, that play, the attitude of a child, the perception of a poet. Being a beginner with a beginner's mind, a beginner's heart, and a beginner's body."
Keep moving!
About the Author: Chris Lampen-Crowell is co-founder and co-owner of Gazelle Sports. The local sports store has locations in Grand Rapids, Holland and Kalamazoo. Lampen-Crowell is an avid runner and continues to run for physical, mental and spiritual health. When he is not running, Lampen-Crowell is organizing healthy and fun events in the West Michigan area including  the John Daley Memorial One/One Run and the Greater Kalamazoo Girls on the Run.