By: Amber Battishill
There's something so special and cozy about fall and the cusp of winter. Football games, apple orchards, pumpkin patches, turkey dinners, hot cider, cozy sweaters, sitting by the fireplace, apple pie, and Thanksgiving are just a few of my favorite things that make this time of year feel so special and enjoyable.
Whether you're having a cozy family movie night or tailgating, one thing is for sure: there's going to be food and lots of it! Balance out all those pumpkin spice lattes and donuts with some delicious and yummy treats that can be enjoyed at home or with a crowd. These healthy snacks help you to enjoy all the wonderful seasonal flavors of fall!
From apples and pumpkins to mandarin oranges and cheese, these tasty, better-for-you treats and snacks are all easy to make and family-friendly. No matter how busy your schedule is this time of year, these snacks will keep you energized, satisfy your sweet tooth and allow you to maintain healthy habits all season long.
1. Pumpkin Oatmeal Balls
It's not fall without pumpkin-flavored treats! These pumpkin oatmeal balls are so easy to make and include lots of delicious seasonal flavors: pumpkin, maple syrup, and pumpkin spice! Simply mix all the ingredients together and mold into bite-sized balls and you'll have the perfect take-and-go, naturally sweetened treat.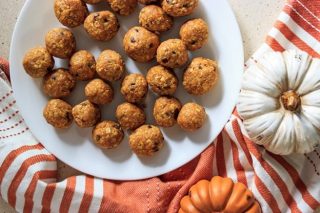 Ingredients:
1 ½ cup rolled oats
⅓ cup chocolate chips
½ cup canned pumpkin puree
¾ cup nut butter (I use peanut butter)
⅓ cup maple syrup
1 tsp vanilla extract
1 tsp pumpkin spice
Optional: add a handful of walnuts or pecans, if desired.
Steps:
Add all ingredients into a large bowl and mix well. Stir until you have a dough. Place mixture in freezer for 10-15 minutes to firm up. With a spoon or ice cream scoop, spoon dough and roll it into balls with your hands.
Pumpkin oatmeal balls will store in the fridge well for up to 7 days.
2. Turkey Veggie (or Fruit) Tray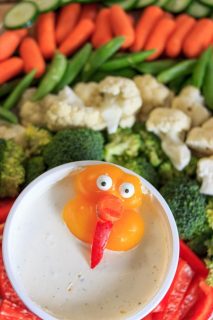 Add a little fun to your average veggie tray by making it turkey themed. Kids love to help make this and it's a great way to incentivize veggie eating. Add your favorite light veggie dip to a large tray, "decorate" it with colorful veggies and voila, you have a cute, nutritious snack for the whole family.
You can also use fresh fruit instead and serve with yogurt fruit dip.
3. Pumpkin Spice Yogurt Dip
Greek yogurt dips are a staple in our home, and this fall-inspired variety is loved by all! This yogurt dip is packed with protein and naturally sweetened with a dash of honey or maple syrup, making it oh-so-creamy! Add in your favorite holiday flavors like cinnamon, nutmeg and ginger to create a wonderful, light sweet snack. Serve with your favorite fruit (fresh apples are the best) and graham crackers! You can use 0%, 2% or 5% fat yogurt, but a higher fat yogurt will yield a thicker and creamier dip.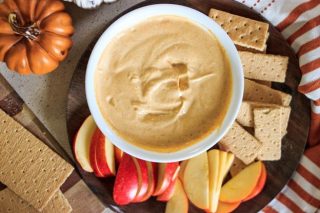 Ingredients:
1 cup Greek yogurt
1/2 cup canned pumpkin puree
1 teaspoon pumpkin pie spice
1 tablespoon maple syrup or honey
Steps:
Add all ingredients to a medium bowl and mix well. Refrigerate for an hour for best flavor.
4. Candy Corn Jell-O Cups
Take a healthy spin on candy corn with these Jell-O tiered cups! To make it, add sugar-free lemon Jell-O to the bottom third of a clear glass. Allow the Jell-O to firm for 4 hours in the refrigerator. Once solidified, add mandarins or peaches and top with a dollop of whipped cream.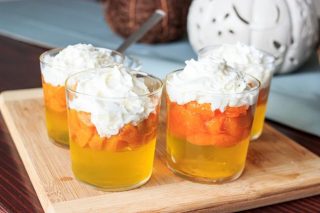 5. Mandarin Pumpkins
My kids love these mandarins and it's a fun school snack idea. Simply peel a mandarin and add a sugar snap pea, celery or pretzel stick as the stem.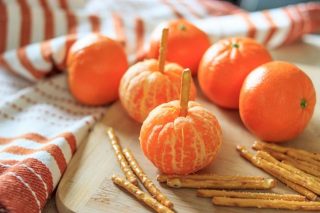 6. Apple Nachos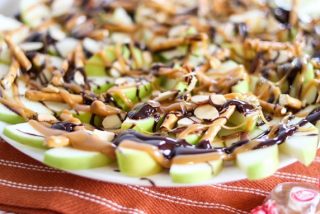 These loaded sweet apple nachos combine the tartness of granny smith apples with sweet, rich caramel and semi-sweet chocolate syrup. Salty pretzels and nutty almonds are the perfect contrast to the drizzly, sweet sauces for a flavor that can't be beat. You can find the entire recipe here or video tutorial here.
7. Apple Cookies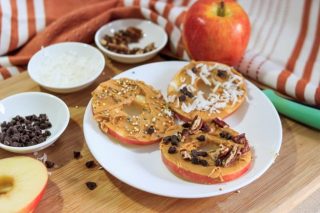 Take advantage of crisp fall apples with this delicious treat! These apple cookies are so simple and kids absolutely love making them as well! To make, simply core apples and slice them into rounds. Top apple slices with peanut butter and add toppings. A few of our favorite toppings are peanut butter, granola, chocolate chips, nuts, and coconut flakes.
8. Leaf Cheese & Crackers
Looking for a savory snack? Add some fun to your typical meat and cheese cracker snack by using mini cookie cutters to shape your cheese into fun fall shapes. Add everything to a large cookie sheet or cutting board, add in some fruits and nuts, and you'll have a gorgeous fall charcuterie board.
About the Author: Amber Battishill is a wife and mom of two living in Southeast Michigan. She is the creator of Mommy Gone Healthy, a healthy living and lifestyle blog for the modern mom and is also a certified yoga and mindfulness teacher. When she's not playing with her active kiddos, you can find Amber diving into a book, practicing yoga, gardening, or getting creative in the kitchen.